---
- ubuntuf4n - 2010-02-06 07:13

Thanks you!
Now its look like its grown up


In my point of view this is really a little revolution.
Its a little change in the interface, but a big step forward in usability.

I would like to add that it would be great if you could make the pause-name & time (running/total) in the upper corners a little bit larger.
This could be also a big visible enhancement. (Example: Alaska skin)
In this business the vlc player has the best visible condition of osd-symbols. Maybe it can give you a clue about the size.

There are two rules for OSD-Overlays:
1. Beware the Simplicity
2. Bigger is better.

Just an idea: What about killing the text above the timeline (in your screenshot <pause>), and place just a very large symbol in the middle lower part (where the free space is)What do you think?


---
- mcoto - 2010-02-06 23:52

Since everyone is making requests.
Would it be possible to add a button to launch the weather script/plugin so I could be checking out the weather and than push the button to launch the script and check out the local Doppler? or better yet I think I saw a mod of rapier where the dopler was the background for the weather.

Either way this is still my favorite.

M


---
- Sharpe - 2010-02-07 02:45

Yep I'm looking into it now.

*Edit* Okay I've added this - you can set up the weather channel script in skin settings which will populate a button in the weather screen. I've not done any custom skinning of the script yet so it uses the script's default look for now.

**Edit** I realise that the script seems to have been depreciated in favour of the Weather.com plugin - that's a load more work to get working. - I'll look into that when I get a chance.


---
- mcoto - 2010-02-07 04:21

Dude your awesome. Downloading now.

M


---
- ubuntuf4n - 2010-02-09 06:02

Could you integrate an option to toggle if fanart off/on, for example in video library view.


---
- Sharpe - 2010-02-10 03:40

Well it's possible - but if you don't want to display fanart then isn't it easier just to not download any fanart?


---
- Sharpe - 2010-02-10 03:47

Oh new video library view btw - it's a case wrap view.

Credit to aphillippe and his very good Confluence Wallstream mod for the nice case overlays.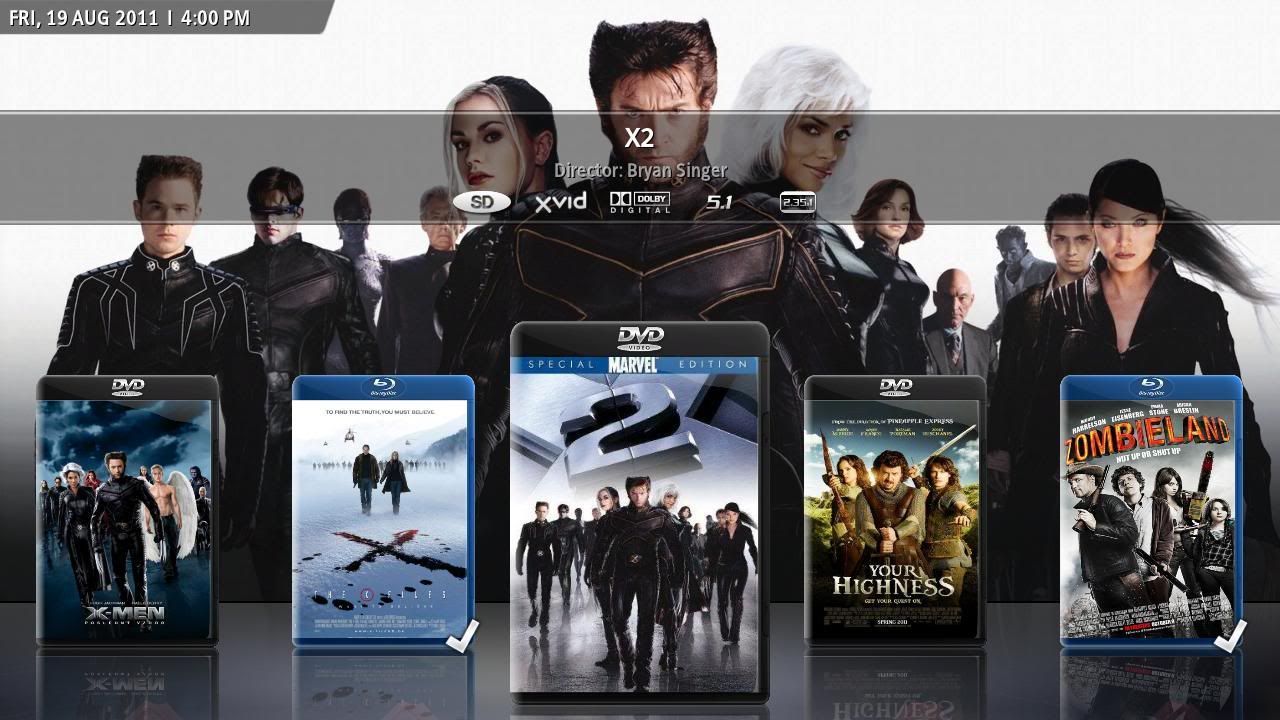 ---
- djdafreund - 2010-02-10 05:37



* djdafreund just died and went to heaven. Nice addition, i like that view. Very nice!!




---
- dan991199 - 2010-03-17 17:31

is it possible to get a wrap view that is 2 rows high? with nearly ~700 movies wrap takes a long time to find what i'm looking for, but i also love to see the fan art
---
- djdafreund - 2010-03-18 03:41

You have something similar and then some, try out the mini wall mode. It's SIMILAR but with 3 rows and scrolls left and right. See if that works for ya. I'm right there with ya, including my HD movies, and that works pretty well. Check it out.


---
- ubuntuf4n - 2010-03-19 23:08

where can i find the changelog for back-row ?


---
- djdafreund - 2010-03-20 04:12

if your using the svn, right click on the skin folder and move down to TortoiseSVN, and the top choice in the list when you move on top of it, click on 'show log' and it will show you the changelog list. If it were on google code, there would be a way of viewing SVN via internet based, but it's not.


---
- Sharpe - 2010-03-20 14:23

Oh while I remember - I've added support for a few more plugin home menu shortcuts. There are now 4 video, 2 music, 1 program and 1 picture plugin shortcuts available.

Just add them in skin options as below.


---
- ubuntuf4n - 2010-03-21 01:35

Sharpe, nice addon. I'll check this out.


---
- ubuntuf4n - 2010-03-24 00:45

The new plugins are working well !

Sharpe,



Which file do I have to edit, if I want to skip the 'countdown & theatre animation' between the menus.

?
For example if I would like to go instantly from the Main Menu point Movies to the MovieLibrary.

Just an Idea:
An option for disabling the animation would make the navigation more flawless.


---