(2016-02-12, 05:26)

Uukrul Wrote: [ -> ]-- 8< -----
No. You can check the skin you are using on Settings / Appearance:
-- 8< -----
Add-ons / My add-ons
Well thanks for the answer - I guess it was staring me in the face all along
But...
"Houston, We Have A Problem..."
I clicked in to the My add-ons page and got a surprise... NONE of the addons displayed their particulars. Uh-OH. Very curious.
So for a quick cross-reference, I switched over to Good Olde Confluence skin and returned to My add-ons... everything showed up as expected. Hmmmm...
---
This is what I see in My Addons using X-4-K: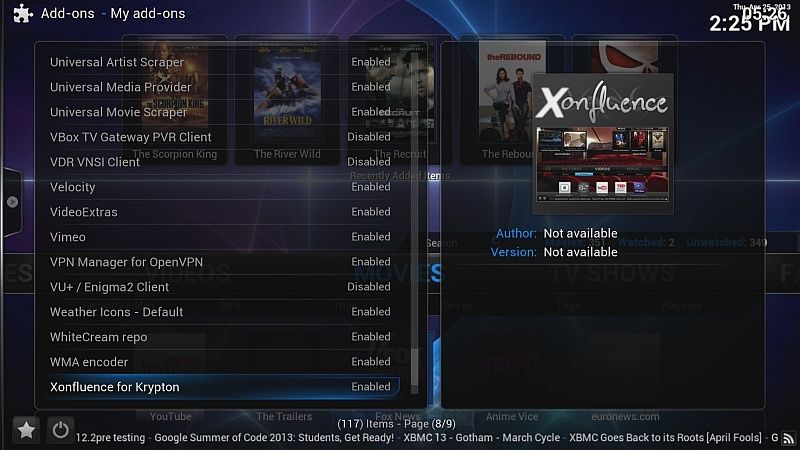 ...and going into the Add-on Information display...
...and just to make sure it's not only the Xonfluence add-on...
If I use Confluence, then I see the info, just like in the screenshot you already posted.
Somewhere between Milhouse's #0207b and the (latest ?) X-4-K I grabbed (2016-02-11 14:15), there's a communication breakdown.
Here is a
LOG
.
- Kodi was set to Confluence and then rebooted for a nice clean run.
- then straight in to check "My add-ons - All" page, for Xonfluence for Krypton
- then switch to use X-4-K skin
- then back to "My add-ons - All" to revisit X-4-K (you'll see the screenshot being taken in the log)
- then back out, and reboot the machine
I hope there's something useful in the log - pointing to the breakdown.
Inquiring minds would sure like to know
TIA