Hi, this is my first script
Features:
It logins and lists torrents from HDBits.

If the torrent is a movie, it fetches fanart. thumbnail and some info from Themoviedb.org.

You can go through several pages of torrents, 25 on each.

Selecting a torrent downloads the .torrent-file to the directory that you specified in the addon settings.

Requirements:
the first three directories lists torrents that are h264 encodes and the last one is a search that searches through all torrents.
Screenshots: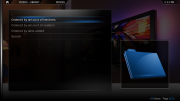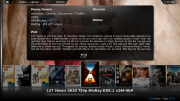 Download:
HBbits v1.1 - 2011-04-10
HBbits v1.0 - 2011-03-27
And if anyone has any tips for fixing the huge delay on the first urlopen. Please let me know, because it's a bit annoying since all other urlfetching is threaded and goes very fast.
PS. The site is closed for invites. So if you don't already have access to the site. Then you're out of luck.