---
RE: FrontView+ -Info for 2nd Screen - iMon replacement - nayef - 2016-08-20

After try
1- remote plex con't add 127.0.0.1 or localhost ... but if select other server in network, well accept add
2- No data in library

so we go to kodi


---
FrontView+ -Info for 2nd Screen - iMon replacement - GlennNZ - 2016-08-20


(2016-08-20, 13:22)

nayef Wrote: After try
1- remote plex con't add 127.0.0.1 or localhost ... but if select other server in network, well accept add
2- No data in library

so we go to kodi


As I have said before - Plex has NO library support - only nowplaying

Need to add "Plex server" IP as you have working in Frontview info - then displays/uses local client only

Glenn


Sent from my iPhone


---
RE: FrontView+ -Info for 2nd Screen - iMon replacement - powermarcel10 - 2016-08-26

Hello Glenn,

The latest version is working, however, I need to make changes manually in de configuration file, because settings in the uit won't be saved..

Also, when I play a local file, fanart is working fine, but with online streams it isn't. Can this be fixed?

Another request, I'm using a 7" touchscreen, but from my couch, I can't read the text.. I like to use a very big font Isle that is possible..

Cheers,
Marcel


---
FrontView+ -Info for 2nd Screen - iMon replacement - GlennNZ - 2016-08-26


(2016-08-26, 15:21)

powermarcel10 Wrote: Hello Glenn,

The latest version is working, however, I need to make changes manually in de configuration file, because settings in the uit won't be saved..

Okay thanks for having a look but Probably need a lot more information for these.

What settings don't save in particular? (This sounds fairly major and I haven't come across it in testing)


Quote:Also, when I play a local file, fanart is working fine, but with online streams it isn't. Can this be fixed?

This will depend whether the online stream has any fanart to show; I suspect most may not. But will be pulled from different locations and will need a log example to add support for that particularly stream.

Will need a FrontView+ log / zip it as will be large with debug/trace enabled.


Quote:Another request, I'm using a 7" touchscreen, but from my couch, I can't read the text.. I like to use a very big font Isle that is possible..

Cheers,
Marcel

That is what the latest version adds within NowPlaying screen - what text are you referring to?

Thanks

Glenn


---
FrontView+ -Info for 2nd Screen - iMon replacement - GlennNZ - 2016-08-27

Version 1.181/185

1.181


Database upgrade

to add support for Logo and Banner artwork for tv, movies and now playing.
Change to some size settings to mean better compatibility with Kodi and Emby
Fixes for the crash in start up (if bypassed build 1.164)
Will need full library refresh and some time to pull all the new artwork (do it in background) before visible/useable.

1.185
Fixes for Plex - V.Limited (as before) support for Plex - NowPlaying screen only.
Add Settings Buttons for Logos; UseLogo optional; and Size of Logo and Size of Text settings.
Added Logos to Movies and TV show Details Screen
Added Logos to NowPlaying Screen
Fix for absent Play Button Details Screen
Add Skin Logo Default Image (must be blank)
Formatting changes to better support multiple screen sizes

Details:



New Settings for Logos


Including UseLogo - disables Logos in NowPlaying and Movie/TV Library screens.
Text Size - the Size of the Title if not using Logos - otherwise essentially the size of the Box Logo sits in - variable sizes depending on what works best with screen size.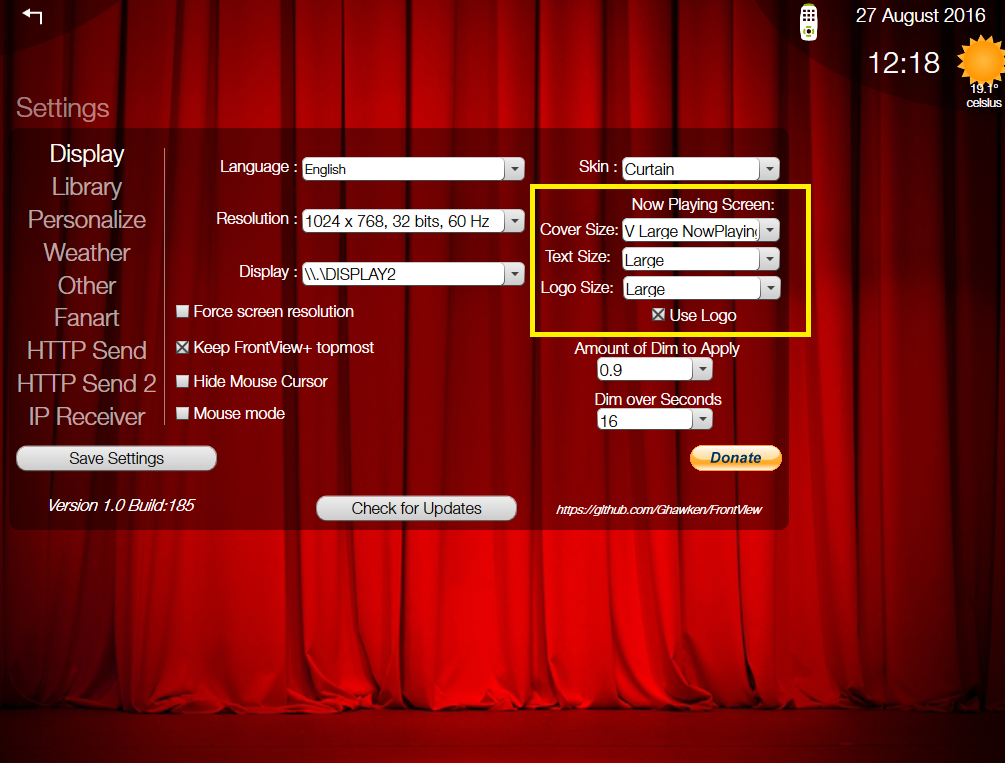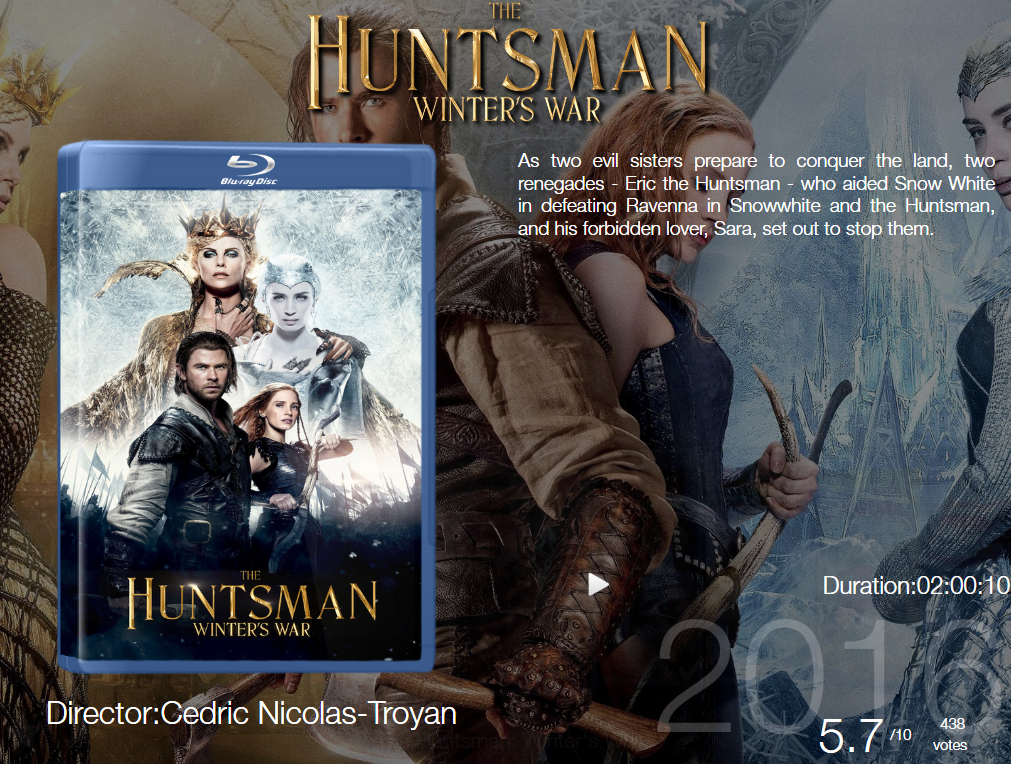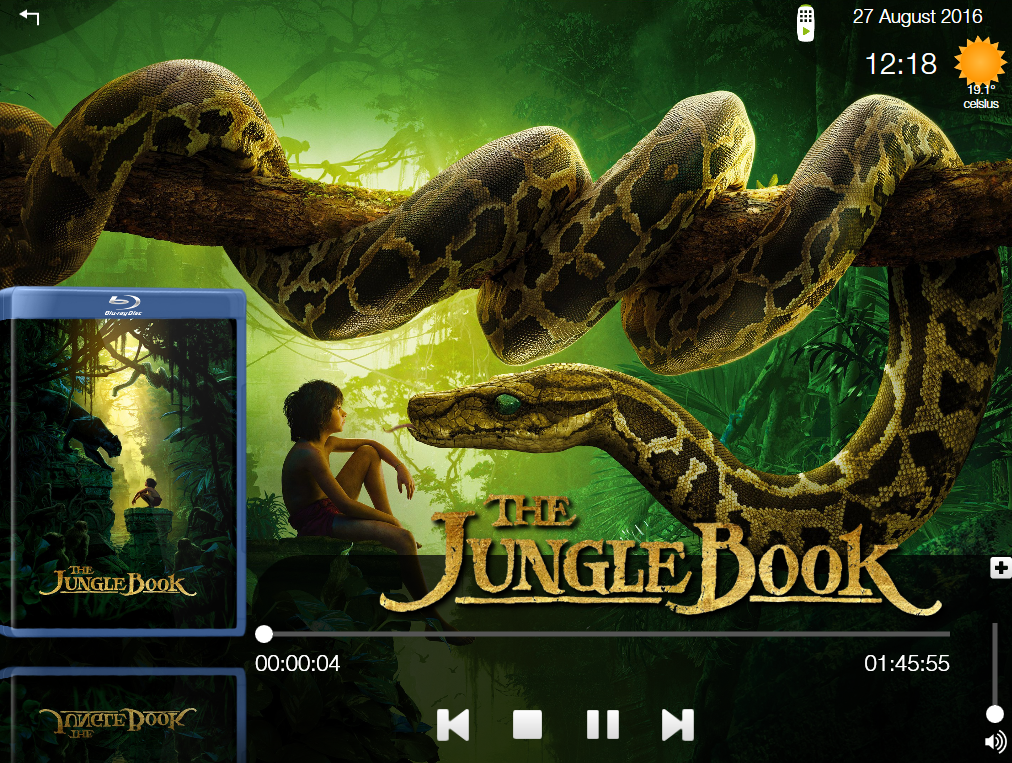 https://github.com/Ghawken/FrontView/releases/tag/1.185

Glenn


---
RE: FrontView+ -Info for 2nd Screen - iMon replacement - GlennNZ - 2016-08-31



Version 1.190



Add MediaIcons to MovieDetails Screen (for both Emby and Kodi Remotes )
DB Upgrade Needed (will happen automatically) But will need to full refresh library
Few Fixes
MediaIcon Size Slider added to Fanart Screen
Change LogoSize setting to a Slider for better control

eg: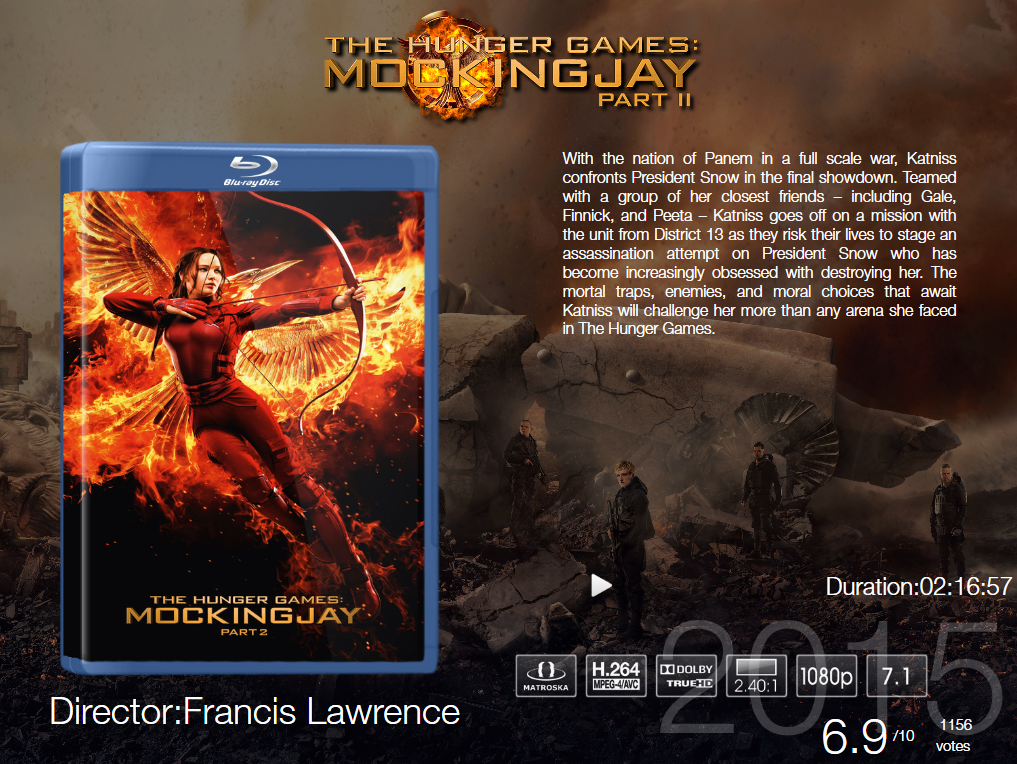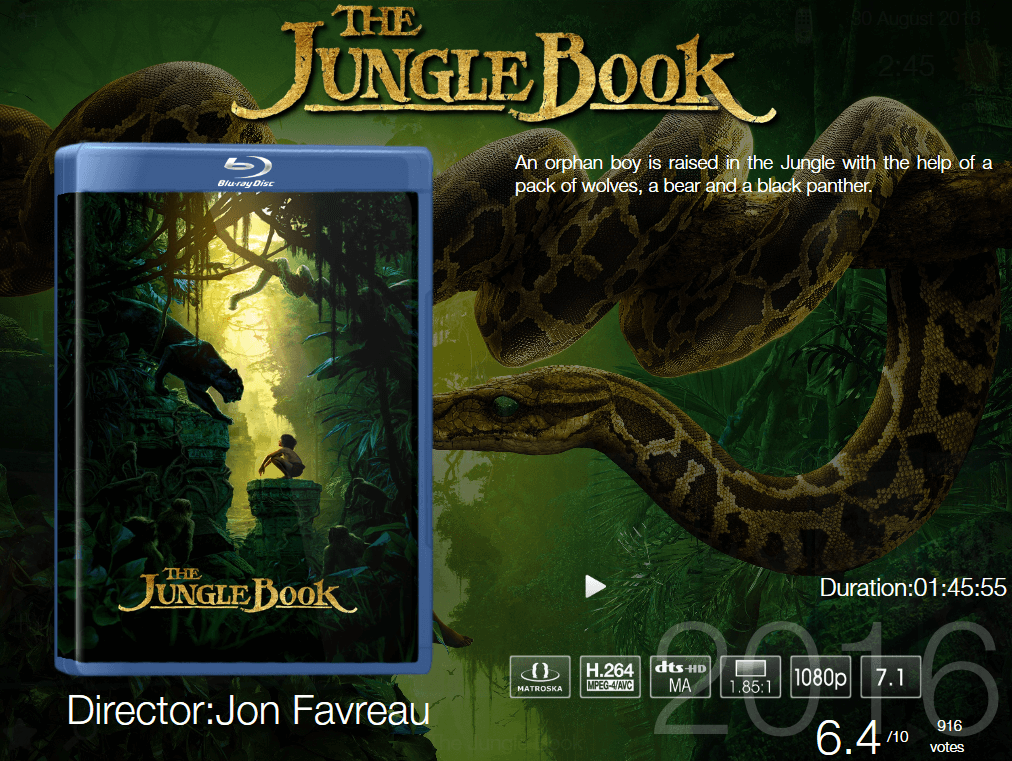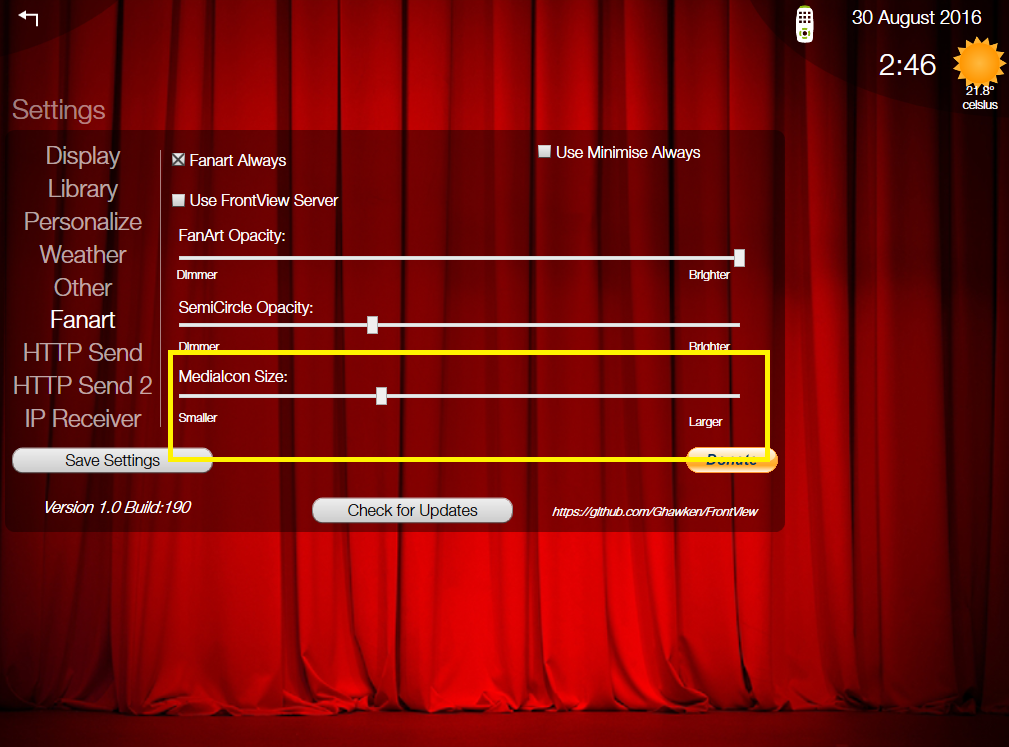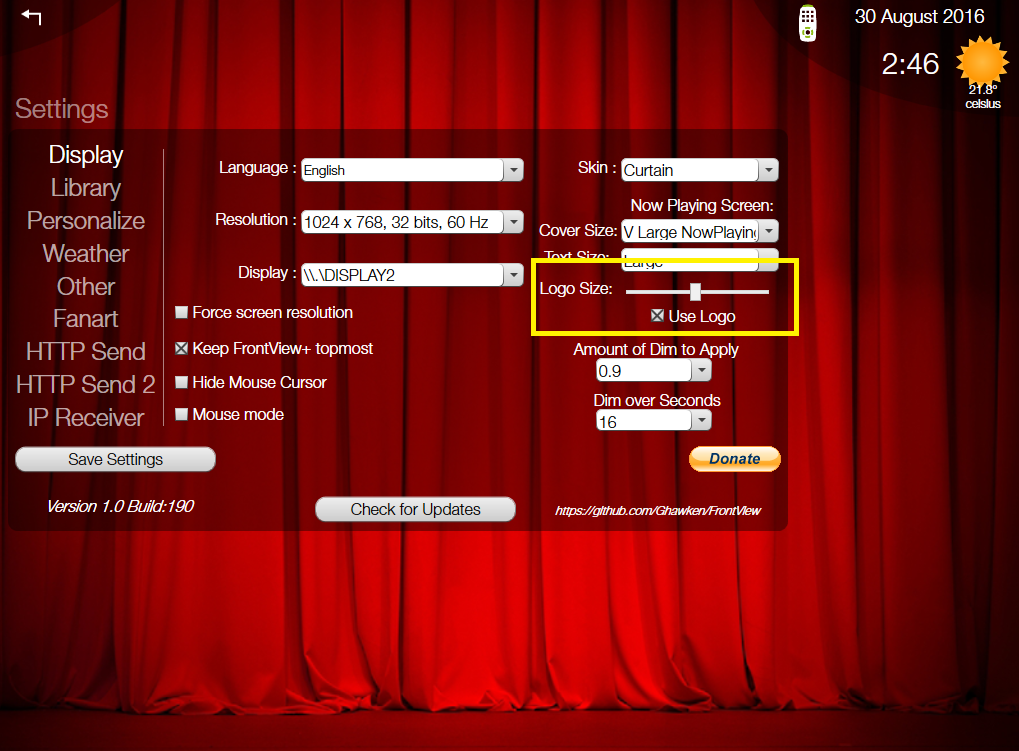 https://github.com/Ghawken/FrontView/releases/tag/1.190

Glenn


---
RE: FrontView+ -Info for 2nd Screen - iMon replacement - nayef - 2016-09-01

how to show frame cover same as image above ?

here my fanart
http://t03i.imgup.net/_12458.jpg


---
FrontView+ -Info for 2nd Screen - iMon replacement - GlennNZ - 2016-09-01


(2016-09-01, 10:04)

nayef Wrote: how to show frame cover same as image above ?

here my fanart
http://t03i.imgup.net/_12458.jpg

I think I follow ...

Click the

i

Button - for more info.

Glenn


---
RE: FrontView+ -Info for 2nd Screen - iMon replacement - nayef - 2016-09-01

i mean :
http://a.top4top.net/p_244pu6e1.png


---
FrontView+ -Info for 2nd Screen - iMon replacement - GlennNZ - 2016-09-01


(2016-09-01, 10:52)

nayef Wrote: i mean :
http://a.top4top.net/p_244pu6e1.png


Ok. I follow.
Sorry - That is a Emby Coverart treatment - to my knowledge not available in Kodi.

Glenn


---
RE: FrontView+ -Info for 2nd Screen - iMon replacement - Czaja0 - 2016-09-02

Hi.
First of all thanks for your hard work and a great plugin.

My question is can you add support to new Kodi V17 beta??

Lukasz


---
FrontView+ -Info for 2nd Screen - iMon replacement - GlennNZ - 2016-09-02


(2016-09-02, 10:52)

Czaja0 Wrote: Hi.
First of all thanks for your hard work and a great plugin.

My question is can you add support to new Kodi l V17 beta??

Lukasz


Have you checked? Would think that it would still work as API hasn't changed (much)

But will have a look

Glenn


---
RE: FrontView+ -Info for 2nd Screen - iMon replacement - Czaja0 - 2016-09-02

yes and it's hanging while checking remote connection

Lukasz


---
FrontView+ -Info for 2nd Screen - iMon replacement - GlennNZ - 2016-09-02


(2016-09-02, 11:37)

Czaja0 Wrote: yes and it's hanging while checking remote connection

Lukasz


Ok. Will have a look - but a first and second glance at Kodi code doesn't appear to be any breaking changes.

Are you sure you have enabled webserver settings on Kodi?

But I'll install 17 when can and troubleshoot though.

Glenn


---
RE: FrontView+ -Info for 2nd Screen - iMon replacement - Czaja0 - 2016-09-02

yes did everything so webserver is enabled. just tested it on my laptop with w10


---