---
nMediaPC 1800B HTPC - eclark5483 - 2017-08-06

JUMP TO THIS POST FOR UPDATED BUILD VIDEO: https://forum.kodi.tv/showthread.php?tid=319456&pid=2819691#pid2819691






Here are some images of the new nMediaPC 1800B HTPC I put together. I originally ordered a 250 watt power supply but it was DOA, so I have another on the way. Tested the new parts with a regular ATX power supply, and everything is working just fine. Just gotta wait for the replacement to get here to finish up. Some of the parts, like SSD and DVD burner, I borrowed from my old HTPC. I'm fairly new to Kodi, but a vet at building PC's, so I plan on doing a dual boot using both Windows 10 & Linux. Haven't decided what flavor of Linux to use yet. Gonna experiment with Kodi first and sort it all out. I'm not a heavy gamer, but I love the emulators, so I plan on using the HTPC for Netflix, my HD Homerun CableCard, Amazon Movies, Pandora, and various emulators. I was able to get the Inteset USB Internal Infrared Media Center Receiver installed in the case's infared window by filing down where the screw holes are and using a bit of super glue, and a hot glue gun for good measure. The motherboard only has 1 internal USB header, so I ordered the NZXT internal hub so that both front USB ports and the IR are functional. This will be connected to my 50" TV downstairs.

Complete parts list consists of:

nMediaPC 1800B HTPC Case

Logitech Harmony 650 Remote Control

Inteset USB Internal Infrared Media Center Receiver

GIGABYTE GA-F2A88XN-WIFI motherboard

AMD A10-7860K CPU

8 GIGS OF Mushkin Enhanced Stealth ram

Noctua NH-L9a 92mm SSO2 CPU Cooler

FSP300-60FAG Power Supply

NZXT Internal USB Hub Controller

Logitech K400 920-007119 Plus Wireless Touch Keyboard

2x Logitech F710 Gamepads

ASUS 24X DVD Burner

512Gig Samsung 850-Pro SSD drive

Now onto the images.

First is an image of how I have the IR reciever installed. TOOK A BIT OF HACKING TO THE CASE, BUT IT WORKS!!




I was worried about clearance so I ordered a Noctua low profile fan. It's whisper quiet and leaves PLENTY of room for the lid and for air to get in and cool it off.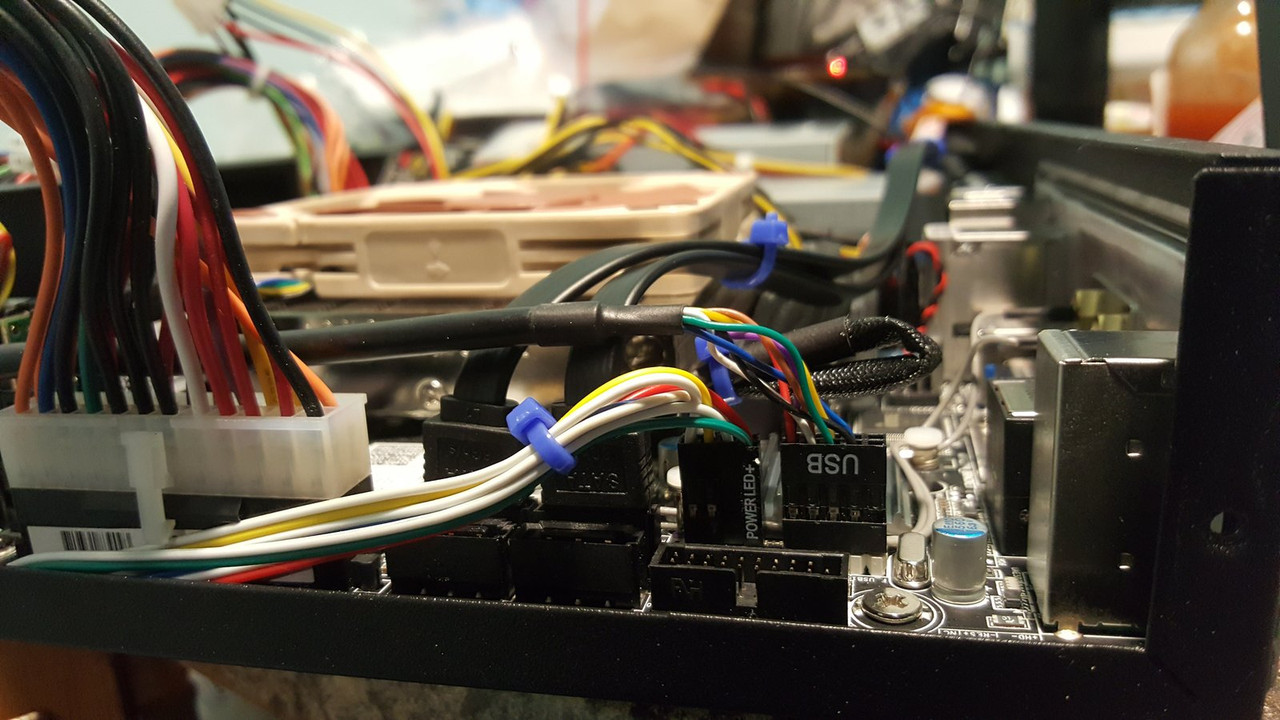 Here is an image of what it looks like with everything installed. Haven't cleaned up the wire mess yet, because I am, of course, still waiting on the power supply replacement.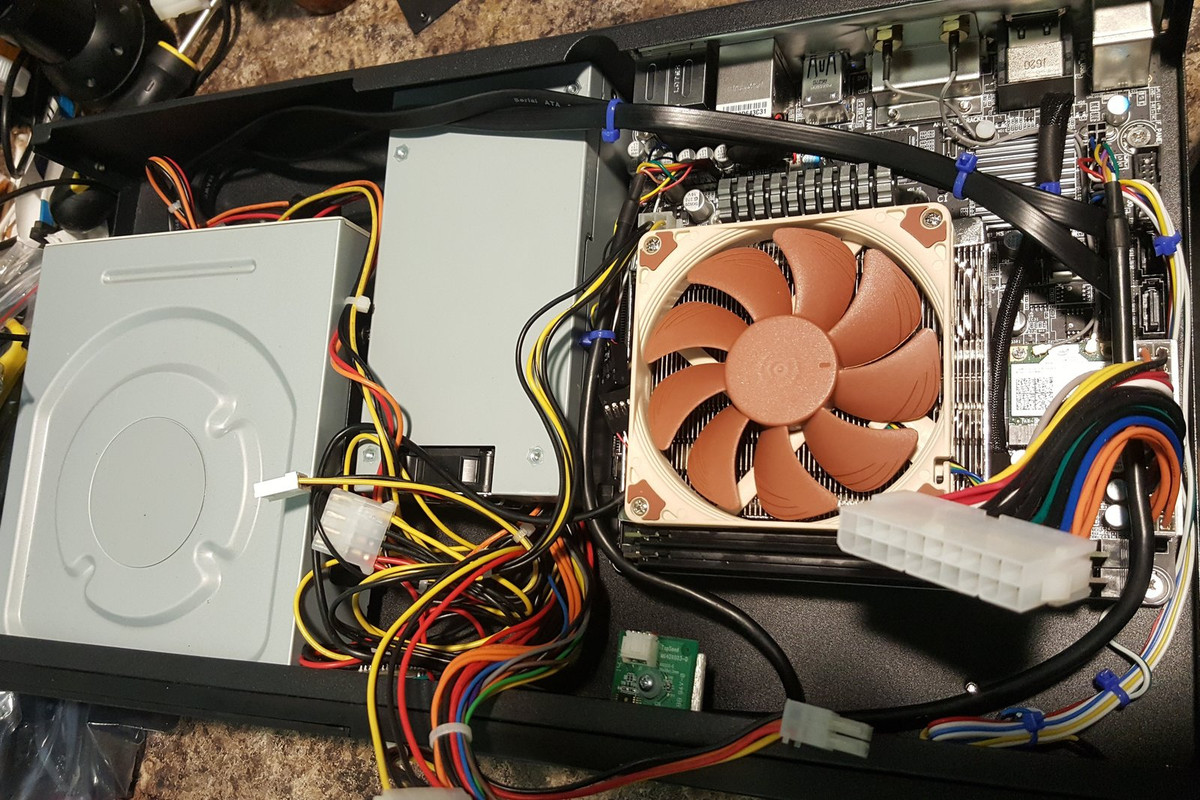 Front of the case with the door closed





Front with door open





Rear view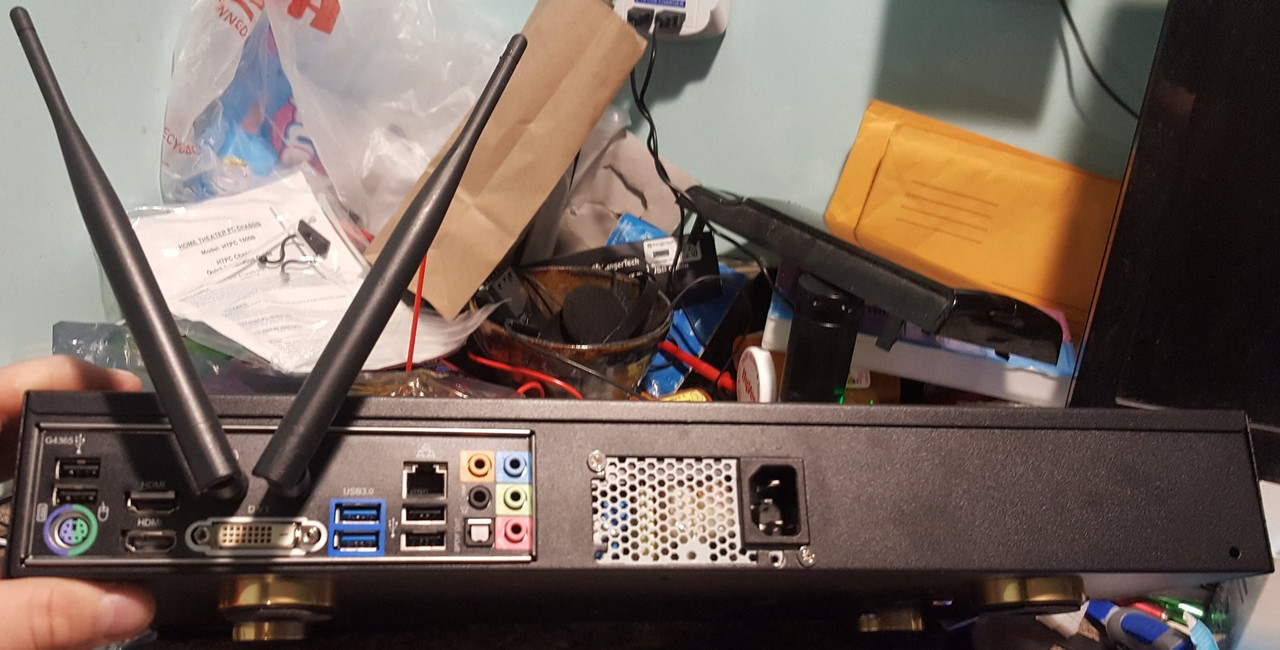 Closer look at rear I/O panel.. gotta love having dual HDMI!!




And Finally, pictures of what it looks like inside the TV stand.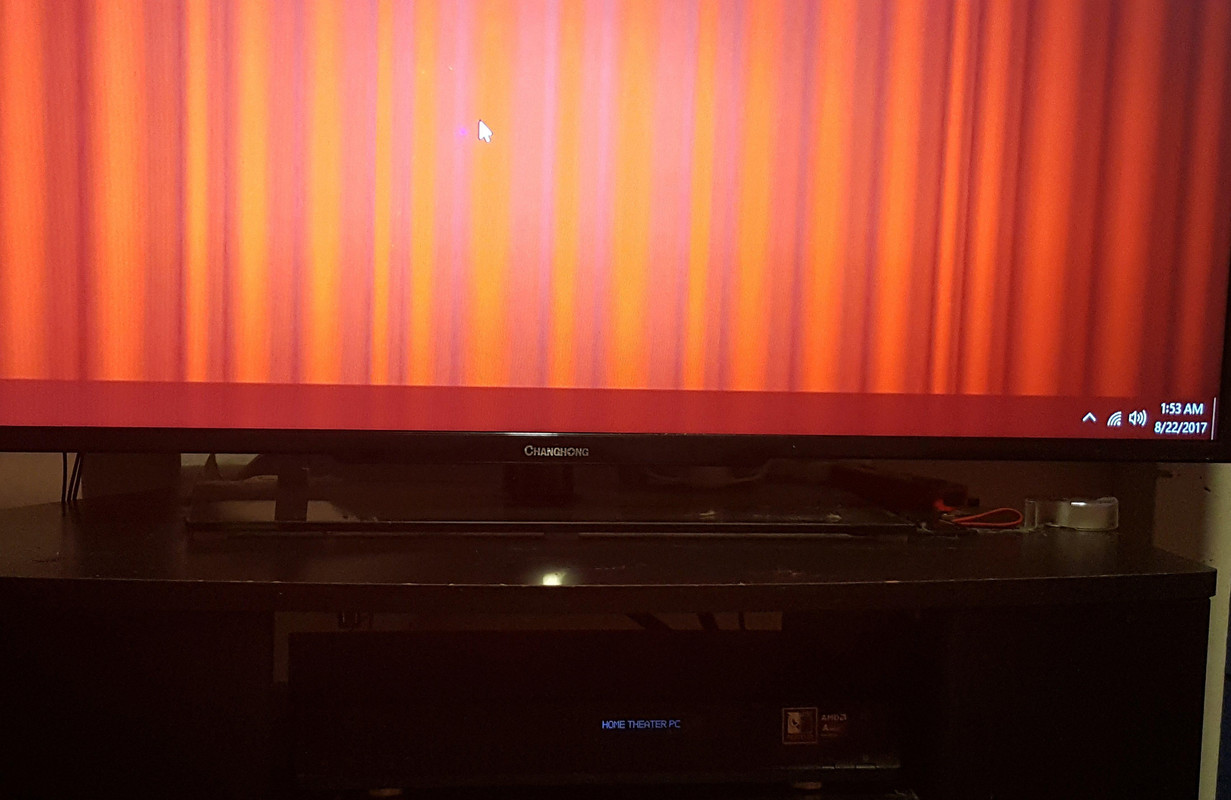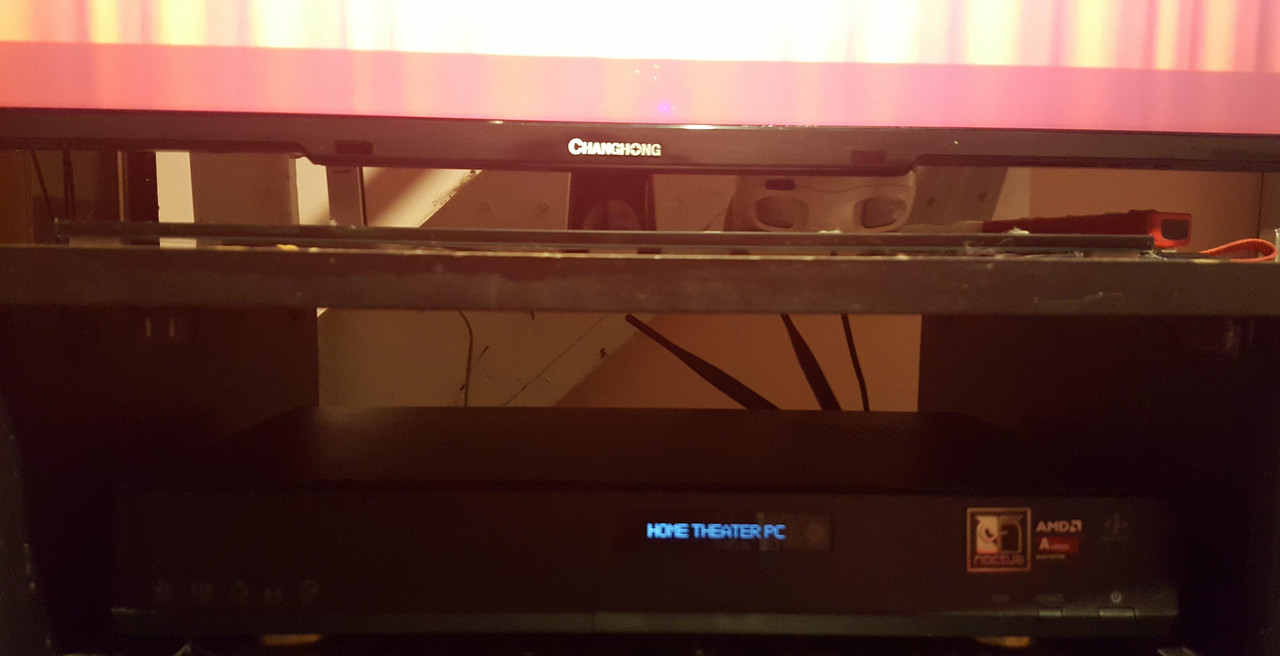 ---
RE: nMediaPC 1800B HTPC - DJ_Izumi - 2017-08-07

Before I say what I say, I want you to know that I mean it in the best way possible:

I love that this case looks like 'An unremarkable old DVD player'.
---
RE: nMediaPC 1800B HTPC - eclark5483 - 2017-08-07

That's actually what I was going for. I have an nMedia Pro-LCD-B which you can see in action here on my main PC:

http://www.youtube.com/watch?v=Kl9Re7eTTbg

I was originally thinking of taking it out and putting it into the HTPC, but changed my mind. I'd much rather have the DVD player. Might change my mind later on and put it in anyway, but then I really have no need for an info screen. I'd rather it was more functional, so I might just swap in a Blue-Ray later on instead.


---
RE: nMediaPC 1800B HTPC - nickr - 2017-08-08

I love the case and this is no doubt a well put tgether project: kudos!

But I am wondering what you hope to achieve using all this money that something like a Odroid C2 would not give you?


---
RE: nMediaPC 1800B HTPC - DJ_Izumi - 2017-08-08


(2017-08-08, 11:34)

nickr Wrote: I love the case and this is no doubt a well put tgether project: kudos!

But I am wondering what you hope to achieve using all this money that something like a Odroid C2 would not give you?

Well, these two items here:


Quote:AMD A10-7860K CPU

2x Logitech F710 Gamepads

Would leave you with a machine that'll do fairly okay at emulators and light casual gaming. Even a whole slew of PS3/360 era ports on Steam that'd probably run pretty okay.


---
RE: nMediaPC 1800B HTPC - eclark5483 - 2017-08-08

What would I gain?

Dual Boot OS's
Steam
LibreOffice/MS Office 365
20 sec boot
Dolphin Emulator plays well enough
DVD player (optional BlueRay)
Classic look (it looks like a regular DVD player)
Dual HDMI
5.1 Surround Sound
Windows 10 (I'm the only one in the house familiar with Linux)
8 USB ports
Charges devices while powered off

Can I do some of those things with Odroid C2? Well, sure, but it wouldn't be as smooth or as pretty. I'd have cables everywhere

Issues that I did run into. The Inteset USB Internal Infrared Media Center Receiver does NOT work with the Ortek VRC-1000 MCE remote. The Inteset is made for MCE remotes, but that's OK, I'll probably just give the Ortek to my daughter with the USB receiver it came with for her computer. It works well enough. For now I'm just using my old Microsoft remote till I get a Logitech Harmony ordered (parts list updated in OP). Also, I originally had a 250 watt PS for it with an extender, but the PS was DOA, so I replaced it with the FSP300-60FAG. The new power supply has longer cables so I no longer need the extender. HOORAH!! Otherwise, it's running like a champ.

The dual HDMI is nice. It allows me to run my 25ft HDMI cable to the desk and drive a small monitor with wireless keyboard and mouse. This makes the unit not only a HTPC, but a compact little workstation as well. It lets me eliminate the laptop I had setup at the desk. Spliting screens means I can watch a movie on the big screen AND surf the web (or even play ZSNES) at the same time all from the same PC.


---
RE: nMediaPC 1800B HTPC - eclark5483 - 2017-08-08

Another thing to take note of, this is probably one of the cheapest HTPC cases your gonna find on newegg that will hold a mini-ITX board. You'll have to use a low profile fan, which will probably limit you to a 65 watt CPU, but you have the potential of creating a full blown PC in a very compact setup.

Check out the height on this thing.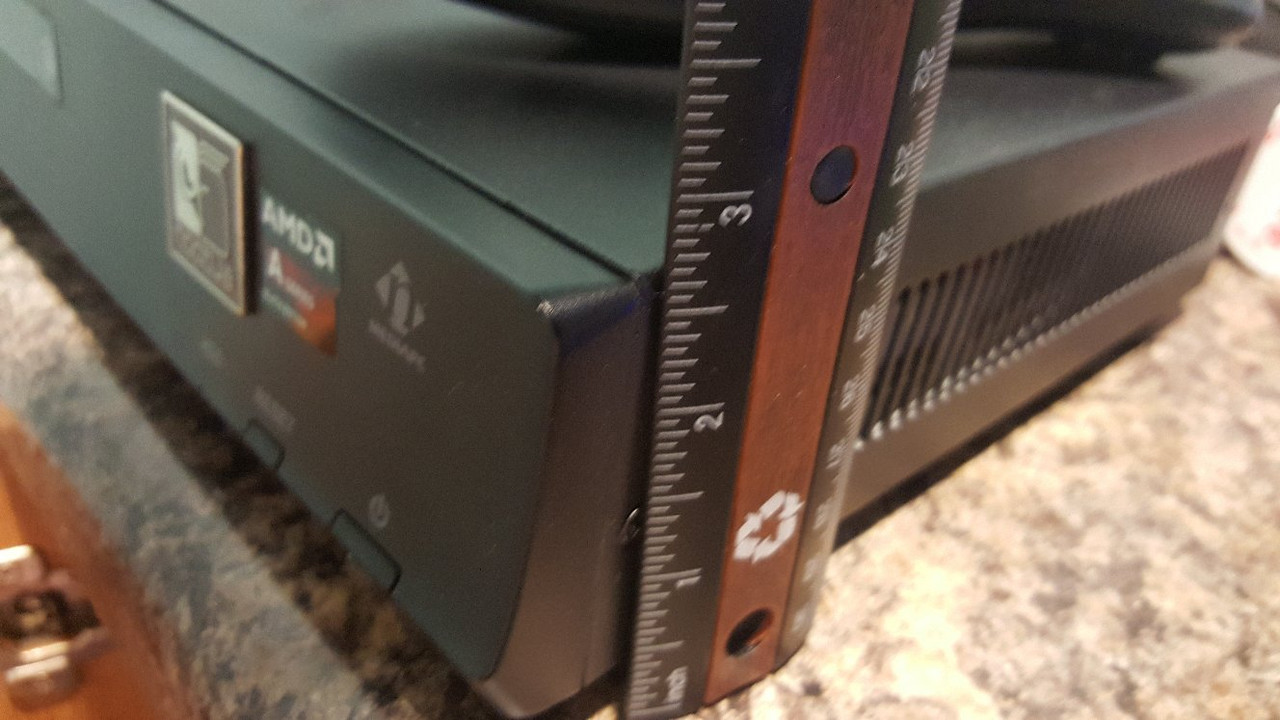 ---
RE: nMediaPC 1800B HTPC - DJ_Izumi - 2017-08-08

I think what disappoints me about this case is that it doesn't have an alternate variant that drops the optical drive and allows you to use a discrete GPU via a riser.
---
RE: nMediaPC 1800B HTPC - eclark5483 - 2017-08-08

I know right. I have a complaint about where the power supply is oriented (unless you use a PicoPSU). I think the motherboard should mount on the left and the DVD bay on the right. You could use a power supply with shorter wires that way, and you wouldn't have to stretch across and around the CPU. If they would have removed the DVD bay, they could have utilized that space for a riser solution to hold an nVidia 1080. But then, I don't think a PicoPSU would run it, I personally wouldn't try it. Like you were observing with the 7860K CPU, it's good for mild gaming. One can search YouTube for what kind of frames it gives you. Considering what my kids play (they both have Autism), I have no need for much power out of the APU for games other then emulator games. Most demanding game they play would be F-Zero GX. I can pull around 50-60 FPS out of it with a 7860k with no other GPU, and that's fine with me.


---
RE: nMediaPC 1800B HTPC - eclark5483 - 2018-01-12

So, just an update on this since I have had it running for quite some time.

I began running into heat issues. My CPU was climbing up into the lower 70 degree Celsius range under heavier loads, which isn't very stable for a 7860K CPU. So I ended up pulling the setup out of the case and replacing it with a lower wattage CPU and cheaper board. I then placed all the components into a Cooler Master Elite 130 case with a Corsair radiator in a PUSH/PULL configuration. I am also now running a higher end 450 watt power supply, and for good measure, I picked up a GTX 1060 (6GB). Also changed, is the remote receiver. I am now using a FLIRC USB dongle which works just fine.

The old nMedia case seems to be handling the low watt AM1 5350 Kabini 25watt CPU with no issues, so I passed it off to my son for his college dorm for Netflix and what have you.

I like the nMedia case, but I'm glad I made the switch, not just because of thermal issues, but it allowed me to put in the GeForce card over using onboard graphics.

So with that being said, I wouldn't attempt an HTPC setup on the nMediaPC 1800B unless you use a cooler running lower wattage CPU.

As a side note, with the new GTX 1060 installed, I have been using my HTPC as a bitcoin miner when not in use. I have a couple other mining rigs here at the house, figured the 1060 HTPC might as well join in on the fun!!
---
RE: nMediaPC 1800B HTPC - eclark5483 - 2019-02-08

Hey guys, haven't posted in ages, but since then I have built several more of these HTPC's for friends. Just wanted to give a little updated video of the nMediaPC case running on a Ryzen setup.



Parts list is:

Case (CURRENTLY OUT OF STOCK): https://www.newegg.com/Product/Product.aspx?Item=N82E16811204043

ALTERNATE CASE SOURCE: https://www.ebay.com/itm/161219008705

Power Supply: https://www.newegg.com/Product/Product.aspx?Item=N82E16817104197

Motherboard: https://www.newegg.com/Product/Product.aspx?Item=N82E16813144190

CPU: https://www.newegg.com/Product/Product.aspx?Item=N82E16819113481

CPU Cooler: https://www.newegg.com/Product/Product.aspx?Item=13C-0005-00145

Ram: https://www.newegg.com/Product/Product.aspx?Item=N82E16820104571

M.2/SSD: https://www.newegg.com/Product/Product.aspx?Item=N82E16820250091

Blu-Ray Burner: https://www.newegg.com/Product/Product.aspx?Item=N82E16827136250

4 Pin ATX & 4 Pin LP4 Molex Splitter for 8 pin CPU EPS: https://www.newegg.com/Product/Product.aspx?Item=N82E16812423181


---