---
[RELEASE] VideoMonkey - a video plugin for YouTube, Dailymotion, and everything else! - sfaxman - 2008-07-08

Hi friends
,

It's time for me to contribute to this beautiful project.
I took many ideas from available XBMC PlugIns (Many thanks to every developer here).

The new video plugin "VideoMonkey" can be downloaded from here or from the plugins online repository.

Everyone with basic RegEx knowledge (like me) can add new video site catchers easily (see file youtube.com.cfg). YouTube (com, de, fr, nl), Dailymotion (com, de, fr, nl), Metacafe and others are included. Feel free to post new suggestions or critics.

Bye,
sfaxman...


---
- Gamester17 - 2008-07-08

Thanks for your contibution! Please submit (all and any plugins) to us:
http://forum.xbmc.org/showthread.php?tid=29911


---
- Bram77 - 2008-07-08

Thanks! Sounds great. It's nice to have a plugin that contains multiple video sources. My Videos section is getting pretty much full thanks to all the great plugins that have been created lately
---
- dynamix - 2008-07-08

Thanks for sharing sfaxman! Gonna try it asap.

(

Vielen danke Nachbarn!

)


---
- sfaxman - 2008-07-09

Hi dynamix,

Here is a version with YouTube (NL)

Download

sfaxman...


---
- anoobie - 2008-07-09

Thanks a lot. I just want to comment that it takes a little while to retrieve items. I'm not sure if this is fixable but just thought to bring that up.


---
- anoobie - 2008-07-09

Never mind. I guess it's only slow the first time accessing the page.


---
- danrodriguez - 2008-07-09

Nice work. Is there by anychance a way to add the site http://www.tu.tv to the listing? I've got most of the regex work done but the catcher doesn't work. Any advice?

Here's the link to .cfg file so far.

http://rapidshare.com/files/128299649/tu.tv.cfg.html

Thanks in advance


---
- sfaxman - 2008-07-09

Hi danrodriguez,

I'm glad to see that you tried to deal with the cfg files.
It was not possible to add tu.tv without touching the python part of the plugin (at least with the catcher page that i found that supports TUtv (TUtv is a nice page by the way)).

Here is the new version > Download < The category and next page rules still need to be adjusted.
Can you also add a subcategory for 'Hoy' 'Recientes' 'Semana' 'Mes' and 'Año'
?

@anoobie
It is possible to eliminate the retrieval time. But for now we will loose the dowload functionality (using Switch media -> Filemanager). When the download and player selection options are implemented, i will adapt the plugin to catch the direct link to the file when you select the video and not when the page is loaded.

sfaxman...


---
- dubstar_04 - 2008-07-09

Should this work in linux?


---
- sfaxman - 2008-07-10

*** Update***

Now we have the possibility to download the videos and choose the video player (Check the plugin settings!!). No more waiting for the directory listings


Download

The download function has problems with some exotic video names... Will be fixed soon.

Bye,
sfaxman...


---
- anoobie - 2008-07-10

Thank you. Nice to see no more waiting.


---
- bionic1234 - 2008-07-10

Great plugin sfaxman. Very easy to use.
Works for me in XBMC Linux


---
- dubstar_04 - 2008-07-10

Bionic1234,

I am having trouble getting this started.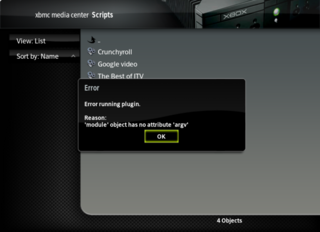 Is this only me?


---
- sfaxman - 2008-07-11

*** Update ***

- A random file name is generated when the title of the video cannot be used as name for the file to download.
- French language file added
- Metacafe added
(I love these smilies)

Download

Sfaxman...


---