---
Focus - Alpha 6c released - Jeroen - 2008-11-09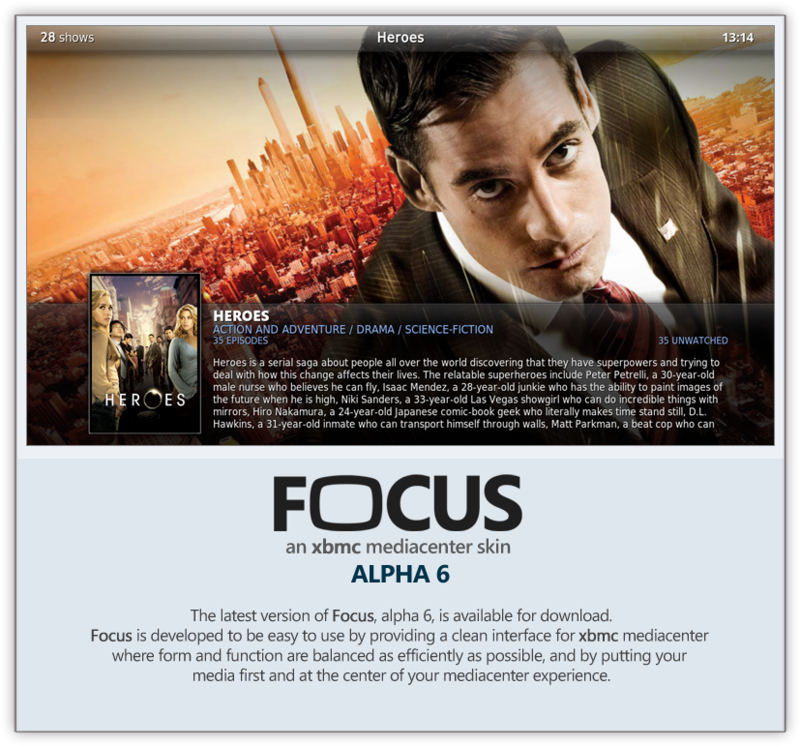 Changes


Much work has been over the last period. Too much to list here anyway. The biggest change is that alpha 6 was developed for high resolutions. There is currently no dedicated support for SD screens anymore. This will probably make a return in the future, but how and in what form I don't know for exactly yet. Right now I want to focus on HD as this is what I have started using. That being said, I THINK Alpha 6 will look reasonably OK in 16:9. I hope most of the issues can be resolved by font adjustments.

4:3 will probably look not so good.

Fonts have been adjusted and changed, additional custom icons made, layout and features re-thought, and overall polishing and refining.



Known Issues


I think I know about MOST of them
Biggest ones being the visualisation controls not functioning (properly) yet, and probably some skin settings options not working (mainly regarding view type customization).



Download


Compiled builds are hosted at google code from now on.
Soon Focus will be put on the XBMC skinning Project SVN. More on that later.



Thanks


Many thanks are in order to everyone of team-XBMC for making the best mediacenter application in the world. Special thanks to Jonathan Marshall for his great assistance whenever I can't make stuff work




Good to know


Focus is constantly being tested on almost daily builds of XBMC. So please use a recent build of XBMC too when reporting problems. Focus is not finished, and as XBMC keeps evolving I'm afraid it will never be
I am however pushing towards what you could call a 1.0 version where current features meet my standards.



Feedback


Your feedback is greatly appreciated so if you run into problems or have something else to say I would love to hear it.

Kind Regards,
Jeroen


---
- shizzle - 2008-11-09

is there ever going to be a different home menu? the one now feels buggy on 4:3


Alpha6 looks great


---
- devilrejects - 2008-11-09

Looks really good.
---
- slyk2203 - 2008-11-09

yes thanks, very good job.


---
- buddhaed - 2008-11-09

Sound scheme is especially good. One of the best skins so far. Thanx!!!!


---
- Jeroen - 2008-11-10

Yes, there is going to be an alternate home menu pretty soon. It won't offer the flexible navigation of the current one, which I personally love, but it will be more flexible regarding customization of the available menu items. Define buggy though, as I checked it in 4:3 and it works like it should.


---
- IIINeOIIINL - 2008-11-10

Nice job!
---
- CptKen - 2008-11-10

Fantastic update to a fantastic skin.

Only issue I seem to be having is a long delay accessing and changing skin settings(on latest t3ch on xbox original).

Other than that, great!


---
- Bram77 - 2008-11-11

Thanks a lot Jeroen!

The skin is now available for download with the XBMC-Favorites plugin (link in sig)


---
- shizzle - 2008-11-11


---
- Keane16 - 2008-11-11

Wow looks very nice.

Hope it still runs as smooth as butter on the original Xbox. Focus has been my skin of choice on the old box for its simplicity and speed.

If not I can stick with Alpha 5 as I have no issues with it.

Thanks!!
---
- marlboroman1 - 2008-11-11

the home screen is the same as above for me in 4.3 mode


---
- djtoll - 2008-11-11

Very nice JOB
---
Stunning - minimalko - 2008-11-12

I must say It is a shame ignoring this skin for so long. It is very clean. Navigation gives you more physical feeling than other skins. Sounds are great too. Goes beyond the "as much fanart as possible" trend which is totally good.

(Sometimes I feel that users care more about having nice backgrounds in their views than having functions and info in them. The whole fanart madness is going to fade soon anyways.)



Simplicity together with elegance of FOCUS just makes it my skin of choice for the time being.

Thanks for making this. In case You would need any help I would be glad to hand you with development.
---
- Stunts38 - 2008-11-12

This is a Great Skin, Just discovered it after being a little squeezed out of using the always great Mediastream due to severe memory issues on my platform of choice, XBOX,

This skin is simple but elegant and still allows me to use backgrounds and fanart without Memory issues.

Jeroen

Thank-you


---