---
- FourTwentySmilz - 2009-08-03 07:51

(Continued from last post)

This is Coverflow View. I took out the FanArt, feeling it really wasn't needed, looked crowded, and over all, you just couldn't see enough of it.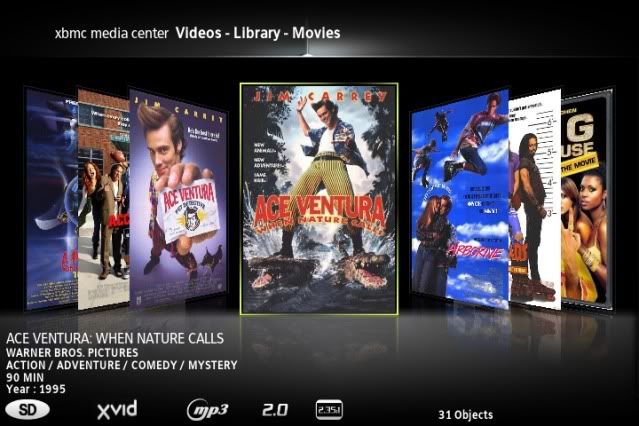 This is the FanArt View. Movies on the top.....TV (Main) in the Center.....and TV (Episodes) at the bottom.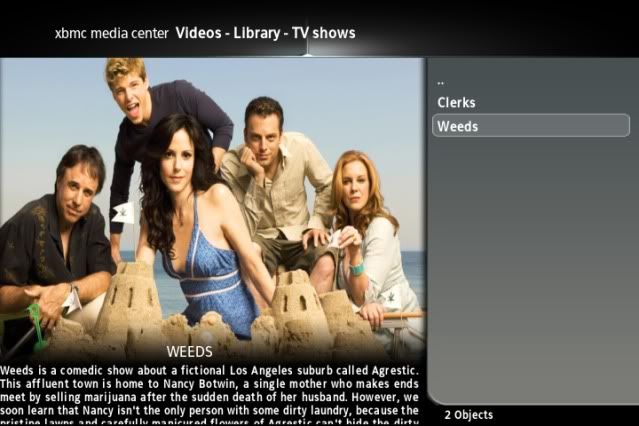 Media Flags are only in these 2 View Modes (for now.......LOL).

Hope you like.......


---
Coming along well - TheQuestor - 2009-08-03 09:16

I hate to be the nitpicker and I really DO like where this skin is going, but on the main page there are 2 things that are just anoying me to no end.




The menu makes me feel lopsided when I look at it
and I can't see the text on the 3rd button below it.

Other than that and when this gets fixed I would like to host this on my site giving you full access to add new builds, add/change up to 20 screen shots and give people a place to get it without annoying popups and waits


Craig


---
- FourTwentySmilz - 2009-08-03 09:32

Thank You for the feedback, Craig.

As you can see, the skin is going in a different direction.......mainly to help with the "invisible" text for the File Manager Button......and because MediaStream was one of my favorite skins. The newer screenshots are of the new Default look for the skin and new themes will follow afterwards.

I too thought about sliding the home buttons left (it is currently in the exact same place as in the original PMIII), but I think with the new, darker Menu things look better. I still may slide it a bit, but for now I'm pleased with it. It is just enough PMIII......it may need a lil more PM3.HD(with help from PrimusZa1)...Added benifit of Codec Flags.....Plus, Recently Added on Home Menu(thanks to ronie)....and the MediaStream inspired textures with the mix of the original PMIII icons gives a sleek but nastalgic look.

Its a work in progress, and I am no skinner, by far, and I'll be the first to admit it. This is just a way for me to show the community my "Thanks".....and to help the xbox users have a lil something "extra".


---
- TheQuestor - 2009-08-03 09:54

Well since you are making a theme then you ARE a skinner
I look forward to v2
---
- FourTwentySmilz - 2009-08-03 11:33

"Recently Added" was just recently added (pun soooooooo intended) and Thanks goes to ronie for the work. Finally gonna be able to get a nights rest. Had been working on some things and thought I'd look at the forums before bed......Boy, am I glad I did!

Shouldn't be to much longer. Just a few odds and ends.....then, the release.


---
- FourTwentySmilz - 2009-08-03 23:28

Here are the screens of the Recently Added and Library Info for the Home Screen.....

These are from my Xbox.....

Movies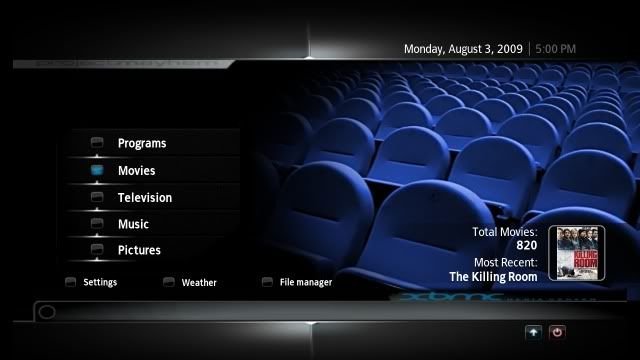 TV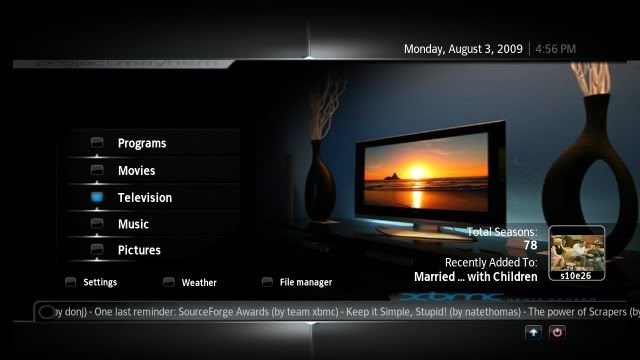 These are from the PC (windowed).......

Movies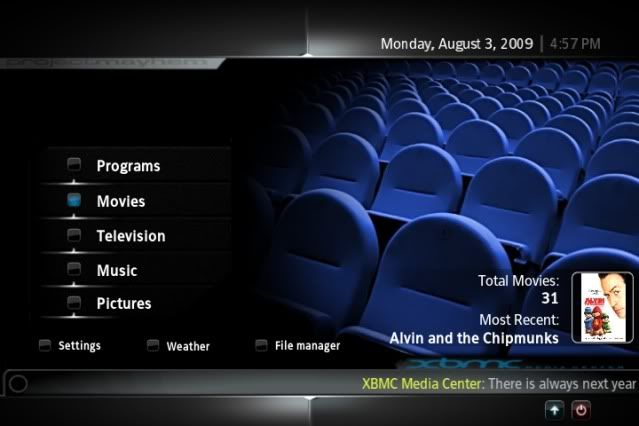 TV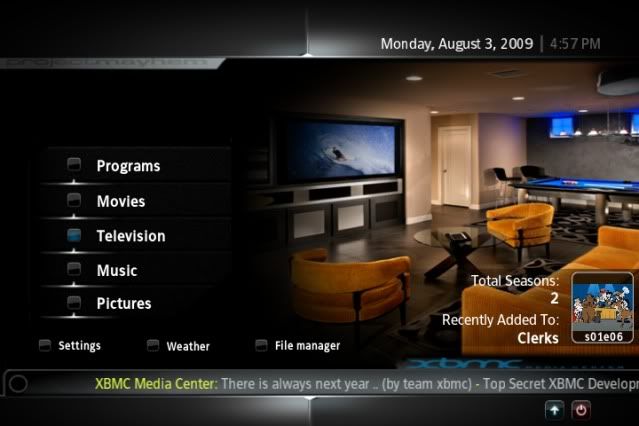 As you can see...... Both give you a Library Total.

Movies shows the last movie added to the library and it's poster.

TV shows the name of the last Series you added an episode to, and the thumbnail for the episode added. Plus under the thumbnail is the season and episode numbers so you(or whomever) knows where to navigate to. (If adding multiple episodes, this will only show the last one entered......not every episode.)

Now I need to work on getting this info to refresh when navigating back to the Home Screen from other menus (ie: Movie Library or File Mode)

I may (or may not) add Recently Added Music to the Home Screen........still debating it.

Hope yall like.


---
- ronie - 2009-08-03 23:57


FourTwentySmilz Wrote:@ ronie......

Thanks again for all your help, man. One more thing though........How can I get that info to refresh, upon return to the Home Screen, after I have navigated away from it?

Be sure to check out the new screen shots of your work (last 4 pics posted in my thread)!
I added a worked with it some too!

i just did ;-)
it looks better with those thumbs and i like the way you're handling episodes ('recently added to:').
it's way better than just listing the total number of tv shows.

the srcipt runs each time you enter the homepage, so it should automatically update the info every time you navigate back to the home screen.


---
It's me again - TheQuestor - 2009-08-04 08:12

I know you said you had a reason for the menus to not be centered, but I still think they will look much better and give you more play room to do stuff on the right part of the screen. I did a little compare screeny of what you have [which is REALLY looking great btw] and where I think the menus should be located.




I hope you do not think I am just trying to be petty, but for some reason I just get a real unbalanced feel with the menus being near the bottom and to the right. I just feel a need to add Feng shui to everything I guess
---
- FourTwentySmilz - 2009-08-04 09:25

Your requests do not fall on deaf ears. That is what all this is for, right? Ask for opinions.......and hope people give honest ones.

I have been mulling it over and think I might tinker with it a little later today. For now I just wanna get it all working, make it as eye pleasing as possible, but over all, get it all working.

Things seem to be falling right into place though. Ronie's help on the "R.A." really helped ALOT. And I am really pleased with the way it turned out. I think it looks just as good as the few other "R.A." concepts I've seen. Most of them look and function pretty much the same. That's why I went for something different.

BUT.....

The only walls I'm hitting right now are, problems refreshing the "R.A." info when returning to Home, from other screens......and it seems manually added TV thumbs must be stored in a different location than scraped TV thumbs, cause scraped TV thumbs show just fine in the "R.A.", but the manually assigned ones do not show. Noticed this after I added the Thumb to the new episode of Weeds (Yall know I watch Weeds!!! Look at my screenname.....I mean, for pete's sake!!). Manually added Movie Posters show just fine though. That seem weird to anyone else?

If anyone knows what might be causing these 2 issues, let me know.

Ohhh.....Craig. Dude, that F'n dog avatar spooks me out every time I look at it. I think its the eyes. LOL J/K


---
- jarod71 - 2009-08-04 17:41

i agree, the centered version looks better. I also would like to see a larger xbmc logo in the upper left hand corner. and the one on the lower right removed. I am partial to the looks of the original xbmc. love a lot of what your doing with this skin.
I would love to see the original keep it's looks and just get updated with the newer features. looking forward to PrimusZa1's version...


---
- darknior - 2009-08-04 19:26

Hi

I ha see your new PM3 skin today and it is very interesting for people who want's to use a not HD Skin

Good for low memory crash lol

You distribute a link of a version 1, but i don't really understand ... it is an old version without the fanart and all the news ?
If it is, when do you think to UP here the V2
?

Bye
Thanks


---
- FourTwentySmilz - 2009-08-04 20:53

darknior......

Version 1 does have FanArt,....but not CoverFlow. No codec Flagging. No animated Weather Icons. No Recently Added on Home. Is Cobalt (not Black).

As soon as Ver2 is finished......it will be posted. Souldn't be very long.

Thank You for your intrest though. Keep checking back.


---
- Waffa - 2009-08-04 20:59

Hey FourTwentySmilz,

Did had a look to PM 3.5, nice work and runs great
---
- FourTwentySmilz - 2009-08-04 21:02

The old version does work great, but the new version is going to be smoking!!!

Thanks for letting me know what you thought, Waffa.


---
- Waffa - 2009-08-04 21:09

You made me curious
---