---
[MOD] Another Aeon Night Version (Update 03-08-2009) - `Black - 2009-06-12



Udpate

: Anacotic asked me for the source files, so here is the source file of the multiplex_tablet: download

So here is my Aeon night mod. You get a full themed Aeon with the following mods:

Complete (1080p optimized) night theme (no light theme available)

New Multiwall view (screenshots below)

DVD cases

Watched overlays

Trailers in Multiplex & Multiwall view

Flow for multiplex

Conditional Weather Backdrops (has to be fixed)

Latest added on home screen (has to be fixed with now playing panel)

Slider dialog

New now playing panel


Next update will have:
File manager

Smart playlist editor

Low list

fixes for conditional weather & latest added


Some advices to the native flagging which is included in this mod:


Enable "extract media metadata information" in settings -> video -> general

In the studio tag of your nfo has to be only the studio name, e.g.

Code:

<studio>Walt Disney Pictures</studio>

XBMC can't extract the meta informations from .isos or .vob files, so you have to add them manually or use an app like ember media manager

Download aeon night mod on github
Screenshots:




New Multiwall View:



Videos:

---
- JoWa - 2009-06-12

nice mod, i like it...

but theres a problem with your include_mediaflags.xml

if i use yours, not all the flags are shown... so i just copied my old version back, and now it works....


---
- diemos - 2009-06-12

wow, this is amazing mod, perhaps you should contact Djh_ maybe he can use this, this looks really good.

awesome stuff.


---
- Leeuw - 2009-06-13

Nice job, 'black! I like this much better than the "standard" night textures.


---
- wannabegt4 - 2009-06-13

Cool. I was planning on doing the same thing but hadn't found the time yet. Looks great.


---
- scrolling - 2009-06-13

Very nice mod.


---
- bidossessi - 2009-06-13

I'm still trying to figure out how to use fanart as thumbnail for TV shows. is it an option in Aeon?


---
- `Black - 2009-06-13

No, you must have folder.jpg for main season image and seasonXX.tbn (X = number of the season, e.g. season01.tbn for season 1) for season thumbnails in the folder of the actual tv show. There is no option in Aeon to use the fanart.jpg as thumbnail, but you can simply take the same image for folder.jpg or seasonXX.tbn.


---
- bidossessi - 2009-06-13

i see. thanks for the info


---
- `Black - 2009-06-13

So here's a screenshot of the night content dialog, i'll release it maybe tomorrow including all the rest dialogs.

Btw., thanks to all for the feedback.
---
- Neku - 2009-06-14

Can you add titles as in jsm00thie MOD?


---
- `Black - 2009-06-15

Yes, I'll add it as an option after I've finished the night theme for all system elements.

Here are some more screens (alomst everything is done except system settings):


---
- `Black - 2009-06-21

Lasted a little longer than I thought but here is the update with full night mod (almost... some dialogs which I've never seen are not skinned) including title mod & dvd cases (just a test and only for multiplex now). I've also tweaked some images (8 -> 16bit for better gradient quality).

If you want to use your own Includes_Mediaflags.xml (the one for native flagging is included), see first post for instructions.



Download Aeon Night Mod



Screenshots:

Keyboard



Settings:



DVD Cases & Title Mod



Activate dvd cases & title mod in advanced settings

---
- Hitcher - 2009-06-21

Excellent work as usual Black.


---
- z][ggy - 2009-06-21

did a fresh aeon to try this and erm not sure..... got my flags working no problem
when I press "s" the menu is messed up it's like got a wave effect in it lol tbh I don't like it, vizulisation option won't stay "on"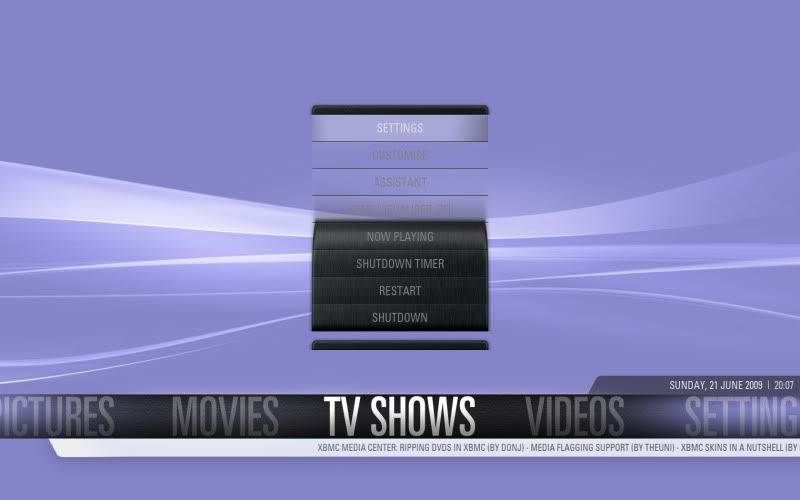 love the dvd covers would love it even more if you would add them to showcase aswell and do the same for audio cds alot to ask i know but think it's worth it

or can you break the dvd cover mod down so you can install just that alone (and showcase and audio cd's) <----- if you did that you would be my hero
---