---
are TV Shows' episode info scrolling for anyone on Qualar Mod? - taycrowe - 2009-12-06 06:17

Hey guys...
i know it's been said time and time again, but i think this skin is by far the best skin out there(even after the much anticipated Ellipsis was released).
For a while, I have had some questions about just a couple of things. I'm using Qualar Mod 2.8 on SVN 25010, Windows OpenGL(questions are below screenshot) .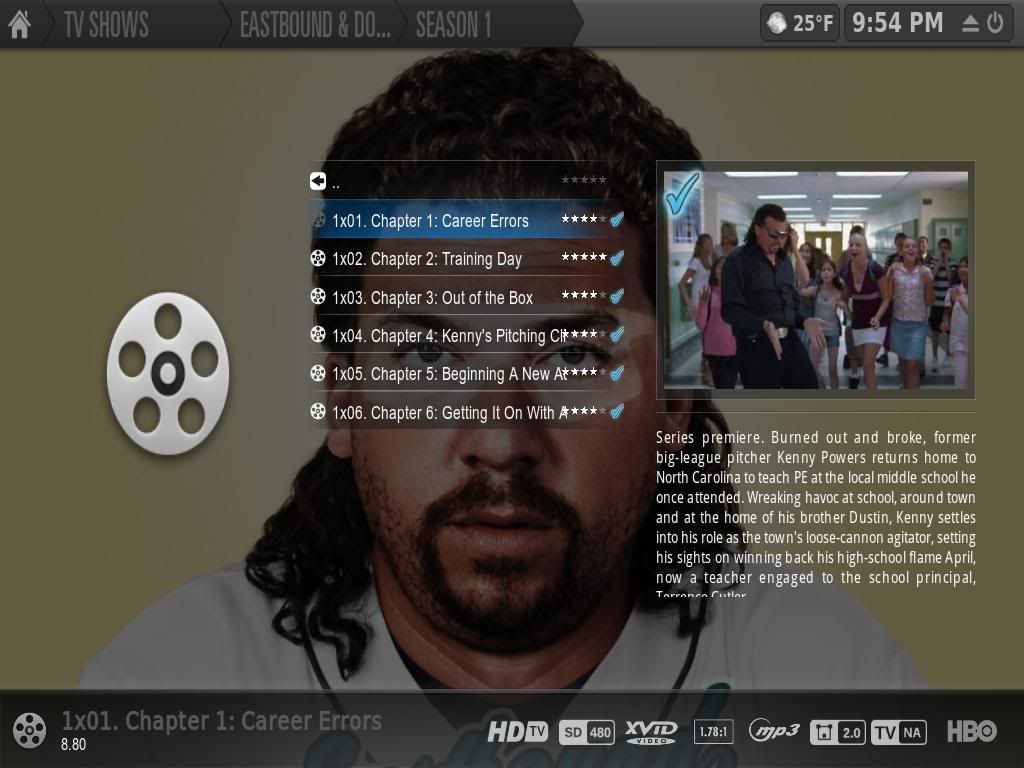 1. Is there a way to either make the TV Shows' episode info scroll, or maybe just expand the area of the text box by modding one of the .xml files??
2. I changed the Breadcrumb font and made it larger, which makes some names not fit, as above. I would love to be able to mod an .xml to move the arrow(breadcrumb separator image) over, but i have a feeling that it may be more complicated than that.
3. Finally, and least important, on shows with single seasons, the media icon shows up instead of season 1.tbn(i tried a few other filenames, too). It may be an XBMC function for all i know. i don't have my TV Shows in separate season folders, so i could probably fix it by making a season subfolder. i just hate to move and rescan all of the single seasons i have if there's an easier way to make the season thumb show up.
None of these are all that important, really, but these are just the 3 small things that i've noticed and would like to make work, if it's not a huge ordeal.
Any tips on which files to look at for any of the above things would be greatly appreciated. If not, i'm still LOVING this skin. I hardly watch LIVE TV(or DISH DVR) anymore because i love XBMC so much. It's great to see that you guys are so involved in this project.

Thanks,
taycrowe


---
- qualar - 2009-12-06 21:00

1. I have now added this for you, it will be in the next release.
2. Yes this would take quite a bit of playing to get to work.
3. I tried to do this but it look like XBMC does not download a season thumb for 1 episode.


---
- taycrowe - 2009-12-07 03:06

Thanks, man.....I love when i see a new release of this skin. It's addicting, somehow. I spend hours tweaking little things in the fonts and colors, almost to the point to where i play with the settings more than i watch the videos....It's addicting.
i can just imagine how much time you spend tweaking all of the small things that make this skin so great. I don't see how it can get much better, but part of me hopes it keeps morphing a little more each week, just so i can keep playing with my settings....haha.
GREAT JOB, buddy.


---