---
- korn99uk - 2011-02-15

Sweet - thanks for doing that it looks good.


---
- djdafreund - 2011-02-15

I like it. I was hoping you would add more then 3 total. More matching now. Maybe we can make a phone script to send you a text reminder an hour before airing. JUST KIDDING for the other's reading this
---
- flipje - 2011-02-15

Thanks very much for changing that.


---
- korn99uk - 2011-02-15

I guess if there are more than 4 shows you could have a scrolling option like the plots have in the TV shows.


---
- djdafreund - 2011-02-15

I would LOVE to have enough free time to watch more then 4 shows in a single say. LOL. Sunday's my day off, and i watch (with family and nephews) Simpsons,Family Guy, Cleveland Show, American Dad (more often lately), but that's the only day of the week, even then, that i happen to have more then 4 shows i collect in the same single day. I honestly like that idea though about scrolling if more then 4, not sure if it can be pulled off or not, Sharpe's the coding wizard, so we'll see. He modified another script just to pull off what he did currently.


---
- korn99uk - 2011-02-15

I guess the other option is that there was a TV Schedule add on I saw in another part of the forums that would give you the whole week.

Edit - found the link - http://forum.xbmc.org/showthread.php?tid=85109 but I think this is just for specific skins.

A lot of the shows I watch I will download because I can get them in HD so I don't watch them all in one go. As long as I have watched it before the next episode I am happy.


---
- ppic - 2011-02-15

this kind of stuff can ported on all skins, it uses tvshow next aired script too.

see in paperstreet, it also used there : http://www.youtube.com/watch?v=twz8A7Z0_-A


---
- Sharpe - 2011-02-15

Hi fella - yep that's a highly innovative skin also igotdvds' epg style screen is very nicely done too.

Guys - I think the best way to integrate ppic's script to the max within Back Row would be something along the lines of how igotdvds has done it. I think it's best to leave the airing today stuff as it is - it's only meant to be a little widget on the home screen - just like recently added. I think if I added something to the video sub-menu along the lines of the cool epg style idea that would be best. What do you reckon - something to work on?


---
- korn99uk - 2011-02-15

I think a sub menu would be the way to go. You could use the widget on the videos screen as an overview for that day and if you need more info on what is on the rest of the week you can go to the sub menu


---
- djdafreund - 2011-02-16

this is something in the works, Sharpe and I were talking about and figured context item addition would likely be the best approach, but would take some time to do that, so it is for sure something WIP to add. The scripts are done very nicely, thanks so much for the great job done on them.


---
- Sharpe - 2011-02-16

Ok guys I've added the TV Guide to the sub menu of TV Shows - it's very much a copy of igotdvds' code at the moment - so massive thanks to him and of course ppic and frost for the excellent script. I do intend to do a lot more work on this to make it more "Back Row" (adding fallback labels where there is no logo and so on). But thought it best to get something down to start work on. Any comments / suggestions are always welcome.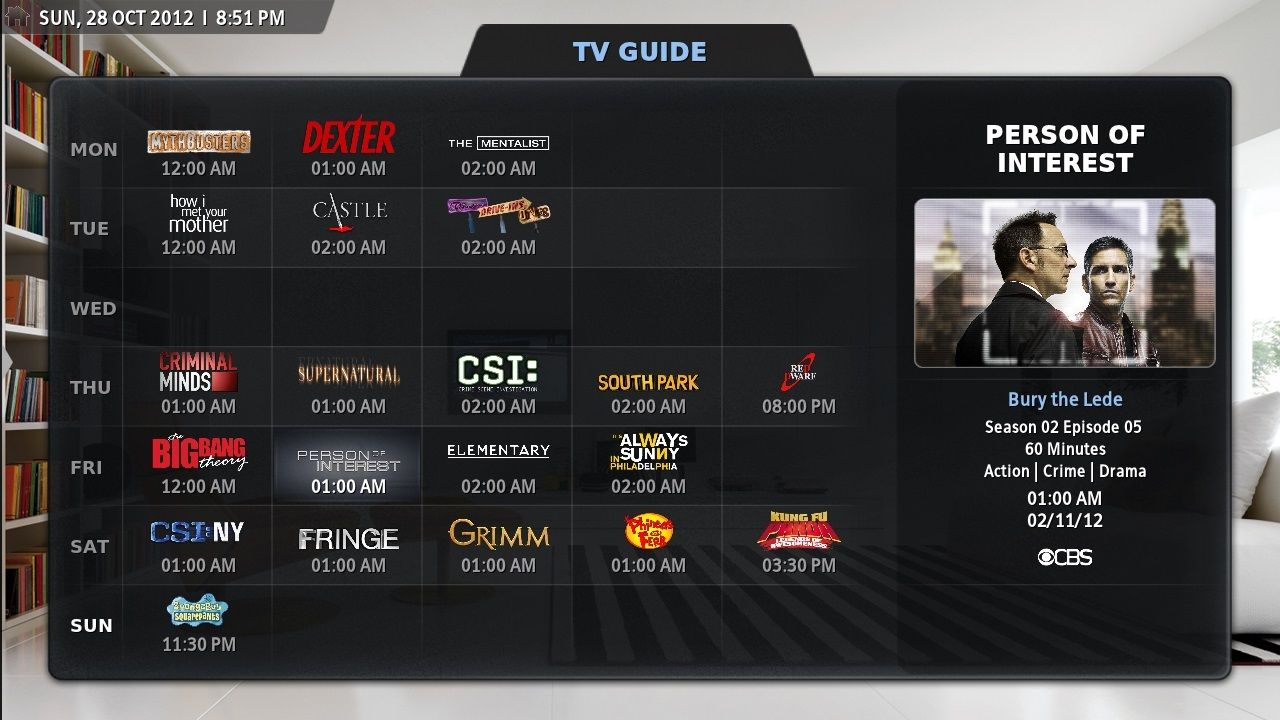 ---
- djdafreund - 2011-02-16

Hey Sharpe, i started doing a mockup last night for this screen, using a curtain background (can be whatever after blueprint is done of course) and a marquee looking styled board for the main info is on, and separator's actually a little similar to our weather boad design, but without all the actual marquee snapboard top part,and just mostly the board effect (darker grey style we usually use but with texture effect),and then used similar separator instead of plain white line. Screen design is same as your image as i used the screen shot from his threadd as the base for my mockup. Now that you got this done ahead of time, it will make it easier to edit til it pulls together.
I will work on this when i get home from work tonight, and i can just look at the svn changes to see what all new images your using for this. If anything, i'll change the mainboard image if ur currently using a duplicate image. Backround i guess is dependant on if using alternative images.(I don't even use curtains main anymore, cause different bg's we got give it a fancier look,and different images on each slide. Hit me an e-mail on any concerns or info you think i need to know,or preferences you have.


---
- supertom44 - 2011-02-17

Love this skin just a couple of questions and comments.

Could you move the tv airing today onto the tv menu? so have it over the right hand side of the screen, I love this feature but I hide the videos menu.

The only thing that prevents me from using this skin all the time is the fact I cant add play lists to home menu as menus or sub-menus.


---
- Sharpe - 2011-02-17

Cheers Supertom44!

Hey you know you can add playlists to the home screen as a menu item - just make your playlist, add it to favourites then add that favourite, in skin options, as a home menu shortcut.

Moving the airing today to TV episodes might look good - I'll try it out and see what I think.

#Edit - Yes looks fine I've done it. If Videos is disabled it will show above TV Shows


---
- supertom44 - 2011-02-17

The problem is myself and I know other people do as well, we use smart playlists to organise our libraries, for example I have one for unseen movies, I have one for DVDs and one for Blu Rays.

Also when you add to a favourite it tries to play the playlist rather than display the movies in the playlist if that makes sense?

Cheers for moving the airing today, took me a while to figure out why I couldnt see it until I noticed on your screen shot its on the videos menu lol


---