---
- hikaricore - 2010-10-30

Sabnzb does all my unpacking and file moving for me so it's a non-issue. :p

As for resharing scene material this is what SRR was created for.
Since scene rars are uncompressed SRR can recreate then on demand and even restore lost nfos.
---
- KidKiwi - 2010-10-30


hikaricore Wrote:There was an issue with one of the images after approval, I'm not sure what the case is but you're welcome to reupload the missing copy and we'll try and remove the blank one.



"Phoenix Nights"

- I noticed after I'd uploaded the two logos that the "i" in Phoenix was out-of-wack. I have fixed them. I just noticed they have been added to the site. What do you want me to do? Upload them again? Or not bother?

Thx


---
- hikaricore - 2010-10-30

If there's something wrong that I overlooked go ahead and upload them again and the old ones will be removed.
---
- KidKiwi - 2010-10-30


hikaricore Wrote:If there's something wrong that I overlooked go ahead and upload them again and the old ones will be removed.

Done.


---
- DejaVu - 2010-11-01

I'm pretty certain some of these requests on LockStockMods are taking the piss.

I know there is a lot there, but seriously, things like LoveJoy, Saved by the Bell - The College Years, WordWorld - there crap. People still watch this drivvle!

It seems to me like someone has been on and thought, I wonder what TV Show I can find and requested the most obscure stuff that they can think of.

If it was upto me, the list would be reset. I cant imagine everyone on their is hoping their logo gets made - especially after waiting upto 3 months.

4 weeks...? Then reset seems better to me, if it doesnt get made - re-apply.

Just my 2 cents worth.

EDIT
It also annoys me when people request a logo for something like this -


Why cant they at least have a go!

Rant over.


---
- hikaricore - 2010-11-05

I think we should give it another week and purge the requests. By that point it will be a month since I offered to make any logo provided people linked what I need and not a single person has asked me to make one. In the mean time myself and others have worn down the queue from 407 to 355 but that's still a bit underwhelming and I'll admit I've not done as many as I would have liked to.


---
- ppic - 2010-11-05

purge is good idea, work you've already done is amazing!


---
Mighty Ships - olafthekid - 2010-11-07



http://www.thetvdb.com/index.php?tab=series&id=153531&lid=7

Edit: ok read the instructions to fast, thought it was going to be centered.


---
- hikaricore - 2010-11-07

I'm almost tired of saying this but logos need to be aligned bottom.
If you were to submit that to the site it would be denied.


---
- KidKiwi - 2010-11-07

Well...I got a few denials in the last batch??

"

Saved

" was actually vector art drawn from scratch. I have applied a custom edge to it to make it more like the banner (it gives it a rough edge) - so I guess that is perhaps the reason it was rejected??



"Powering the Future

" also vector art drawn from scratch (except for the sun background).

"

Lewis

" - while looking similar, they were definitely different logos - one used a different emboss and shadow, so looked quite different on screen.

"

The Complete Goofy

" I submitted two logos. Didn't get an email about the teal background one. As for the inferior artwork - not sure what happened here as the image I took the logo from was perfect.

As for the purge - I think any requests without images should be purged (there are a lot).


---
- hikaricore - 2010-11-08

Saved looks very jagged, but you understand there was no way for me to know that was intentional.
If the logo is supposed to look bad like that then you're welcome to resubmit it.

The fire at the top of Powering the Future looks like shit on light backgrounds, fix it and resubmit.

I checked both the Lewis logos and they looked nearly identical. One appeared to have a slightly darker shadow. *shrug*

As for goofy I actually only meant to deny the one with the solid background.
Solid backgrounds are not permitted, they're called ClearLogos for a reason.
Please resubmit the other one as it was denied by mistake.


We've had a slew of shitty images lately, you'll have to excuse me for not taking the time to write out a reason for every single one of them.


---
- DejaVu - 2010-11-08

Would be amusing to see some of these 'real' shitty images you speak of. I'm glad people try, but a few laughs would keep it spirited.

My really bad ones (I hope I dont have many) can be shown here to be ridiculed - I dont mind.
---
- hikaricore - 2010-11-08

I don't recall you having many bad ones, a few overcropped and wrongly sized I like.
Let me scrape a few crap logos together soon and I'll post them here, no names will be named.

2,782 logos have been submitted to the site since the beginning (including imports from the old lists).
Of those 435 have been denied which is 15.6% or nearly 1 in 6.


---
- hikaricore - 2010-11-08

Over the following few posts I will be showing you images that were rejected for one reason or another. Some are obvious others for more subtle reasons like alignment or a cropped shadow. This is just some of the stuff we have to go through to guarantee that nearly all the logos on lockstock are of atleast good quality if not better. (sorry I'm limited to 6 images per post)

Bad logos set 1:






---
- hikaricore - 2010-11-08

Bad logos set 2: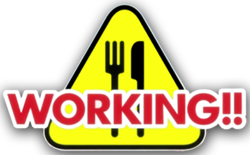 ---