I just downloaded the latest master...did a clean install, but nothing seems to be really working correctly for me. In fact I found three new bugs...
1. There seems to be two stages of "Focused" now--by which I mean if I scroll through the EPG and go from channel one to channel two for instance, when I scroll down the program on Channel two isn't actually "focused" even though i am currently hovering on it...To actually make it "focused" I have to hit to the left or right. This is definitely a new bug that was introduced in the previous version, but still is present in tonight's update. It makes navigating the EPG extremely tedious so hopefully it can be fixed.
2. in the pic below, look at the lowest channel in the EPG (channel 4 Tekzilla) and notice the program playing in the 830pm timeslot. You can clearly see the name in white (as it should be) but there is a new bug in this version where the name appears underneath it when you hover over it. The grey version of the name scrolls as well.
3. Is Dynamic art supposed to be working for Library content? Notice the fanart displayed is still for Ancient Aliens, as opposed to Six Feet Under (which I am hovering over.)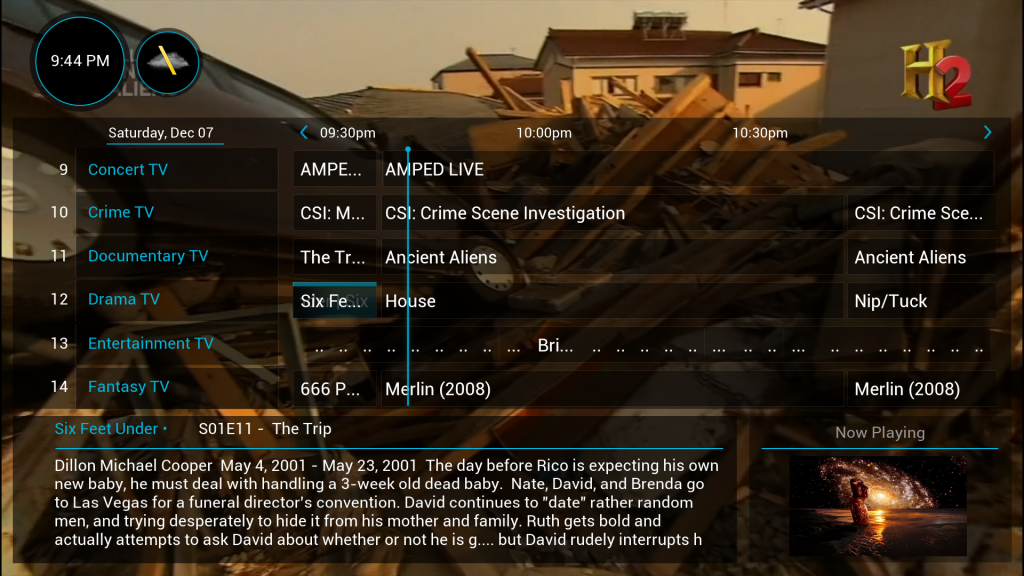 I probably should mention that the new TVDB changes just cause a black screen failure for me, the version this replaced worked flawlessly though. I can upload a log in a bit if you want to see one.