I've been using XBMC on my Windows 7 HTPC for months, but up until now I've only been adding rips of movies. I recently added several TV show episodes, and I'm having issues with XBMC bringing in the locally-stored artwork when I add the source to my library.
I'm using Ember Media Manager - Revisited to scrape the artwork, and I think I'm storing everything in the correct folder structure:
-TV Shows
---\_The Walking Dead
------\_Season 01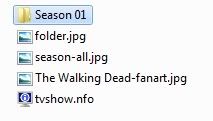 [folder.jpg = show poster / season-all.jpg = all season poster / The Walking Dead-fanart.jpg = show fanart / tvshow.nfo = metadata]
Inside the "Season 01" folder:
[Folder.jpg = season poster / Season01-fanart.jpg = season fanart / The Walking Dead.S01E01.BLURAY.Days Gone Bye.jpg = episode thumbnail / The Walking Dead.S01E01.BLURAY.Days Gone Bye.nfo = episode metadata / .mkv and .sfv are the media file itself and integrity hash file
When I add the folder "TV Shows" as a source in XBMC, I set source type to TV Shows, check "Run Automated Scan" and click OK. XBMC scans for new content, and adds the shows to my library.
However, when I go into the TV Shows to view them, only the show poster and metadata are displayed correctly. The show poster is also displayed on the season level (should be season poster). No fanart is shown on any level (using Nox skin, which supports season fanart). Episode thumbnails are not my stored .jpgs, instead look like XBMC-generated ones.
I've tried refreshing the information (and selecting "No" when "Locally stored information found, refresh from internet?" is given). Tried removing the source, cleaning the library & re-adding the source. I also tried deleting the Videos folder, textures.db, and movies34.db files from my XBMC User folder.
Movies are showing up fine and always have. I'm wondering if the filenames I'm using are incorrect for XBMC (Ember allows many different variations, not sure which are valid for Dharma).
I'm hoping I don't have to go into each show, season, and episode individually and point it at the correct artwork file. Like my movies, I'd rather XBMC pull everything locally when I add/update the source.
Any suggestions? Here's a link to the debug log, as well -
LINK
. Thanks!