2011-12-28, 05:21
Bring Kodi to a new level with streaming, casting, offline media and easy remote control.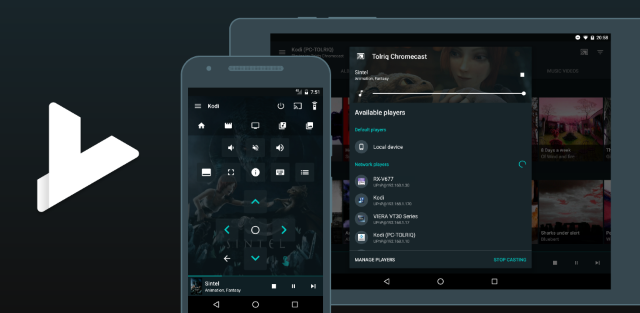 Enhance your Media Center with the best rated, most complete, easy and stable Kodi remote for android available.
Yatse can remote control all your Kodi's like many others, but also provides everything you have always wanted to enhance the usage of your beloved media center, including many features that you never thought you needed.
Main unique functions:
• Native support for
Plex
and
Emby
servers
•
Stream
your supported media to your
local devices
or
UPnP, AirPlay, Chromecast, Roku and Smart TV devices
*
•
Cast
your supported local media on your media center or UPnP, AirPlay, Chromecast, Roku and Smart TV devices*
• Natural voice commands
• Full
Android Wear
support
•
Offline Media
*: Sync media to your device for offline playing
• Audio Player*: Listen to your music everywhere
• Offline library
• Multiple widgets for fast remote actions, now playing details and more
• Support Media Player Classic (MPC) as an external player
• Cloud Save*: Keep your hosts and settings in sync across devices
•
Custom Commands
: Unlimited commands to gain access to the most advanced Kodi / XBMC functions
• AV Receiver plugins*: Direct volume control of your supported receiver from Yatse (Yamaha, Onkyo, Denon/Marantz, Onkyo/Integra, UPnp)
Other features:
• Modern and intuitive interface, designed for phones and tablets
• Completely configurable to fill all your needs
• DashClock / Muzei extensions
• Notifications and Lockscreen controls
• Quickly find your media with sorting / filtering and global search
• Detailed now playing with direct selection of subtitles (Including download and syncing) and audio streams
• Wake on Lan (WOL) and power control options
•
Multiple plugins
for SMS / call / notification forwarding, starting Media Center remotely, ...
• Cast media from
YouTube
or browser
• Optimized for speed and low battery usage even on older devices
• Support themes*
• Offers an API to control your media centers and Yatse from other Android applications
And much more, just install and try
.
If you have a problem or wants new functionality please use the official site:
Home Page
Keep in touch
:
• Official website:
https://yatse.tv
• Facebook:
https://yatse.tv/Facebook
• Twitter:
https://yatse.tv/Twitter
• Google+:
https://yatse.tv/GooglePlus
Yatse means:
Yet Another Touch Screen Experiment
Download
The free version does not contains ads. But some advanced functions (noted with an *) requires the unlocker to be used.
Please consider buying the Unlocker (In-App) if you want to support the continued development of this application.
Yatse: Kodi remote for Android
https://play.google.com/store/apps/detai...widgetfree