2012-04-06, 22:26
Code Name: "A6-PACK"
The Original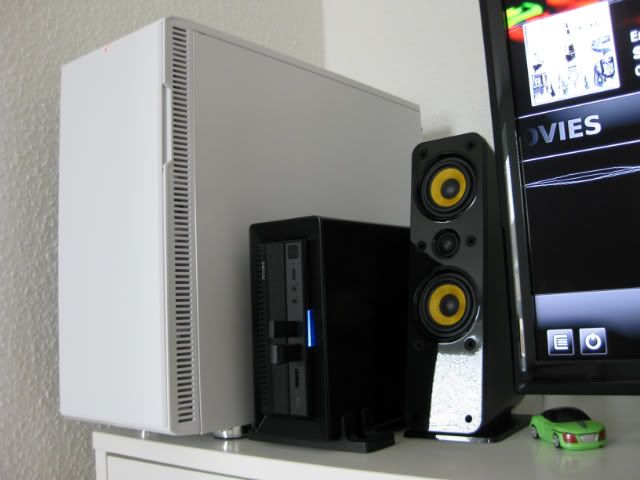 NO LONGER HAVE THE CASE FAN CAGE INSIDE AND SSD/DVD BRACKET
More info:
CLICK
More info: CLICK NOW TEMPS ARE LOWER! CLICK TO SEE WHY!
Please add to my reputation if you like this build or it has helped you:
It's right down on my sig...

Case: Antec ISK 300-65
APU: AMD A6-3500
Mobo: ASRock A75M-ITX
Memory: Crucial Ballistix 4GB 1866
SSD: Patriot Torqx 2 32GB
CPU Cooler: Scythe BIG Shuriken Rev. 2B
PICO: 90W picoPSU
MediaGate GP-IR02BK Remote Best remote ever! Don't forget to install this for the remote.
Unisen's iPazzPort Mini RF 2.4GH Keyboard (KP-810-10-A) Turns on you pc from cold... enable in bios.
Win 7/64 Ultimate
Aeon MQ4 / Eden

Now I CAN turn on my HTPC with my MCE remote take a LOOK HERE!!!!!

YES THE STOCK INTERNAL POWER IS CRAP!!!!! LOTS OF HARD SHUT OFFS on me and other members.
Bought a 90W picoPSU and no more troubles.


SHORT-CIRCUIT.com is a great place to buy!
Talk to CARL if you need help he can take care of you.

He also sells on ebay if you like that better!
---------------------------------------------
By waver123:
husband: honey I'm going to get a A6-Pack
wife: really? but we've a lot of beers in the frig already.
husband: No not the beer! I read about this in the forum I'm going to build myself a A6-Pack!
wife: really? That' awesome so you'll be going to the gym?
husband: ......
Thank you for the support... this started as a small project for my self and it turned out big.
Ok now to the system.....
I wanted a dedicated system for xbmc/htpc and no loner wanted to use my desktop.
Goal is to be silent... and guess what it is very very sielnt and also the APU its super cold even with Prime95.
Mission accomplished!
This case can take up to 135W look
here
. This is great if you plan to game!
NO WAY DON'T DO IT......Have to get a PicoPSU
The stock power brick it comes with is 65W and it works with this build I tested it with Prime 95 and Furmark and no troubles.
FOR A COUPLE OF WEEKS ON MINE SOME OTHERS GO OUT IN ONE DAY
This is what a
Kill A Watt
meter says on this A6-3500 gpu being stressed.
I HAVE TO DO MY OWN TO BE MORE ACCURATE ANYONE WANT TO DONATE ONE TO ME?
My settings on the bios are for the Target CPU temperature is 50c/122F
Target fan speed Level 1
You have to do this to get my temps and speed of fan.
THIS GOES FOR THE PICO AND THE BIG SHURIKEN 120MM

I get my RPM's to 865 steady on windows!!!..... with my settings.... you should have a low RPM on your Big Shuriken....
(in bios it will go to almost full... it is not a good way to test...you have to test in windows... BIOS is like you are doing a PRIME test jaja) Remember to save your settings!
Use this to monitor:
http://www.cpuid.com/softwares/hwmonitor.html
You could leave the
case fan cage
if you wan't it fits with everything in but I took it out. It makes the case get more air in and also you can see inside more at the beast.
Here is a pic of how much thermal paste you need on the CPU or APU pea size....
A nice video on application ways!
I had this
Kingston RAM
before thinking it was the culprit why it shut off but it's not and still recommended.
My new RAM is a little taller but it fits with about 1/8" of clearance left.
I love how it looks with out the FAN CAGE in.
Oh if you get this Crucial yellow ram all you do in bios set it to 1866 from AUTO that is 1333 and that is it.... the timings on AUTO are correct.
REMEMBER: To install RAM first because you might not be able to after you install an aftermarket cooler.


The ssd/dvd bracket inside needs to be cut a little so the big BIG SHURIKEN Rev. 2B can fit..... after a good job it will not touch anything here is a pic of the bracket cut. And here is a pic of it put on. More info on this read on.


YOU NEED THIS BRACKET IF YOU NEED A DVD/BLU RAY DRIVE





If you don't want to cut the bracket

the Scythe SCSK-1100 100mm Shuriken Rev. B 3 fit's perfect! and it will be silent too!!!! Take a look:
http://forum.xbmc.org/showthread.php?tid...pid1080600


BUT YOU WON'T GET THE SAME TEMPS I AM GETTING



The systems boots at 20 seconds from push of a button....

I have 21GB free out of 29.7GB.
With XBMC installed plus some small software I have 19.5GB free.
I also deleted (turned off) Windows Media Center and Windows Media Player.

Turn off Hibernate with a small dos command and turn disk defrag off.



Remember to share the memory to the apu in the bios set it at 512MB...



North Bridge Configuration
Primary Graphics Adapter : Onboard
Share Memory: 512
Onboard HDMI HD Audio: Enabled

Download the drivers for the mother board....
This is for win 7 x64
http://www.asrock.com/mb/download.asp?Mo...X&o=Win764


Realtek Lan driver ver:7.044 (this needs to be installed so you can get a connection)

AMD all in 1 driver ver:8.86RC2 (THIS IS A MUST)

Realtek high definition audio driver ver:R2.62 (I

DON'T

use this but if you are going to use the front jacks for audio or other things you need this)

Install the above first!!!!

THEN
also download the latest Catalyst Software Suite for your
GRAPHICS and ALSO it has the HDMI AUDIO
what I use..... here:
AUTO DETECT CATALYST
(you need this... IS A MUST)

Also I came to a problem where the SSD booted correctly the 20 seconds then it booted at 50 seconds then XBMC froze at boot.
This had me pulling my hair and made me test a regular HD and it did the same thing.
I found why... I did change my background to a SOLID black color from windows and apparently that has a bug and it's on SP1 too.
Solution if you wan't black just create a 1920x1080 black Jpeg and use that. Never use the solid colors windows uses.
More info:
http://lifehacker.com/5451159/solid+colo...-windows-7
Yes I could of gotten the ISK-300-150 case... it comes with a 150 power supply but it's internal and it has a fan remember the goal?
Big shuriken won't fit anyways in the 300-150 and same goes for any other tall coolers (the plug for the PSU is in the way).....

All in all I hope this will help you in your adventure of building your HTPC the way you want and be happy with.
There are many cases and many components to choose from out in the market.
Enjoy the Movies!!!