Case & Power Supply: M350/picoPSU-90/7.5A 90W AC-DC
APU: AMD A6-3500 Llano 2.1GHz
Mobo: ASRock A75M-ITX FM1
Ram: Crucial Ballistix 4GB 1866
CPU Cooler: Akasa Low Profile AK-CC1101EP02

The fan started ticking! Ewww..


SSD: Crucial 128 GB 7MM CT128M4SSD1
Keyboard: MS Arc Keyboard
Mouse: MS Mobile Mouse 4000 Lime Green
Win 7/64 Ultimate
Sick Beard / SABnbzd / CouchPotato
I wanted a SFF desktop pc and this meets my needs for everything that I need.
This will go nicely with a LCD screen that will go on the back with the VESA screws.
Basically the same as the A6-PACK but with a different case.


I was a little concerned about my temps and SSD this is why:

I had my POWER in settings set to HIGH PERFORMANCE.... (I tested on high and forgot to set it back)

Witch meant all my hardware is on high voltages all all the time.


I noticed that my SSD was doing a humming sound (so I wen't online to figure out why and it's because of high performance)

Once I set it back to BALANCED (never shut off screen and never go to sleep) now my MHz idle at 798 and go up when
needed and it don't hum anymore even when it goes up.

So I tested once more and the computer idles at 36-49C... (jumps up and down)

Tested a 1080P video for an hour and it's a good 48C with the CPU fan never going up in RPM's...

The case is still a little warm but now I am more confident on it.

CHEERS!

So if you really wan't SFF HTPC this is good! but not really the greatest for being quiet!
Sometimes it can get very hot! and will bring up the cooler fan up in RPM's
and gets noisy it all depends what you are doing.


CHANGED TO AN SSD ... a regular HD get's too HOT and the temps are not so great in this little box... the SSD fixed it....
I had to extend the picoPSU power wires to reach the back circle cut out for the power plug. No big deal with the proper tools. Used the same 18 AWG wire.
If you do this please make sure your PICO works before you cut it.....
The Akasa low profile cooler is actually 28.70MM in height witch gave me a clearance of 3.20MM to the hard drive. This is a great thing!
So now I am very happy with the temperatures and all.... quiet quiet.... only time it got loud was when it passes 2,500 RPM when it was doing the Windows Rate test...
60c/140F
Target fan speed Level 1 in bios for the FAN.... 1470-1500 RPM all of the time...
So yes a regular HD in this box it's a no no.... it builds too much heat you need a SSD.....
And like I said I got the 7mm version of this SSD and it is a little thinner then the HD.....
"SSD1 is the 7mm version, while SSD2 is the 9.5mm. The SSD2BAA is just the 9.5mm one but with an adapter bracket."
Here are the readings when it did the rate test.... the CPUID Hardware Monitor it's at idle but max was 58C for a few seconds...
CLOSER LOOK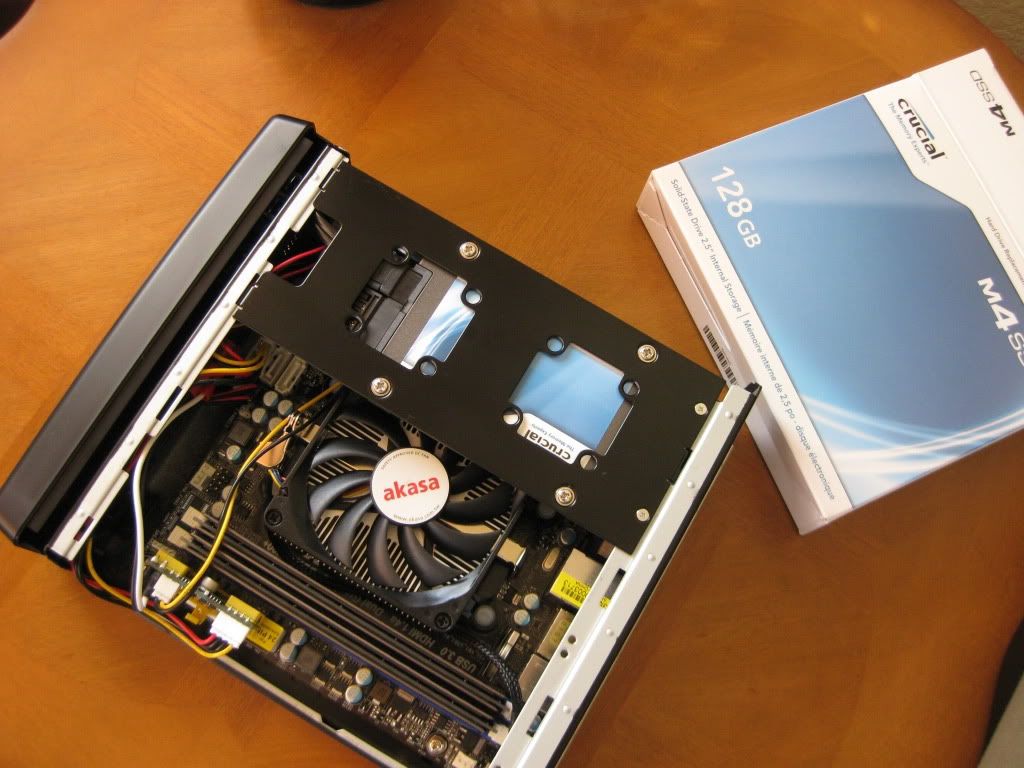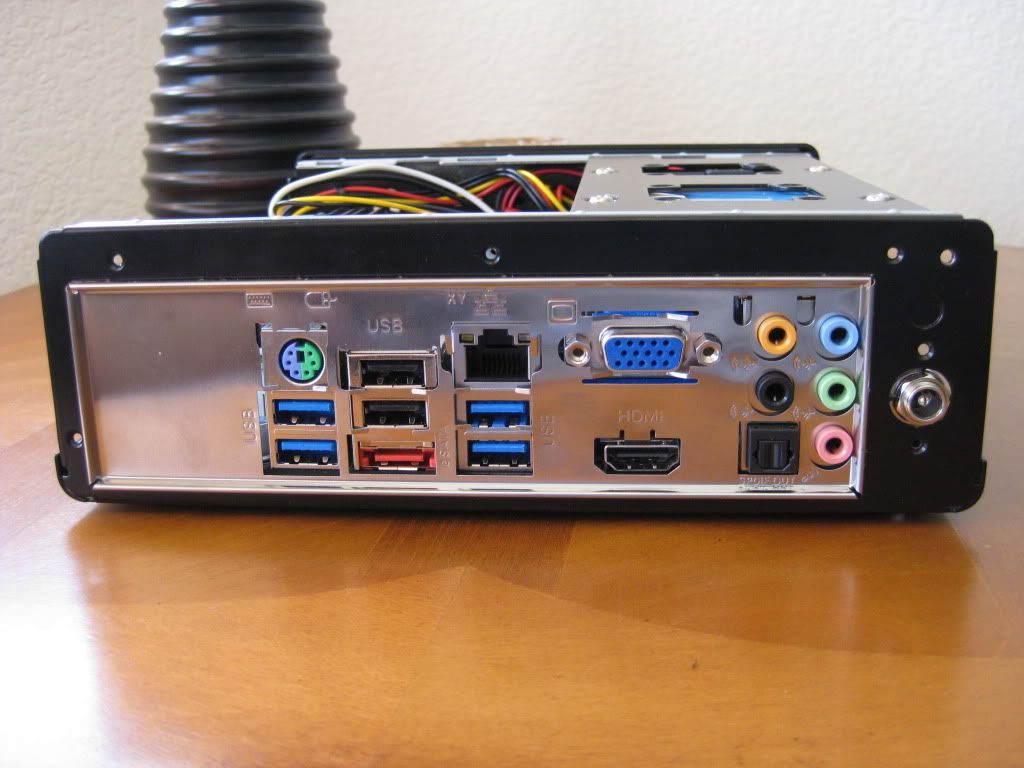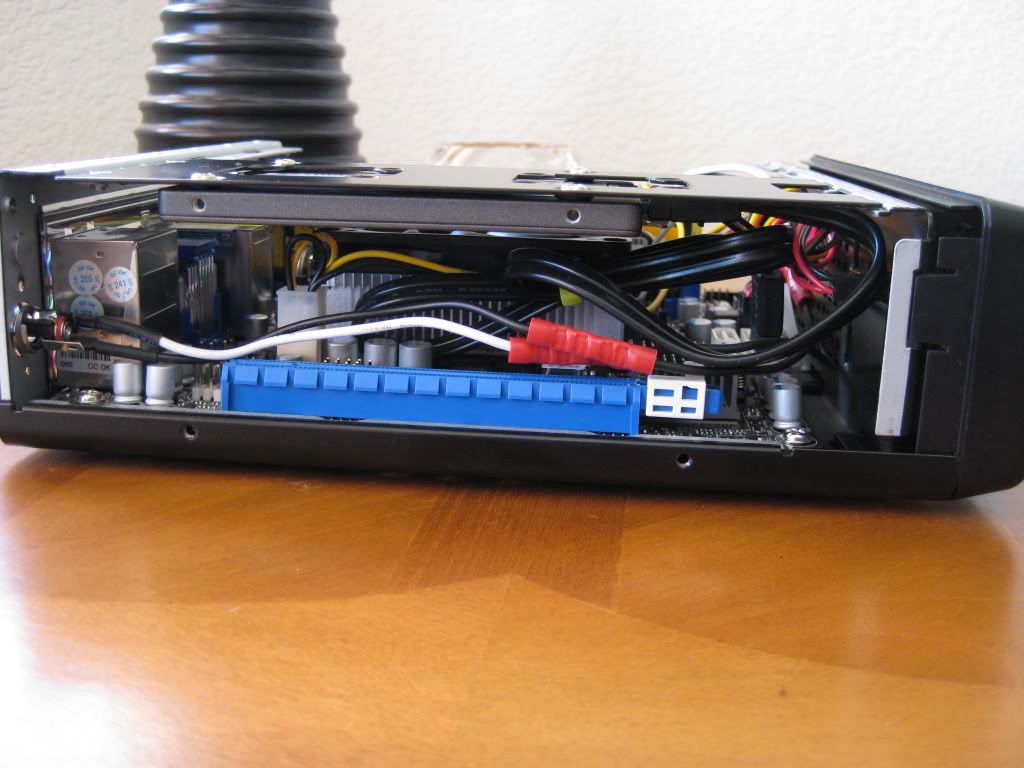 MORE PICTURES