2012-07-17, 23:29
Finally finished my Streacom FC8 Build with some help from the threads below.
Silent / Fanless A8-3820 (65W) performance HTPC build
Antec ISK 300-90 picoPSU HTPC A6-3500 Very Silent!
Which PicoPSU Should i get
Ideally I wanted a silent htpc for xbmc with a quod core for video trasncoding/encoding and to play battlefield 3.
This is my final build below and cost in the end just over £524
Case:
Streacom FC8 Black Fanless Home Theatre (QuietPc £136)
Motherboard:
Asus F1A75-I DELUXE (Ebay £74)
CPU:
AMD A8 3820 (Ebay £64)
Memory:
Corsair 8gb (2x4gb) Ddr3 1600mhz Low Profile Vengeance Memory Kit Cl9 1.35v (Ebuyer £46)
SSD Drive:
OCZ 120GB Agility 3 SSD - SATA-III - Read 525MB/s Write 500MB/s (Ebuyer £70)
HeatPipes:
QuickCool 6 mm x 250 mm X4 [Part number: QG-SHP-D6-250MN] (Conrads £28)
Graphic Card:
MSI HD 6570 2GB DDR3 (Ebuyer £51)
Thermal Paste:
Coolermaster HTK-002-U1 White Thermal paste x2 (Ebuyer £6)
Psu:
PicoPSU 160-XT Power Supply Mini ITX VIA Pico PSU 160XT (ebay £38)
Power Supply:
12 Volt 192W 16A DC DESKTOP POWER SUPPLY 12v PSU (Ebay £60)
ATX 24 Pin Male to 24 Pin Female Internal PC Power Extension Cable 18cm (Ebay £2)
The FC8 only comes with 2 heatpipes and im sure this is not enough for the cpu I would be using which is rated at 65watts with a thermal max temperature of 70C so ordered some more heatpipes from
conrads
at £7 each and believe me these things are so easy to kink you have to get a Brake pipe bender to bend them pictures below like the Clarke CHT264 From
machinemart
.
I eventually found whats called a Spring Type Tube Bender from
ebay
which they use to bend copper pipes on air conditioning units.
This makes it easy to bend while also supporting the copper pipe which is inside.
Once all assembled and powered on my cpu temperature was quite high rising to 50c while just in the bios screen, having done some googling on the subject it appears the bios uses 100% cpu as usally windows controls the cpu usage (anyone confirm this).
My findings after a breakin period is below.
Openelec usb boot: with HD 6570 Graphics Card
gpu tem 43 C
cpu temp 30 - 33 C
47 watts while idle and 52 watts watching blu-ray with temperature rising for gpu at 46c and cpu at 35c
Windows 7 boot up 25 seconds
cpu 27c
gpu onboard 15c
radeon HD 6570 24c
28 Watts idle
Openelec Without graphics card using intergrated GPU i.e 6550D
gpu 29C
cpu temp 29C
28-30Watts idle (Gui) and 26 watts watching bluray (iron man)
Undervolting cpu by 0.200
cpu -0.200 undervoltage
23Watts idle bluray ironman 25w
Undervolting didn't seem to make a lot of difference when booting off a usb stick with openelec 1.94.4
When in windows the undervoltage by .200 saw a reduction in wattage to 21watts from the previous 28watts.
When it came to playing battlefield 3 the case heatsink got quite hot which I presume it should as its doing its job, the internals are still quite warm thru.
Playing battlefield 3 without a graphics card I got between 22-28 Fps with a maximum wattage at the wall of 75watts when playing the game at 1280x720 and using medium quality settings and the cpu temps went up between 46C to 55C.
Playing the game with the added Radeon HD 6570 graphics card and enabling crossfire which gives us HD 6630D2 spec graphics, playing battlefield 3 with the same setting as before I got about 45 Fps and wattage went upto almost 100watts with the cpu temps hitting 66C
The only problems ive hit is running xbmc in windows where no matter what setting I use I get choppy video when watching bluray rips, funny enough as I have no problems while using openelec
Also I cant get audio out the hdmi port on the graphics card when in openelec but can using the motherboard hdmi even after using the guide here.
http://wiki.openelec.tv/index.php?title=...e_Easy_Way
Some pics below, ive tried to keep some airflow in the case by using sticky pads and tie wraps etc for neatness, ive also drilled some holes for the graphics card to breath.
I hope fellow xbmc / htpc users find this thread usefull.
---
Some more pics as promised.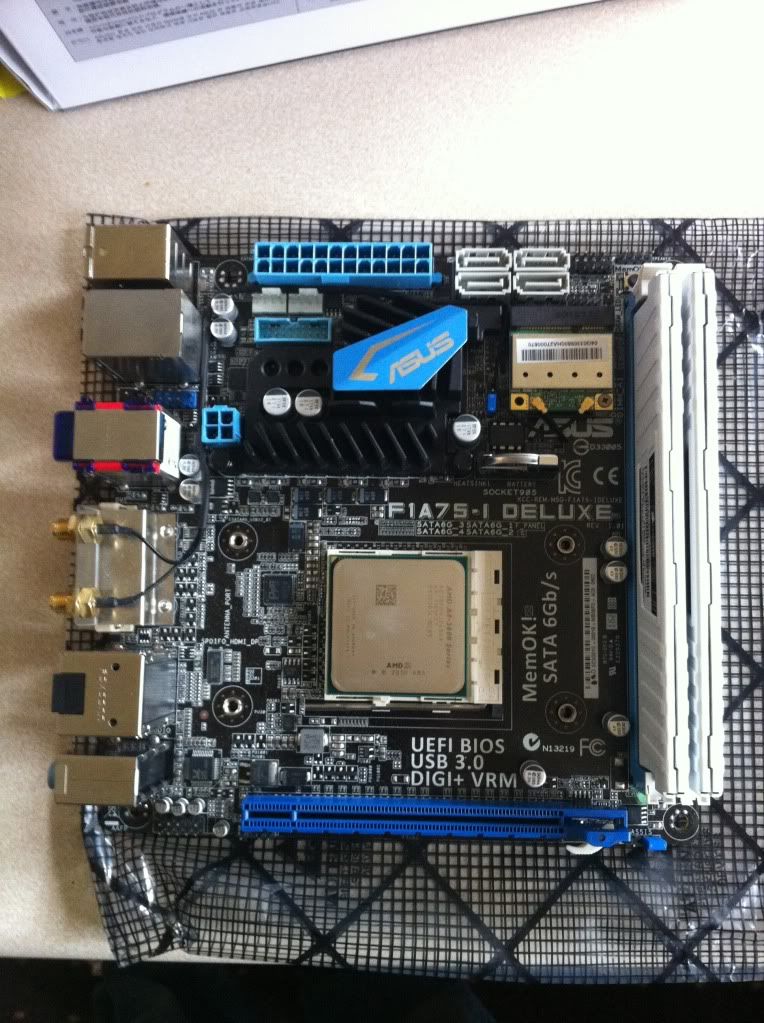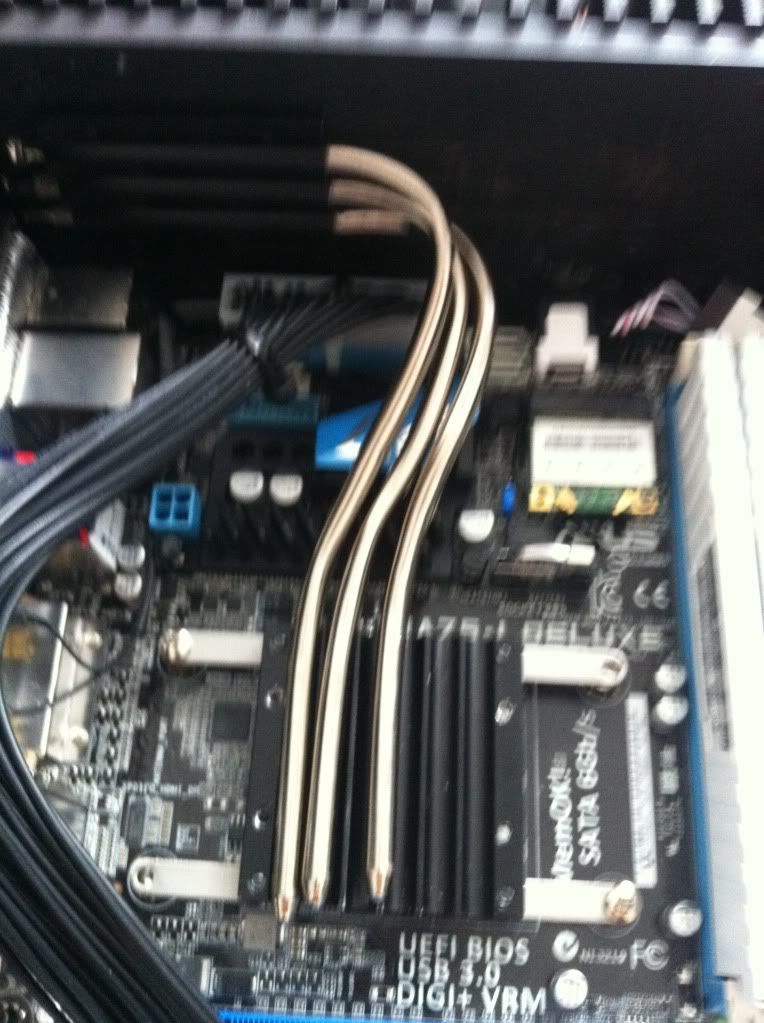 ---