2012-08-28, 02:13
As of today, I'm running unRAID v6.2.0-Stable w/3TB Parity;
update:
28.5TB storage
Uses:
NAS - 28.5TB Storage Capacity

VM Hosting - Win10 Machine serving Plex; Win 10 Machine with Kodi v16.1 installed used to auto-update Kodi database to MySQL; Win 7 Machine for Media Monkey audio manager / UPnP Server

APPSW - SickRage; Cadvisor; Handbrake; Krusader; MariaDB, SABnzbd; Transmission; Maraschino

Creation
:
13Bay unRAID NAS w/250gb Cache (Cost: $467) less HD's and ProLic.
HD's
: 10 WD Caviar Green | 2 WD RED NAS Drives | 1 Toshiba 2.5' SSD 128G used for cache HD / AppData / Docker Image | 1 Patriot Pyro SSD 120G used for VM Images (mounted outside of array using the Unassigned Devices plg).
CASE
Antec DF-35 Black Steel Computer Case
MOBO+iGPU:
SUPERMICRO MBD-X11SSL-F-O
CPU:
Intel Core i3-6320 Skylake Dual-Core 3.9 GHz
PSU:
CORSAIR CMPSU-430CX 430W 80Plus certified ATX12V
RAM:
Kingston ValueRAM 16GB (1 x 16G) DDR4 2133 Server Memory ECC DIMM
SAS:
SUPERMICRO AOC-SASLP-MV8 PCI Express x4 Low Profile SAS RAID Controller
Drive Cage:

iStarUSA BPN-DE350SS-RED 3x5.25" to 5x3.5" SAS/SATA 6.0 Gb/s Trayless Hot-Swap Cage
I decided to go with a few additions that I left out in my last build including the SAS Raid controller.. and a cache drive. The benefits the SAS provides are pretty obvious. The one I choose was recommended directly from the unRAID wiki and boasts superior performance an expandability over a traditional PCIe SATA extender.
I also decided to add a cache drive to my array for torrent'n and an increase in transfer performance and speed. However, the benefits of adding a cache drive as opposed to not, have been extensively debated. The pro's and con's of the cache drive feature can be read about
HERE
. As for my experience so far... I have seen a significant jump in speed when transferring files to my box. Prior to cache I was lucky to hit between 20-25MB/s when sending files from my NZB share to my unRAID box. After adding the cache... solid 69-70MB/s.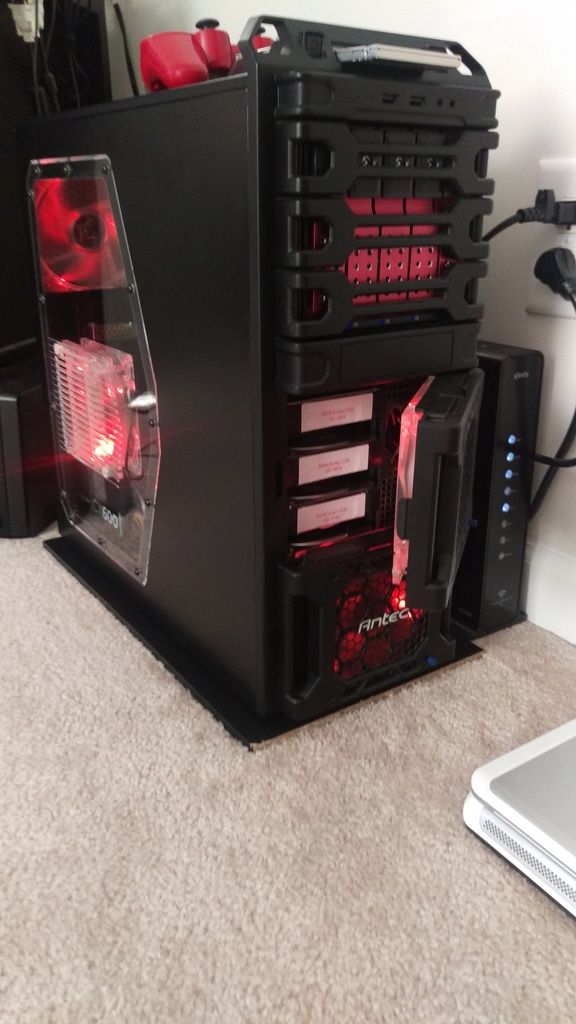 CHEERS!!