2014-09-05, 11:56
Another feature I have always missed in XBMC is to be able to see the Music charts for an Artist.
This helps when browsing new artists to find their best songs.
I wrote an API
here
: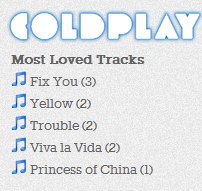 And someone has even wrote a xbmc python script to return the details here
https://github.com/phil65/script.extendedinfo
So now we just need someone to integrate that into a skin or add-on
The final idea is to have a feedback loop when browsing music artists to find the best tracks, even if you don't already know the band.