2014-11-23, 09:09
MPC-HC SET UP

(Continued)
Settings Category:
Internal Filters
After selecting the appropriate audio/video renderers, the next most important aspect of set up is configuring LAV Filters. Menus for LAV Filters are hidden under the
Internal Filters
category. Each filter is covered separately below.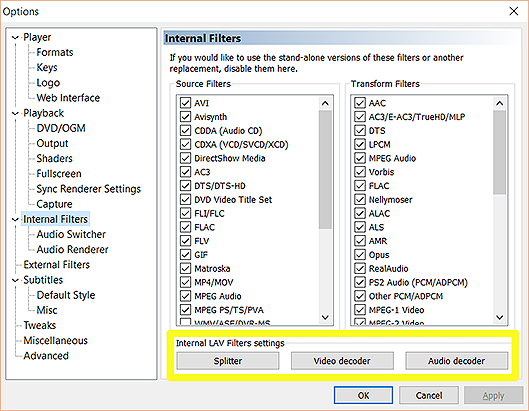 Settings Category:
Splitter - LAV Splitter & Subtitles>Misc
In LAV Splitter, we are primarily concerned with delivering the correct audio and subtitle streams with each video. Subtitle set up assumes you are using XySubFilter (not xy-VSFilter) as the subtitle renderer. SubFilter is essentially a high-definition subtitle renderer with advantage of giving the video renderer greater control over subtitle placement. For compatibility with MPC-HC, install the version labelled
XySubFilter .zip Archive (64-bit)
:
Extract the .zip contents and move the folder to any directory.

Right-click the

Install_XySubFilter.bat

and select

Run as administrator

.

The software is now installed.

To configure XySubFilter:
Open the

Options

menu in MPC-HC. Under

Playback

, ensure

Allow overriding external splitter choice

is

unchecked

. This is necessary to use XySubFilter.

In

LAV Splitter

, specify a default audio and subtitle language. Then choose a default subtitle selection mode (e.g. Forced for English speakers). The first

Blu-ray Subtitles (PGS)

box can safely be left checked. PGS subtitles are graphic subtitles embedded in Blu-ray rips (mkvs). Checking 

Deliver only Forced Subtitles

 can sometimes result in PGS subtitles not displaying at all with some files.

Under

Subtitles>Misc

, check

Prefer forced and/or default subtitles tracks

. The second option,

Prefer external subtitles over embedded subtitles

should also be checked if using external .srt files. These settings are ignored when using XySubFilter, but if using the internal subtitle renderer, this is the section to focus on.

Finally, to configure XySubFilter,

right-click during playback

, navigate to

Filters

and select

XySubFilter (=> madVR) - Properties

. For English speakers, the lone setting to be concerned with is

Only show forced subtitles

.

The remaining configuration options in XySubFilter are up to the discretion of the user.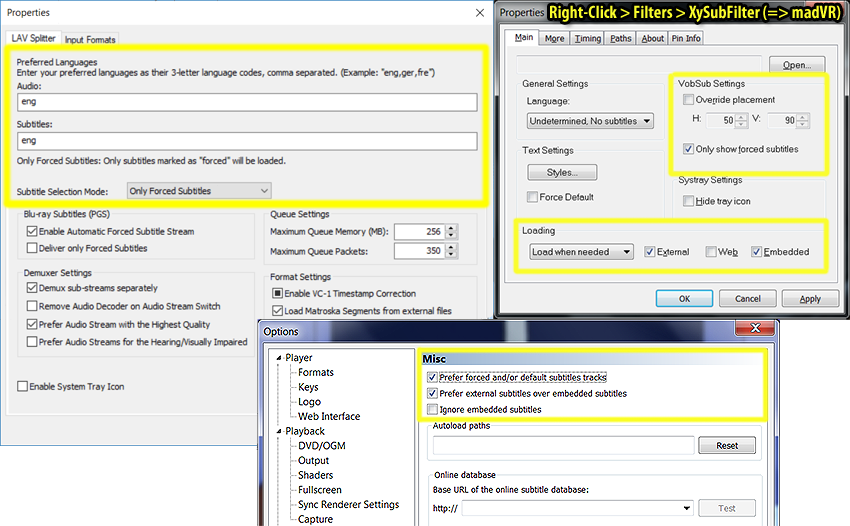 Settings Category:
Video Decoder - LAV Video
The main setting to be concerned with in LAV Video is the type of hardware acceleration to be used. Hardware acceleration reduces the load on the CPU by offloading video decoding to the GPU. Use of a fixed-function hardware decoder should have minimal impact on madVR. However, it can significantly reduce the load placed on the CPU, as well as reduce noise and heat.
Setting hardware acceleration to

None

means all video will be decoded using software decoding
. The effectiveness of software decoding will depend on the speed of your CPU.
The recommendation for hardware acceleration remains the same across hardware manufacturers:
Intel:

D3D11 (Win 8+) 

or

 DXVA2 (copy-back)


AMD:

D3D11 (Win 8+)

or 

DXVA2 (copy-back) 


Nvidia:

D3D11 (Win 8+) 

or

DXVA2 (copy-back) 

*NVIDIA CUVID is less efficient with regards to performance and power consumption. The justification for this claim comes from this post.
 
*DXVA2 (copy-back) can be used by any hardware that supports DXVA2. The copy-back in name means that every video texture is copied back from GPU memory to CPU memory after decoding, so some additional system RAM is consumed. DXVA2 (native) is known to have issues with chroma quality on some systems and is not recommended for use with madVR.

*D3D11 must have the Hardware Device to use set to Automatic (Native). Otherwise, a version of copy-back is used that is slightly slower than DXVA2 (copy-back) with no additional quality benefits. madVR doesn't care if DXVA2 (copy-back) or D3D11 Native are selected. Both are appropriate choices.
madVR features currently unsupported by D3D11 Native:
IVTC and GPU hardware deinterlacing;




black bar detection.



madVR features noticeably faster with D3D11 Native:
HDR tone mapping highlight recovery strength;




4K HEVC on older systems with weak CPU/RAM architecture.



Be sure to check all supported 
Resolutions
 and 
Codecs for HW
 for the GPU. Documentation for the GPU should indicate video codecs and resolutions supported with hardware acceleration.
Leave the software deinterlacing options alone, as deinterlacing will be handled by madVR. Software deinterlacing does not work with any of the native variants of hardware decoding.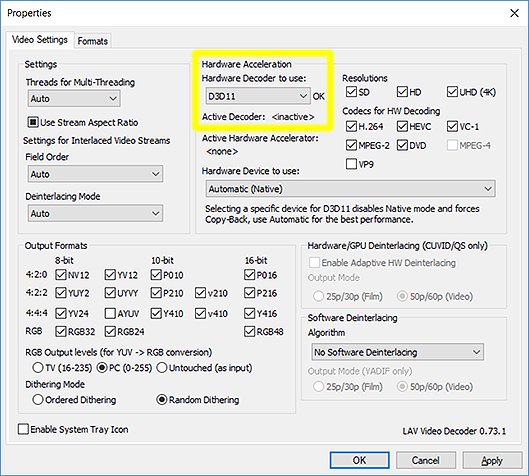 Users struggling with x86 (32-bit) software decoding of
HEVC
content with LAV Video may want to substitute the
Strongene Lentoid HEVC/H.265 Decoder
, which offers a
significant performance boost
. This would require adding the decoder in MPC-HC under
External Filters
. LAV Video is the faster software decoder for x64 (64-bit) MPC-HC.
Settings Category:
Audio Decoder - LAV Audio
Audio codecs are the focus of configuring LAV Audio. The items that are checked will be bitstreamed. Those left unchecked will be unpackaged and sent as multichannel PCM. What can be bitstreamed depends on the audio equipment used (e.g. AV receiver or television) and the type of output (HDMI or S/PDIF). Users of S/PDIF are limited to Dolby Digital (AC3) and DTS and should leave all other boxes unchecked.
Note:
Dolby Atmos (via Dolby TrueHD) and DTS:X (via DTS-HD) must be bitstreamed. There is no decoding to PCM on PC.
Convert Output to Standard Channel Layouts
Adds silent channels to PCM audio streams to match the layout selected in Windows
Sounds
settings. This prevents some audio devices from misinterpreting the layout of some mulitichannel PCM tracks resulting in some channels being sent to the wrong speakers.
Use Legacy 5.1 channel layout
Check this box if your surround speakers are in the back as opposed to the sides. The default configuration is to have the surround speakers at the sides. This only impacts audio decoded by LAV Audio. Bitstreams are passed through.
Mixing
When bitstreaming is disabled, LAV Audio does the decoding. The Windows Mixer is not useable in WASAPI exclusive mode. So using the
Mixing
tab opens the possibility to introduce mixing: converting the output to different channel layouts, altering the volume of specific channels and matrix encoding to Dolby Pro Logic II. These options should be left alone for most users unless you know what you are doing.
More advanced mixing is available through the MPC-HC
Audio Switcher
.
Optional - Settings Category:
Shaders
The
Shaders
section is used to apply post-processing effects to video streams. MPC-HC comes packaged with 22 built-in shaders that can be added to any video (in order applied). The use of post-processing is a matter of personal taste (personally I prefer to leave it alone and let madVR do its thing). But if you are unhappy with your video quality, feel free to experiment. Custom shaders can also be added by supplying an appropriate file saved with the .hlsl extension. Learning shader functions is a matter of mastering Google. Keep in mind, shaders will use some of the pool of GPU resources that can be spent on other settings, so do not assume they are free.
That concludes MPC-HC set up. So, on to madVR...