2014-11-26, 21:47
8. APPENDIX C: Controlling MPC & Kodi with Wi-Fi Apps for Android and IOS
If you do not have access to either an IR receiver or a remote, it is still possible to control both Kodi and Media Player Classic using commands sent via Wi-Fi. The technology required to do this combines the web interface of your computer with the Wi-Fi technology of IOS or Android-powered devices.
Why Would You Want to Use Apps to Control MPC and/or Kodi?
Genuine Microsoft eHome RC6 receivers can be hard to come by. While a good universal remote such as a Harmony can set you back anywhere from $50 - $250 depending on the model. The apps described below cost a combined $1.99 where I come from and can work on any Android or IOS smartphone or tablet. So, in the spirit of being cheap, apps make Kodi more accessible to everyone. Don't expect the same level of seamless integration between players and components as an expensive paid app such as iRule or a Harmony One, but these apps will eliminate the need to reach for a mouse and keyboard to make adjustments while browsing the library or playing a movie.
App 1 - Official Kodi Remote
The Official Kodi Remote is a free app available for IOS and Android that can be used on your smartphone or tablet to control Kodi through a graphical interface. This interface allows users to browse their collection complete with photos and metadata and select a title to play on their television. Or, you can simply switch to the touchscreen remote and browse your collection as you would with a physical remote. The Official Kodi Remote is an excellent app for controlling the Kodi interface. And it's free!
Official Kodi Remote: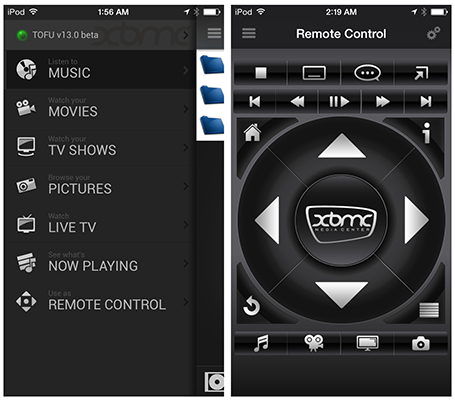 Given this is a guide dedicated to Media Player Classic,
set up for the Official Kodi Remote
will be left to external sources:
Video - Official Kodi Remote Set up:
https://www.youtube.com/watch?v=nqt05xahzZI
.
Kodi Wiki:
Smart_phone/tablet
(wiki)
.
App 2 - Remote for MPC
Remote for MPC is an app designed to control Media Player Classic (HC or BE) with a compatible IOS or Android-powered smart phone or tablet. I have downloaded about 10 apps purported to control MPC and found this app to be the best of those I tried. It appears to contain all 181 remote commands available in MPC, which is important because infrequently-used commands such as Exit are necessary to close the player and return to Kodi. Set up is also a breeze.
Preparing the MPC Web Server
To enable the reception of Wi-Fi commands, one adjustment is required in Media Player Classic. From the
Options
menu, select
Web Interface
. Check the box
Listen on port
. The default port is 13579. This turns Media Player Classic into a web server capable of receiving commands over TCP/IP.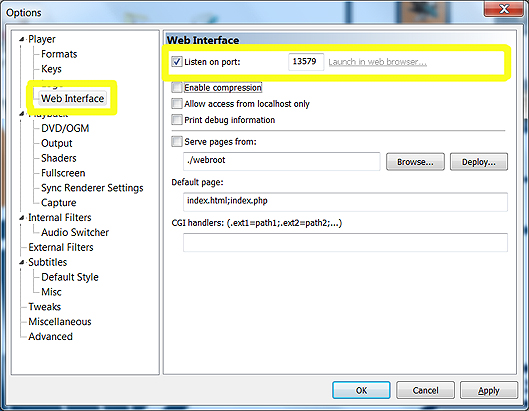 Remote for MPC - Set up
Search for

Remote for MPC

in the app store.
The app costs approximately $1.99, which I would consider a minor expense for this service.

Start Media Player Classic on your computer.

Open the app and from the menu select

Server Management

.

Choose

Add Server

.

Two pieces of information are required:
a)

IP Address:

This can be found within Kodi from

Settings >> System info >> Network

.
b)

Port:

Use the default port,

13579

.

The remaining fields can be left blank.

The sever should connect. Maintaining a
Static IP Address
may be necessary to preserve your settings. If you encounter any issues, a wiki page is available for the app with technical support.
Wiki:
http://www.banamalon.net/wiki/index.php?...C_-_Remote
.
Remote for MPC - Menu: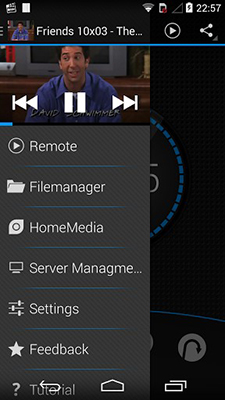 Remote for MPC - Configuration and Use
Once a play command is issued in Kodi, the app will become active. In an ideal world, one would run XBMCRemote on an Ipad and Remote for MPC on a phone. But, it is possible to switch between the two. By default, a wheel will appear in the middle of the screen as pictured below. I prefer the simplified
Classic
theme, which can be toggled in
Settings
, but for those who stick with the
Circle
theme, basic use is as follows:
Remote for MPC - Circle Theme: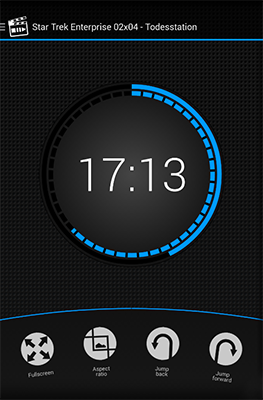 Wheel Function
:
Press
- Play/Pause
Swipe Left
- Chapter Previous
Swipe Right
- Chapter Next
Swipe Down
- Stop
Swipe Up
- Custom Command
Rotate Inner-Circle
- Volume Up/Down
Rotate Outer-Circle
- Seek/Change File Position
A number of other functions are readily-available in the options panel at the bottom of the screen.
I would suggest configuring
Extra
as the custom command. This is due to the need to access
Exit
, which is the only means of returning to Kodi. Unlike the Keys section, Stop and Exit are separate functions when sent by the app and only Exit will close the player. Swipe up and release, scroll down and select
Exit
. The player does not have to be stopped to exit, either. A hasty exit will still preserve the previous player position if Remember File Position is enabled.
Directional swipe commands are completed by swiping in one direction, holding and releasing. Lastly, the volume circle (inner) can be touchy.
That's it! If the idea of lag-free Wi-Fi control intrigues you, consider stepping up to a premium product such as
iRule
. iRule is the one product I know of that offers multi-device control that can also be configured to fully-control Media Player Classic. Currently, iRule's biggest competitor, Roomie, does not offer support for MPC.