2015-04-12, 17:08
Hello Community,
So, a while back I ran into some infuriatingly annoying issues related to HDMI audio from my HTPC to my Onkyo Receiver, and in some ways every device connected. The primary purpose of this thread is to spread some advice I received after tinkering with different solutions for about a month.This surprisingly works, but is apparently not common knowledge. I've seen threads about Kodi/XBMC switching audio devices from WASAPI to DirectSound, and the recommendations have been to buy HDMI splitters or some other device to 'fool' the HDMI handshake. Sure, that solution does work, and may even be a good route to go for some situations, but for I have an easier/cheaper option.
So, the underlying cause of all of these HDMI issues is the Handshake between the receiver and the HTPC. Now, I have an evga Nvidia GTX 970, so I'm certainly not using old hardware. That being said, even top end video cards these days are pitiful when it comes to HDMI audio. So, if you want to know who to blame for these frustrations, there you go. I'm sure M$ is somewhat to blame here as well, but I'm not sure. For example, the $35 Raspberry pi supports a feature called HDMI-CEC, yet these $500 video cards dont. It's ridiculous.
So, when you turn your TV off, Windows goes a bit wonky, and assumes that your audio device has been fully disconnected, not just turned off. This is why things get strange when turning your TV/receiver back on in terms of your audio. So the goal of this fix is to forcibly fool the system into thinking it's still connected.
This is the "Pin 19 fix", and it is called that because what you will need to do is cover up pin 19 on your HDMI cable. I can not see why it would matter which end of the cable (where it plugs into the receiver, or where it plugs into the HTPC) is covered, but I personally cover pin 19 on the end that plugs into my HTPC. A tiny sliver of electrical tape, like the image (from a Microsoft blog) shown below, should suffice.
Once you cover up pin 19 you'll want to go ahead and restart your computer. After that, you'll be good to go!
All this does is block the Hot Plug detection, as seem in the image below.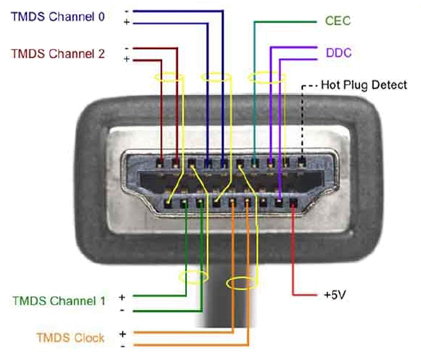 Well, I hope that this information proves to be helpful to others out there who have run into these annoyances.