2015-12-13, 02:29
Have you lost HDMI audio after resuming from Sleep?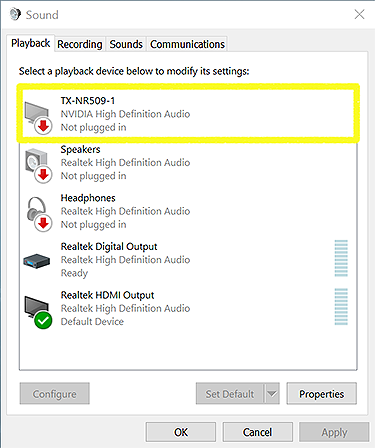 Read on for the fix...
Disclaimer:

This guide is considered an advanced tutorial for those comfortable with behind-the-scenes adjustment of Windows including the use of hidden boot menus, Command Prompt entries and Windows Test Mode.

While the instructions are simple and intuitive, those who do not know what a driver is or how these features are installed in Windows should best leave this tutorial alone. Possible complications include improper installation of drivers requiring uninstallation and temporary loss of video.
This tutorial is to address the loss of sound caused by the disconnection of an audio device after Windows resumes from Sleep. This commonly occurs when display and audio devices are connected via HDMI to a PC. Although the device is connected, Windows believes it has been turned off and sound is cut-off. A reboot of Windows will fix this issue in most cases, but this is not a permanent solution. This happens most often when Windows is put to Sleep rather than powered off completely.
The solution to lost audio devices involves providing Windows with on-demand access to the EDID information required to communicate with HDMI-connected devices.
Windows requires the EDID - Extended Display Identification Data - from a device to conform to HDCP - High-Bandwidth Digital Content Protection - to eliminate the possibility of digital data manipulation midstream between the source to the display. Without the EDID, the device does not exist. For some reason, resuming from Sleep mode often breaks the handshake between PC and display. HDCP intervenes, and sound is disabled.
An EDID override replaces the HDMI handshake by giving the display device a permanent identity — and thereby, a permanent connection to the PC. The device no longer has to "check-in" when Windows resumes from sleep and maintains its full functionality as if its normal EDID is present.
Creating an EDID override is as simple as creating an INF file with the relevant display info and loading it as a new driver in Windows. This file can be created automatically by a program called
MonInfo
.
How to Create and Install an EDID Override:
Download and install MonInfo;




Use MonInfo to Generate EDID INF for Connected Devices;



1. DOWNLOAD AND INSTALL MONINFO
MonInfo is capable of generating EDID files for connected devices through the creation of a custom .INF - Windows Setup Information file. This is a text-based file suitable for manual driver updates.
Install
MonInfo Monitor Asset Manager:
http://www.entechtaiwan.com/util/moninfo.shtm
.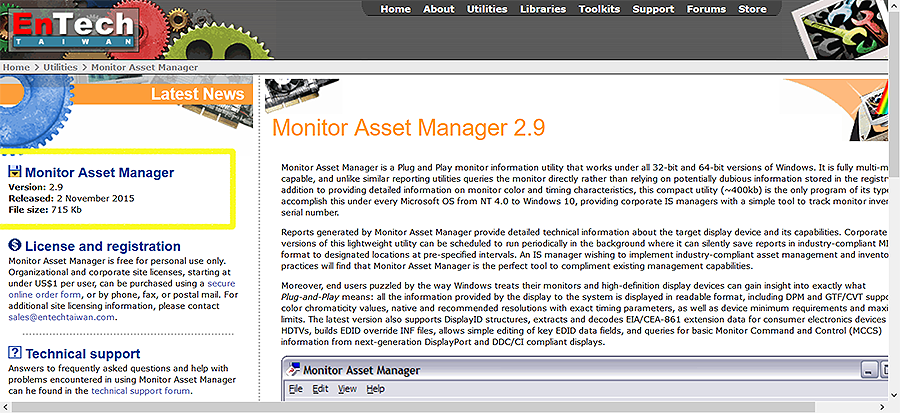 2. USE MONINFO TO GENERATE EDID INF FOR CONNECTED DEVICES
Before generating the INF, ensure the audio device is connected and working. The display should be set to the correct resolution and desktop frame rate, and multi-channel audio should be configured in Windows and work correctly for all channels.
From the Windows
Control Panel
, select
Hardware and Sound -> Sound
.
The primary audio device should be displayed with a
green checkmark
to denote it is active.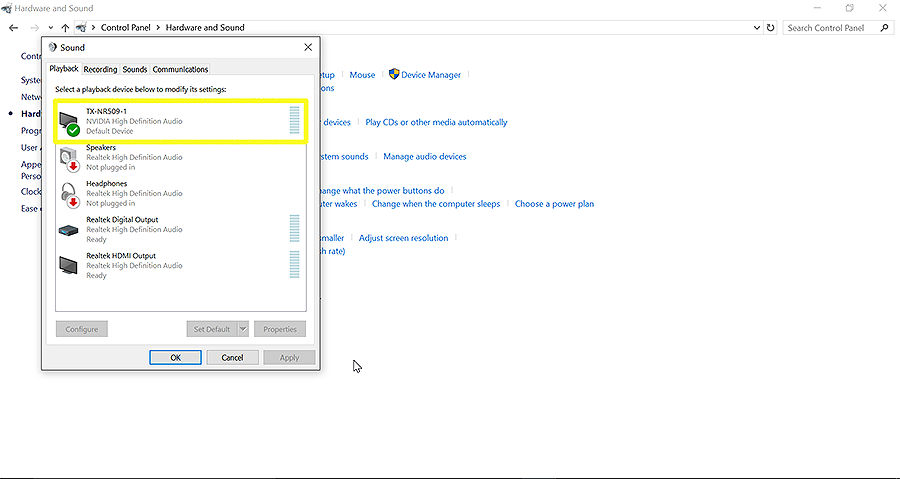 Open
Monitor Asset Manager
. The program should be run as an administrator to ensure a complete EDID is scanned.
Right-click
on the program or .exe and select
Run as Administrator
.
The program will load the relevant EDID data for devices connected to the HDMI output. This could include a television and AV receiver. The two devices will be combined into one EDID.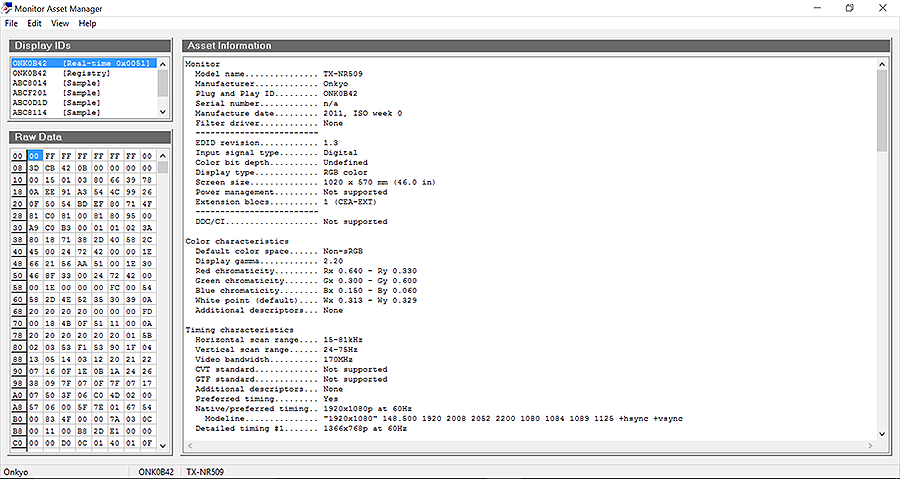 Select
File -> Create INF...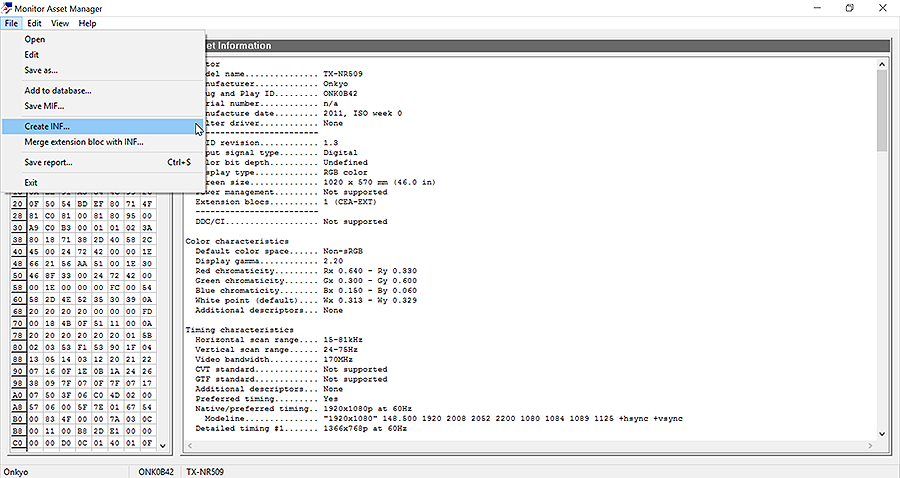 Save the INF to its
own folder
in any directory. This INF will be used as the new display driver.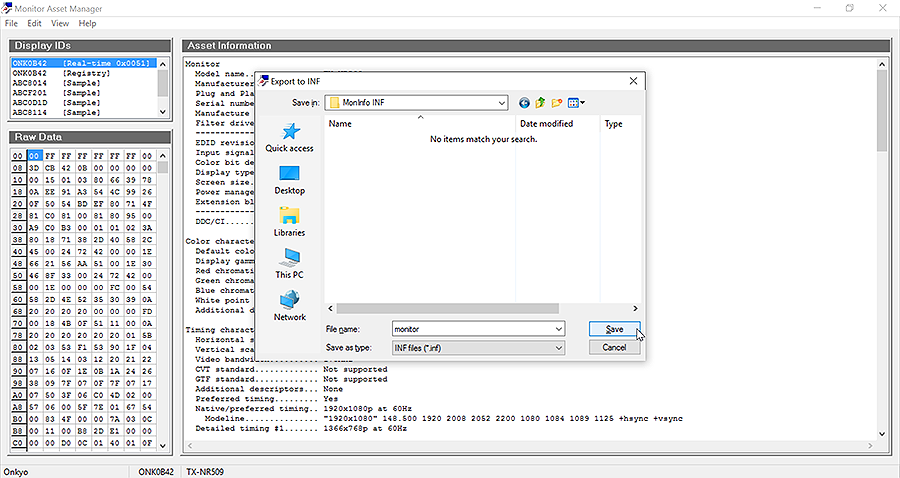 MonInfo makes EDID INF creation that easy!