2019-12-25, 23:24
Hi Kodi community,
I do have a small christmas present for you. Today I worked on the AudioDSP road map and it is visible for everyone
here
.
As you might guess from the past I will start with the Windows platform as it is the operating system, which I'm mostly familar for C/C++ development and honestly I really like the Visual Studio IDE. Furthermore it is the platform, which I use for watching movies with Kodi. If everything works properly I will start to port the code base to other operating systems like Android, Linux, Mac OS...
From the past I guess that most of you use Android for Kodi right? If that is the case I will start to work on this platform if everything works properly under Windows.
Or if a developer wants to help and use a other platform for developing Kodi we can talk about to work on this platform at first.
Moreover I like to me more transparent during the AudioDSP V2.0 rework, which was the reason why I created the issue list on Github.
It's quite easy to follow the development of AudioDSP V2.0 if you know how to read the Github project columns.
Just follow these simple rules and you know what is the current state.
I'm currently working on the issues, which are in the

In Progress

column

Issues in the column

Backlog

will be done one after another

Issues in the

Done

column are implemented and closed

See the following screenshot for more details.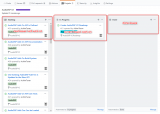 As you see it is a lot of work to get AudioDSP working again in Kodi, which is the reason why I don't mention any dates when something will be available or not.
It's the first proposal for the road map and I'm pretty sure that it will change over the next days until I'm happy with the schedule. When
#21 - Create AudioDSP V2 Road Map
is closed the schedule should be in a stable state, which doesn't mean I will not change it again.
Furthermore I like to add detailed descriptions to any issue in the road map to let you know what is behind the head line.