2017-08-30, 02:48
Xiaomi Mi Box (S905X) :
- broken Kodi Krypton dynamic refresh rate switching, consequently you will not get ultra smooth Kodi video playback from this device.
WILL do Kodi HD Audio Passthrough, inc. Atmos and DTS:X
Not recommended for 4K Kodi video playback.
Not recommended for high quality Interlaced TV viewing.
Not recommended for rare H264 VC-1 compressed video content.
NO Ethernet can be limiting for some. A UGreen USB3 > Ethernet adapter may be an additional required purchase.
Same as 99% of Android devices -- >> NO 1080p / 4K Auto Resolution switching possible.
Like ALL Android devices not recommended for Mutichannel PCM/FLAC Audio either.
ALL Android OS's devices come with restrictions which can affect easy Kodi use.
Recommend for really easy to use Android TV Apps and non demanding Kodi users.
4K Netflix (no HDR) works well with decent 5GHz N or AC home WiFi.
Superb Wireless Voice remote - the best remote in its class infact !
What works with any AMLogic S905 / S905X / S905D box running LibreELEC ( or OSMC):
- everything works in (4K) Kodi Krypton:
Auto refresh switching for ultra smooth video playback.
Auto Resolution Switching for hands off optimal 1080p / 4K viewing.
(HDMI) HD audio passthrough, inc. Atmos and DTS:X
Multichannel FLAC > PCM Audio output.
5.1 AC3/DTS Audio over inbuilt SPDIF (optical)
Plays anything you throw at it including old legacy video compressed content. (Niche - 1080p 3D output not supported)
** just be aware of the different S905 chipset capabilities in the chart below, regarding HDR10 and VP9 support.
Recommended for interlaced DVD / TV viewing because it uses AMLogic's - reliable, high quality, Advanced Motion Adaptive hardware deinterlacing.
Only extra hardware needed for all this is a microSDHC card or for ODROID C2 ->> eMMC(and it's SD card adapter)
4K Kodi video streaming works over WiFi, but it is not recommended for reliability. Use hardwired Ethernet, even 100M only will be fine.
Very few Kodi restrictions because you are running an efficient, open sourced, minimal Linux based OS.
LibreELEC Kodi is highly optimised for each particular Hardware setup used. Android Kodi is not.
LibreELEC comes with an inbuilt FTP and SAMBA file server. OpenVPN is also part of the package.
Recommend adding a Wireless remote to any AML LibreELEC box for improved Kodi responsiveness.
** NOTE:
missing in the chart - S905 has Gigabit Ethernet (GMAC)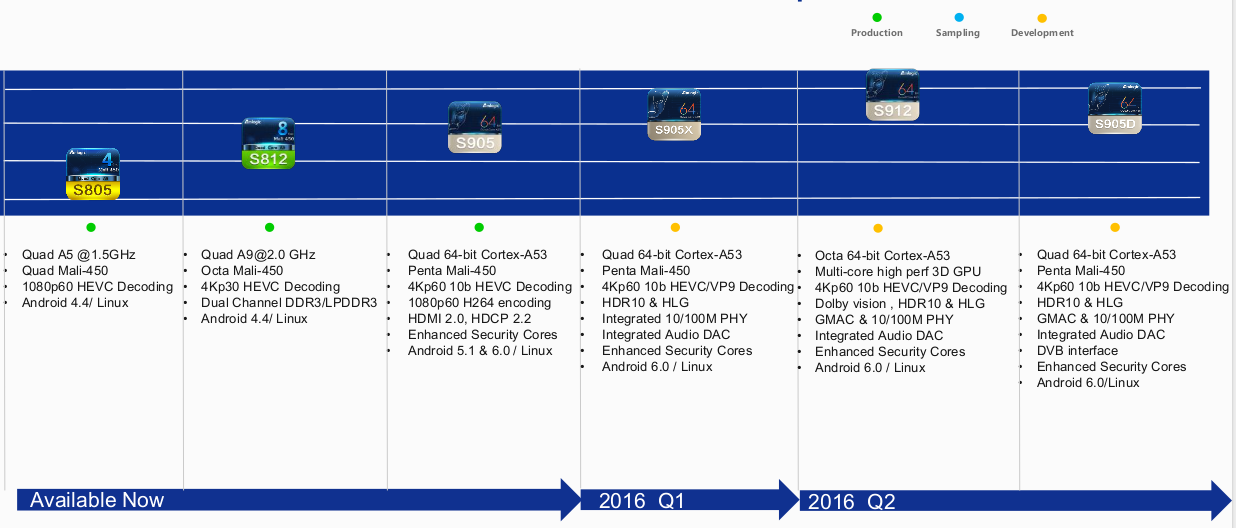 ---
AMLogic S905(x) - LibreELEC / OSMC - Kodi Krypton - 4K Options (click)
microSDHC cards:
Do not base your purchase decision on sequential speeds, Its Random 4K Read / Write performance that are most important for Kodi and LibreELEC speed.
The Best microSD Cards (click)