2016-01-01, 21:25
Hi everybody,
having built this box now pretty much a year ago, I figured I might post my HTPC in case others are looking for something similar.
Where I came from:
I originally had a
Popcorn Hour A-110
media player back in 2008. After upgrading my TV to a new SONY flatscreen last year, I wanted something better and more convenient for media playback. The Popcorn Hour was really starting to annoy me with the crappy text-based interface and outdated software. For a short while I was looking into a newer model from the Popcorn Hour player range, but the more I researched online and read through forums, people mentioned that building your own HTPC running Kodi would be the best solution and much better than any of the Popcorn Hour media players.
The last time I built a PC from scratch was years ago, consequently I wanted to keep the process of building my own HTPC simple.
What I wanted:
Since I wanted to avoid setting up a new PC completely from scratch with every single component, I was looking for a compact barebone PC which I just needed to equip with CPU, RAM and a harddisk. This box needed to be small (should be placed on top of my Bluray player next to the TV in the living room), super silent (no annoying fan noise during movies), consume very little power and I wanted it to be super snappy and fast. Plus, I wanted to control everything from my couch with a wireless keyboard.
Hardware setup:
For the PC itself, I picked the
Shuttle XPC slim Barebone XH97V
which has support for the Intel H97 Chipset. All ports are hidden under a front tray, it' super slim and looks great - fantastic barebone in my opinion for a HTPC:
http://www.shuttle.eu/products/slim/xh97v/overview/
I didn't need much CPU power, but yet I wanted something fast enough with low power consumption, so I bought an
Intel Core i3-4130T @2.90GHz
with some
Arctic MX-4 cooling paste
. The Intel Core i3 has more than enough power for playback of even huge Bluray rips or decoding
HEVC/H.265
based files - I specifically picked the
4130T model
which has extra low power consumption.
I added 8GB of
Transcend DDR3 1333MHz RAM
, since RAM is cheap and this DIMM model was listed as compatible/tested with the XH97V.
As I wanted the whole box very silent and responsive, I decided to use a SSD and I didn't need or wanted a separate NAS or stream my movies from any other external source. During last years xmas, there was a massive sale on Amazon where I picked up a
SanDisk Extreme Pro SDSSDXPS-480G-G25
with 480GB. Probably a cheaper SSD would have also done the job, but it was a great deal for the money that time. 480GB is also way enough for all my media.
For remote control, I picked the
Logitech K400
which was recommended in other threads as well, plus it works right out of the box with Linux/OpenELEC. Tip: try to get an older K400 and not the K400r, as the "r" model has some flaws running with Linux, in case you want to use a Linux based Kodi. Hence I bought a 2nd hand K400 from eBay, since the K400 is discontinued by Logitech. It's one of the best, simple wireless keyboards for a HTPC!
Software Setup:
I didn't want to fiddle with any OS installation and just run Kodi in my living room, so the obvious choice was
OpenELEC.
I am still amazed how quickly OpenELEC can be set up. Right now, I'm still running OpenELEC 5 with Kodi 14.2 on this machine, as I am too lazy for a major version update right now.
I will probably do my next update with Kodi 17 once RetroGamer has been merged, since I am an avid gamer.
As of today, I am super happy. On this box, Kodi boots up in literally 3 seconds, navigation is lightning quick and the fan is silent all the time, even when watching huge Bluray rips. You don't hear a thing - exactly what I wanted. The only thing I do not like is the blue power LED of the box which can get a little annoying during a movie if the living room is dark in the evening. Maybe there is hack to dim it somehow to make it less bright, but I haven't figured it out yet.
Here you can see all parts which I bought: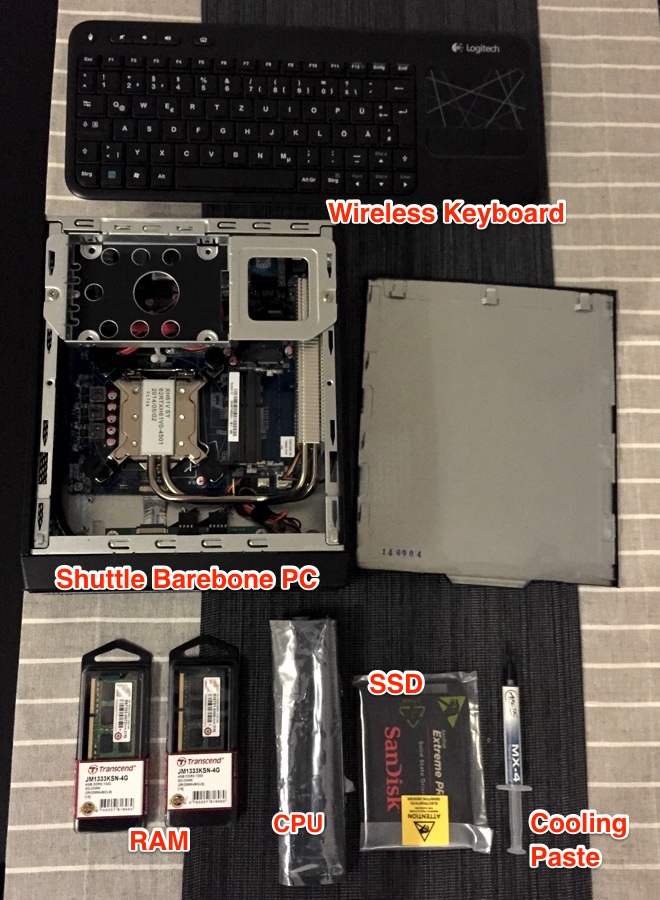 Ready to put everything together: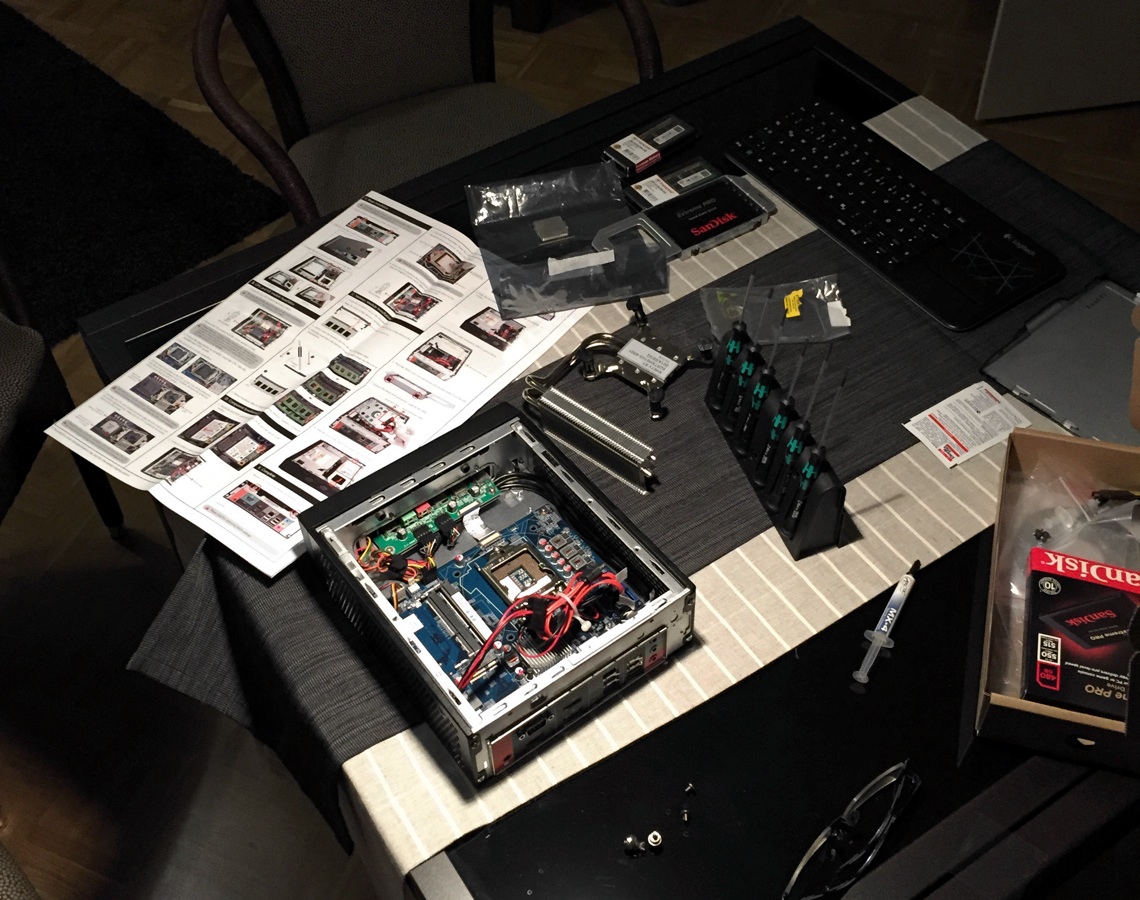 Finished assembling: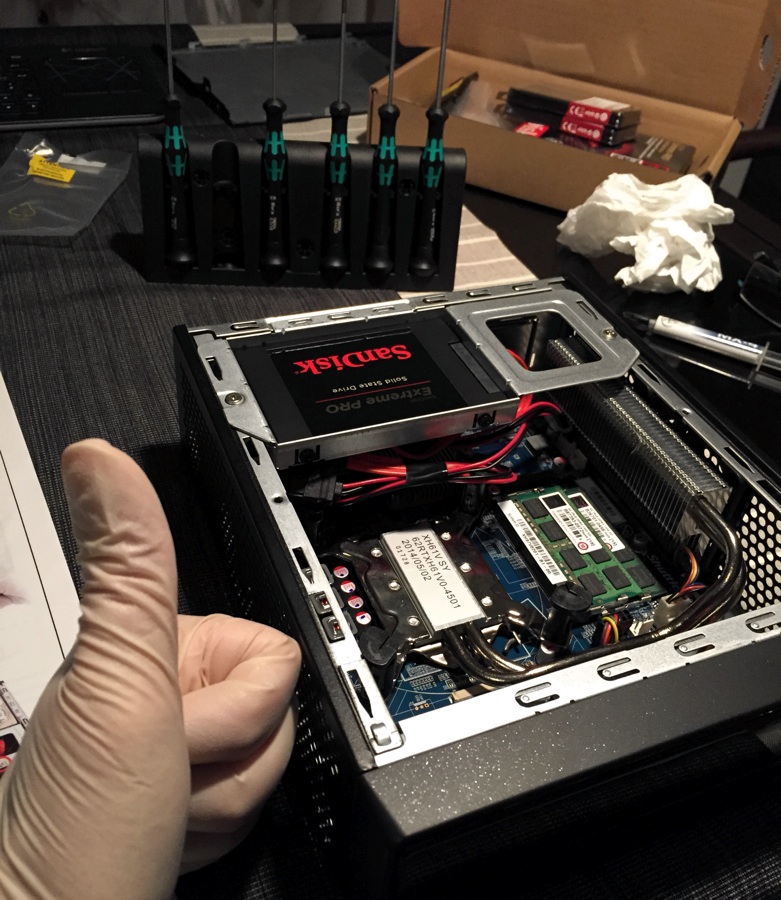 All parts are tidy in place:
Ready to install OpenELEC: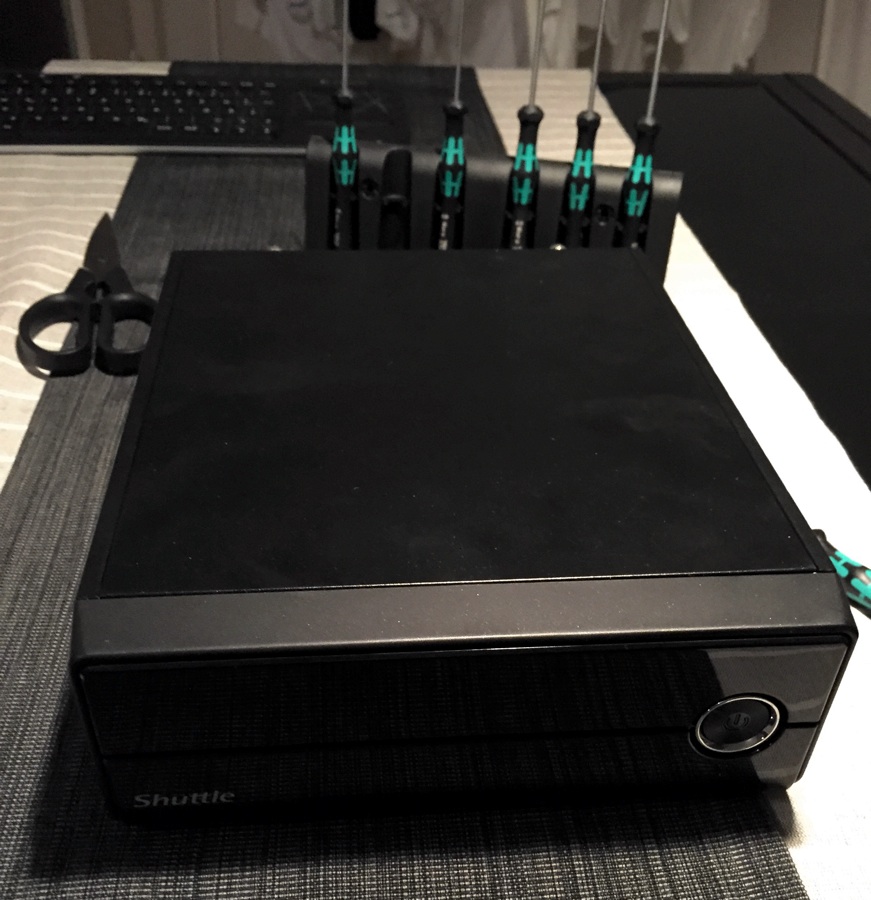 As you can see, OpenELEC is extremely low on power resources, first boot-up: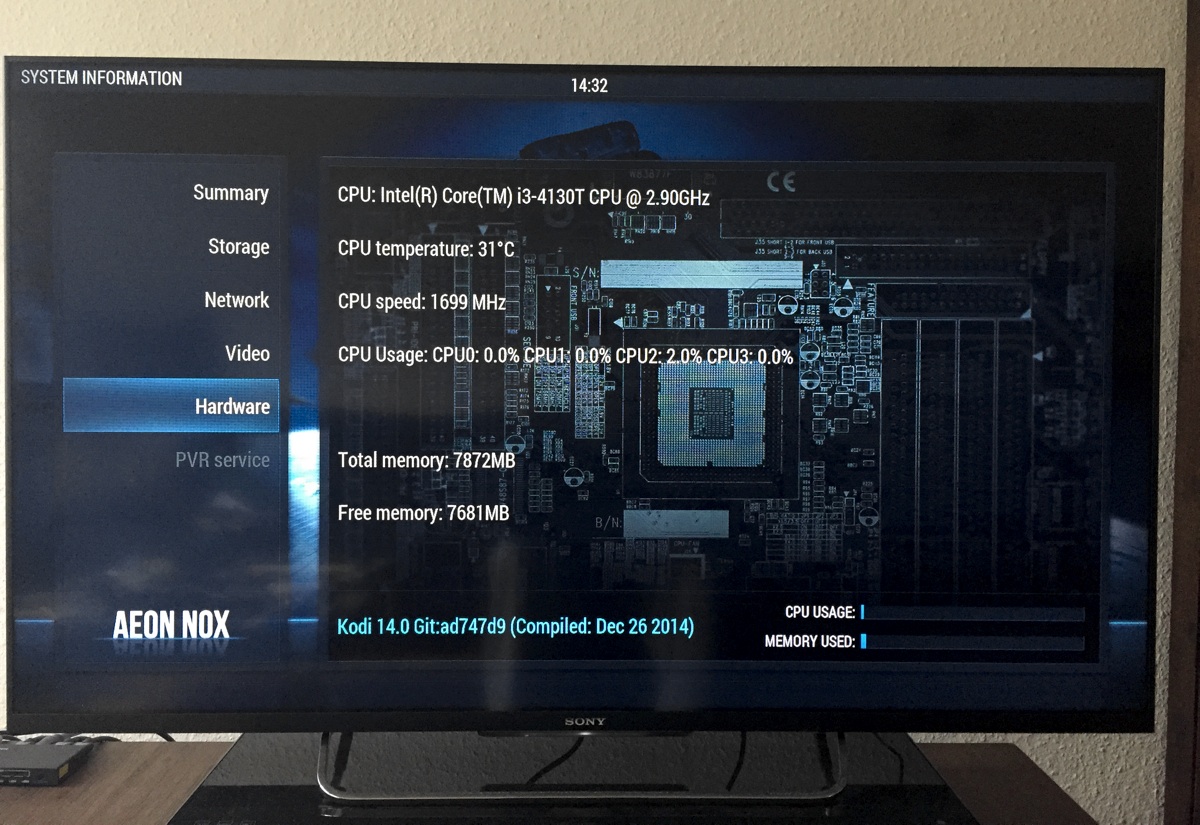 HTPC looks great next to my Pioneer Bluray player and HDMI switch: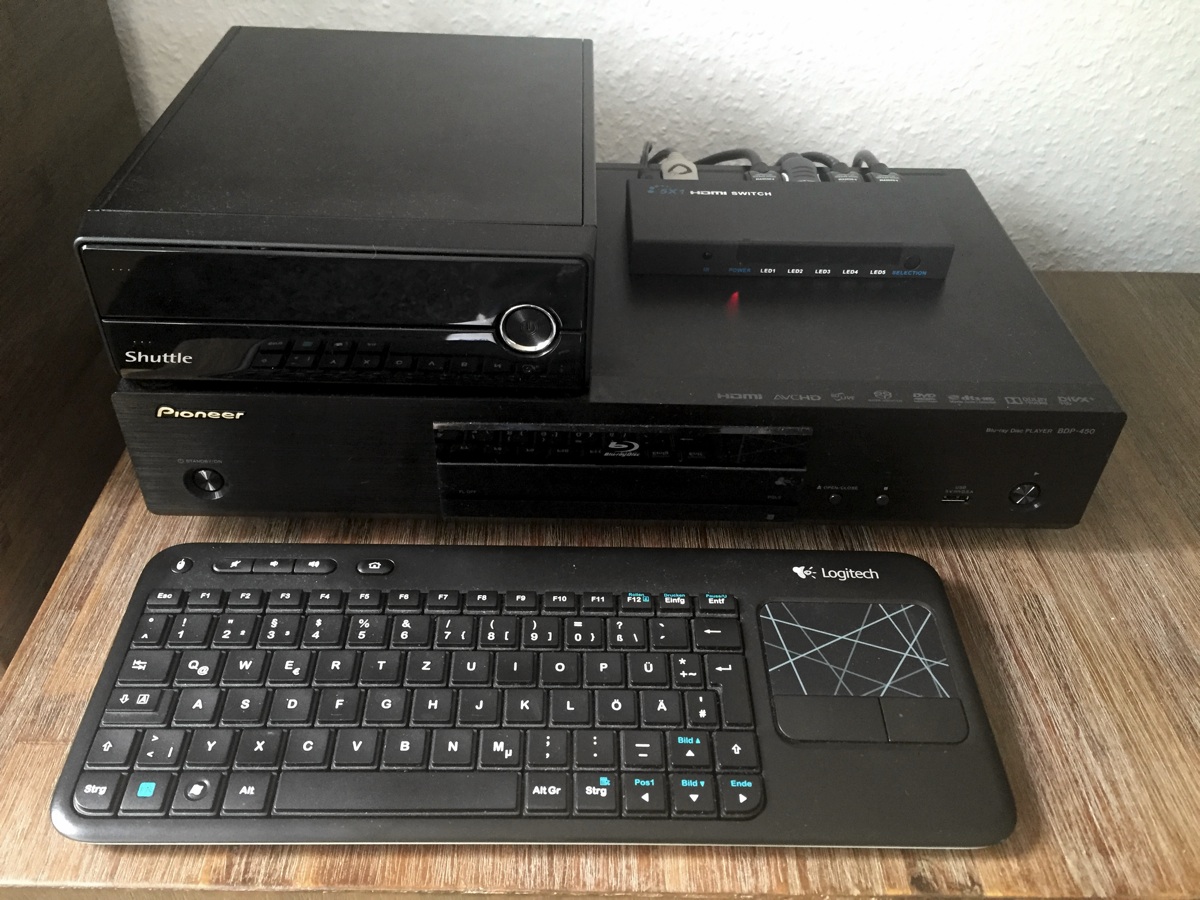 Kodi running like a dream, as you can see I LOVE Aeon Nox: