2016-02-08, 05:37
madVR Set up Guide (for Kodi DSPlayer and Media Player Classic)
madVR v0.92.17
LAV Filters 0.74
Last Updated: Aug 04, 2019
Please inform me of any dead links as there are countless external links spread throughout this guide. It is also helpful to point out any typos you find or technical information that appears to be misstated or incorrect. It is always an option to use a description from a better and more reliable source.
Follow current madVR development at AVS Forum:
Thread: Improving HDR -> SDR Tone Mapping for Projectors
New to Kodi?
Try this
Quick Start Guide
.
What Is madVR?
How to Configure LAV Filters
This guide is an additional resource for those using
Kodi DSPlayer
or
MPC
. Set up for madVR is a lengthy topic and its configuration will remain fairly consistent regardless of the chosen media player.
Table of Contents:
..............
Devices
Identification, Properties, Calibration, Display Modes, Color & Gamma, HDR and Screen Config.
Processing
Deinterlacing, Artifact Removal, Image Enhancements and Zoom Control.
Scaling Algorithms
Chroma Upscaling, Image Downscaling, Image Upscaling and Upscaling Refinement.
Rendering
General Settings, Windowed Mode Settings, Exclusive Mode Settings, Stereo 3D, Smooth Motion, Dithering and Trade Quality for Performance.
..............
Credit goes to
Asmodian's madVR Options Explained
,
JRiver Media Center MADVR Expert Guide
 and madshi for most technical descriptions.
To access the control panel, open 

madHcCtrl

in the installation folder: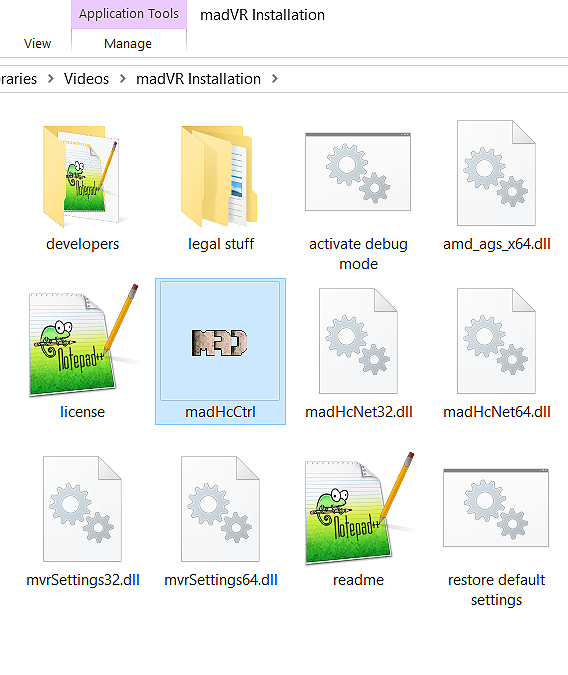 Double-click the tray icon or select

Edit madVR Settings...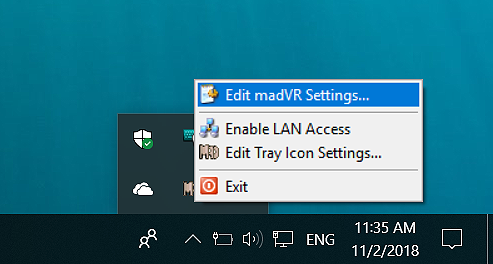 During Video Playback:

 



Ctrl + S 

opens the control panel. I suggest mapping this shortcut to your media remote.
..............
Resource Use of Each Setting
madVR can be very demanding on most graphics cards. Accordingly, each setting is ranked based on the amount of processing resources consumed:
Minimum
,
Low
,
Medium
,
High
and
Maximum
. Users of integrated graphics cards should not combine too many features labelled
Medium
and will be unable to use features labelled
High
or
Maximum
without performance problems.
This performance scale only relates to processing features requiring use of the GPU.
..............
GPU Overclocking
Overclocking the GPU with a utility such as
MSI Afterburner
can improve the performance of madVR. Increasing the memory clock speed alone is a simple adjustment that is often beneficial in lowering rendering times. Most overclocking utilities also offer the ability to create custom fan curves to reduce fan noise.
..............
Video Drivers
Most issues with madVR can be traced to changes to video drivers (e.g., broken HDR passthrough, playback stutter, 10-bit output support, color tints, etc.). Those only using a HTPC for video playback do not require frequent driver upgrades or updates. The majority of basic features such as HDR passthrough will work for many years with older drivers and frequent driver releases are solely intended to improve video game performance, not video playback performance. As such, users of HTPCs and madVR are advised to find a stable video driver that
serves your needs
and stick with it. It is easy to
disable automatic driver updates
that coincide with Windows updates and any of 
Intel
,
AMD
 or 
Nvidia
 provide download links to installers for legacy drivers that can be kept in case the video drivers need to be reinstalled.
..............
Image gallery of madVR image processing settings
..............
Summary of the rendering process: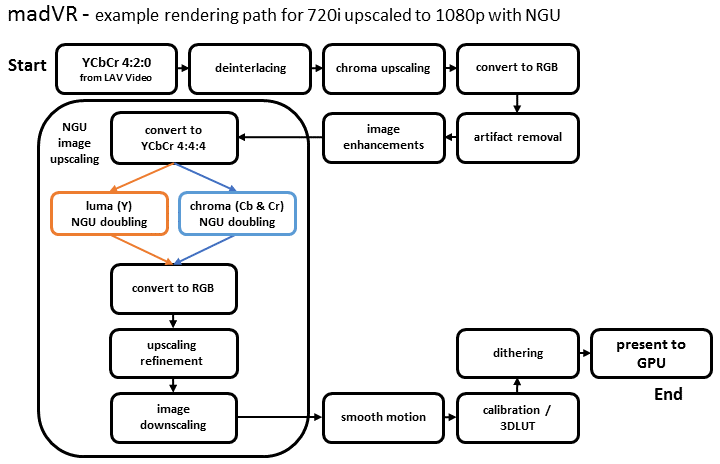 Source