2016-02-29, 09:15
https://www.raspberrypi.org/blog/raspber...3-on-sale/
It's official the Pi 3 Model B is announced and up to buy at RS, Pimoroni and The Pi Hut.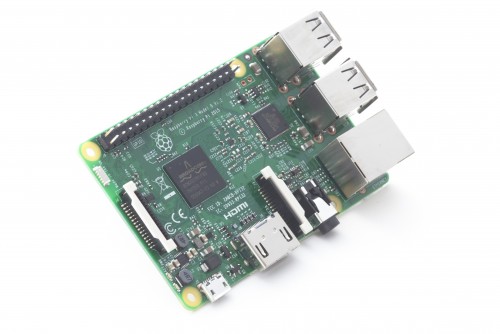 Main changes :
A 1.2GHz 64-bit quad-core ARM Cortex-A53 CPU (~10x the performance of Raspberry Pi 1)
Integrated 802.11n wireless LAN and Bluetooth 4.1
Complete compatibility with Raspberry Pi 1 and 2
*** Internal WiFi is connected via SDIO not USB - so doesn't use USB 2.0 bus like Ethernet and USB WiFi dongles. Bluetooth is connected via a serial connection (EDIT - at one point I had said both were SDIO in error) ***
*** PXE network and USB boot added too :
https://www.raspberrypi.org/magpi/pi-3-interview/
***
Same Videocore IV GPU as the Pi 1 and Pi 2 - but clocked faster.
2.5A 5V PSU recommended now (so assume higher power consumption than Pi 2 B)
Not specifically discussed but looks very likely the same USB 2.0 I/O bottleneck for some applications.
Pi Foundation sticking with 32 bit mode for their code for the moment.
Also referenced are a Pi 3 Model A (in Model A+ form factor) launching later this year, and a Compute Module 3.
The latter would potentially be a great upgrade for anyone who bought a Five Ninjas Slice (which is a beautifully designed media player based around the original Compute Module)
OSMC announcement from Sam :
https://osmc.tv/2016/02/raspberry-pi-3-a...c-support/
Quote:While the new CPU is 64-bit, the Pi retains the original VideoCore IV GPU which has a 32-bit design. It will be a few months before work is done to establish 64-bit pointer interfacing from the kernel and userland on the ARM to the 32-bit GPU. As such, for the time being, we will be offering a single Raspberry Pi image for Raspberry Pi 2 and the new Raspberry Pi 3.
Same price point as original Pi B and Pi 2 B shipped at. US$35 (plus taxes and shipping)
Raspberry Pi Guy video here :
https://www.youtube.com/watch?v=Y2Z6b64e...e=youtu.be
Benchmarks here :
https://www.raspberrypi.org/magpi/raspbe...benchmarks
(Got mine ordered from the fantastic guys at Pimoroni. Can't say too many nice things about them)