2017-08-06, 02:01
JUMP TO THIS POST FOR UPDATED BUILD VIDEO:
https://forum.kodi.tv/showthread.php?tid...pid2819691

Here are some images of the new nMediaPC 1800B HTPC I put together. I originally ordered a 250 watt power supply but it was DOA, so I have another on the way. Tested the new parts with a regular ATX power supply, and everything is working just fine. Just gotta wait for the replacement to get here to finish up. Some of the parts, like SSD and DVD burner, I borrowed from my old HTPC. I'm fairly new to Kodi, but a vet at building PC's, so I plan on doing a dual boot using both Windows 10 & Linux. Haven't decided what flavor of Linux to use yet. Gonna experiment with Kodi first and sort it all out. I'm not a heavy gamer, but I love the emulators, so I plan on using the HTPC for Netflix, my HD Homerun CableCard, Amazon Movies, Pandora, and various emulators. I was able to get the Inteset USB Internal Infrared Media Center Receiver installed in the case's infared window by filing down where the screw holes are and using a bit of super glue, and a hot glue gun for good measure. The motherboard only has 1 internal USB header, so I ordered the NZXT internal hub so that both front USB ports and the IR are functional. This will be connected to my 50" TV downstairs.
Complete parts list consists of:
nMediaPC 1800B HTPC Case
Logitech Harmony 650 Remote Control
Inteset USB Internal Infrared Media Center Receiver
GIGABYTE GA-F2A88XN-WIFI
motherboard
AMD A10-7860K
CPU
8 GIGS OF Mushkin Enhanced Stealth
ram
Noctua NH-L9a 92mm SSO2 CPU Cooler
FSP300-60FAG
Power Supply
NZXT Internal USB Hub Controller
Logitech K400 920-007119 Plus
Wireless Touch Keyboard
2x
Logitech F710 Gamepads
ASUS 24X DVD Burner
512Gig Samsung 850-Pro SSD drive
Now onto the images.
First is an image of how I have the IR reciever installed. TOOK A BIT OF HACKING TO THE CASE, BUT IT WORKS!!
I was worried about clearance so I ordered a Noctua low profile fan. It's whisper quiet and leaves PLENTY of room for the lid and for air to get in and cool it off.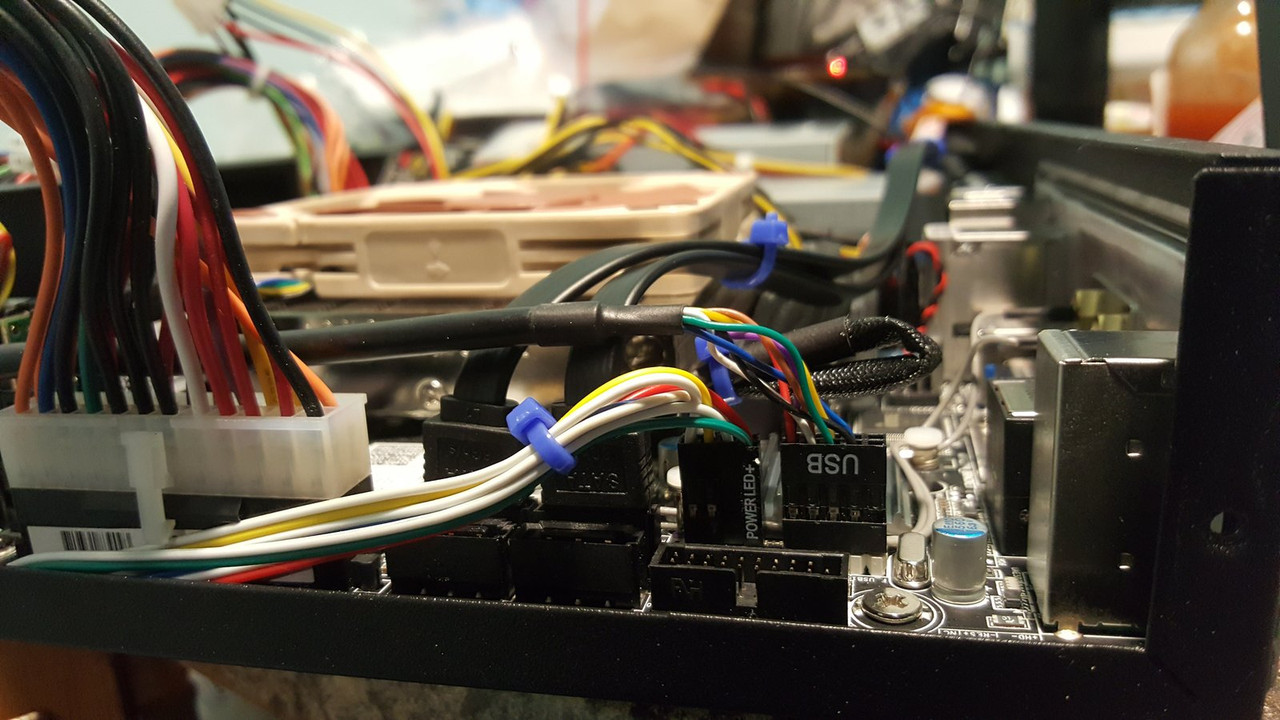 Here is an image of what it looks like with everything installed. Haven't cleaned up the wire mess yet, because I am, of course, still waiting on the power supply replacement.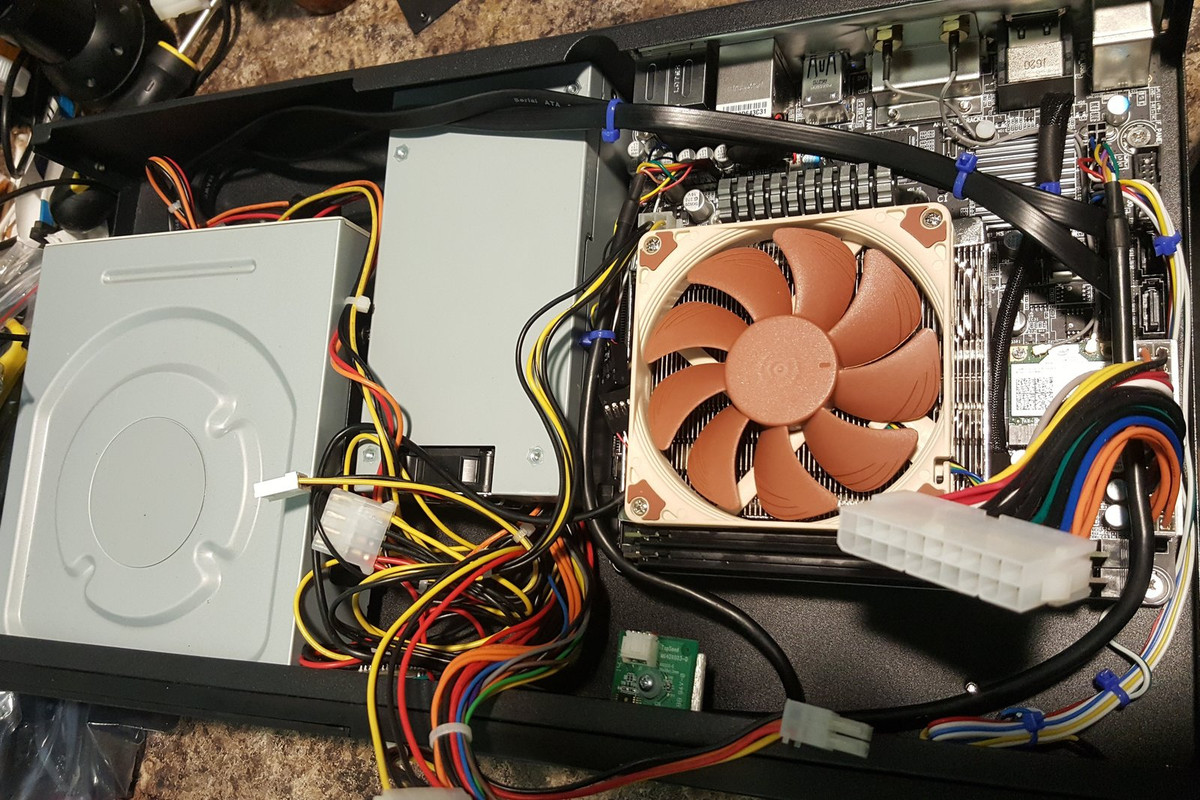 Front of the case with the door closed

Front with door open

Rear view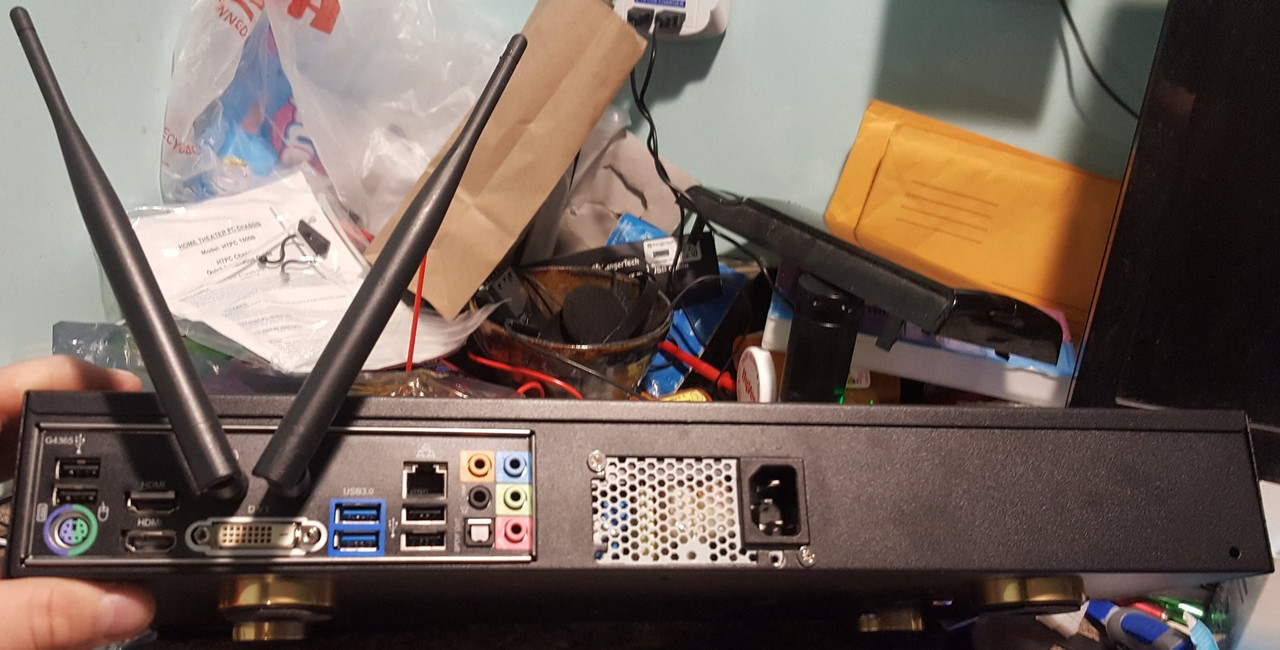 Closer look at rear I/O panel.. gotta love having dual HDMI!!
And Finally, pictures of what it looks like inside the TV stand.