2018-10-21, 05:32
Well after the disaster that the Xiaomi Mi Box has become since it's idiotic developers decided to release really buggy,
untested
v8.0 Oreo Firmware, we have another contender in the budget Google Certified and Netflix Approved - Android TV OS category. One that has better connectivity options as well.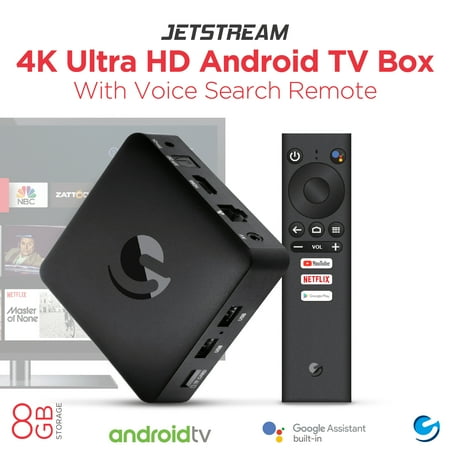 Ematic Jetstream 4K Ultra HD (click)
AMLogic S905X Chipset - 4K HDR capable (HDR YouTube as well)

2GB RAM

8GB Storage

2 x USB2.0

1 x microSDHC

Fast Ethernet (100Mbit)

SPDIF / Optical

3.5mm Analog audio headphone socket.

Hidden Infra Red receiver (click), located behind the front facia.

Dual Band AC WiFi

Bluetooth 4.0+

Bluetooth - Google Assist - Voice search remote, power adapter, and HDMI cable.

Running Android TV - Oreo 8.1 Firmware.

Widevine L1 + Microsoft Playready DRM & HDCP 2.2 for 4K Netflix & sideloaded Prime Video.

Early report indicate a much more stable device vs the v8.0 Xiaomi Mi Box. (a Mi Box FW 8.1 update is hopefully expected shortly)
Live TV deinterlacing might have even been fixed by AMLogic with FW 8.1
However, Kodi HD audio passthrough might
Not
be working with the Jetstream (confirmation needed)
Reddit - Android TV - Jetstream feedback (click)
Harmony Infra Red remote config help (click)
---
@
clarkss12
budget box addiction continues! He's already posted a Jetstream Video....