Hi,
i'm trying to use the VAAPI with kodi on weston/wayland. Running armbian 20.05.4 focal (Ubuntu bases distribution running mainline kernel 5.4.45) on the cubieboard2 (Allwinner A20 chip).
The official kodi ppa repo does not have armhf builds, so I checked out the 18.7-Leia tag and compiled from source:
Code:
cmake ../kodi -DCORE_PLATFORM_NAME=wayland -DWAYLAND_RENDER_SYSTEM=gles
cmake configuration shows that VAAPI is enabled.
After successful compilation, running kodi with:
Code:
LIBVA_DRIVER_NAME=v4l2_request ~/kodi-build/kodi-wayland]
seems to be able to open the VAAPI driver as the stderr shows:
Quote:libva info: VA-API version 1.7.0
libva info: User environment variable requested driver 'v4l2_request'
libva info: Trying to open /usr/lib/arm-linux-gnueabihf/dri/v4l2_request_drv_video.so
libva info: Found init function __vaDriverInit_1_7
libva info: va_openDriver() returns 0
The main Problem is that when I go to settings -> player under Videos -> Processing -> Render method Auto detect is shown, but greyed out: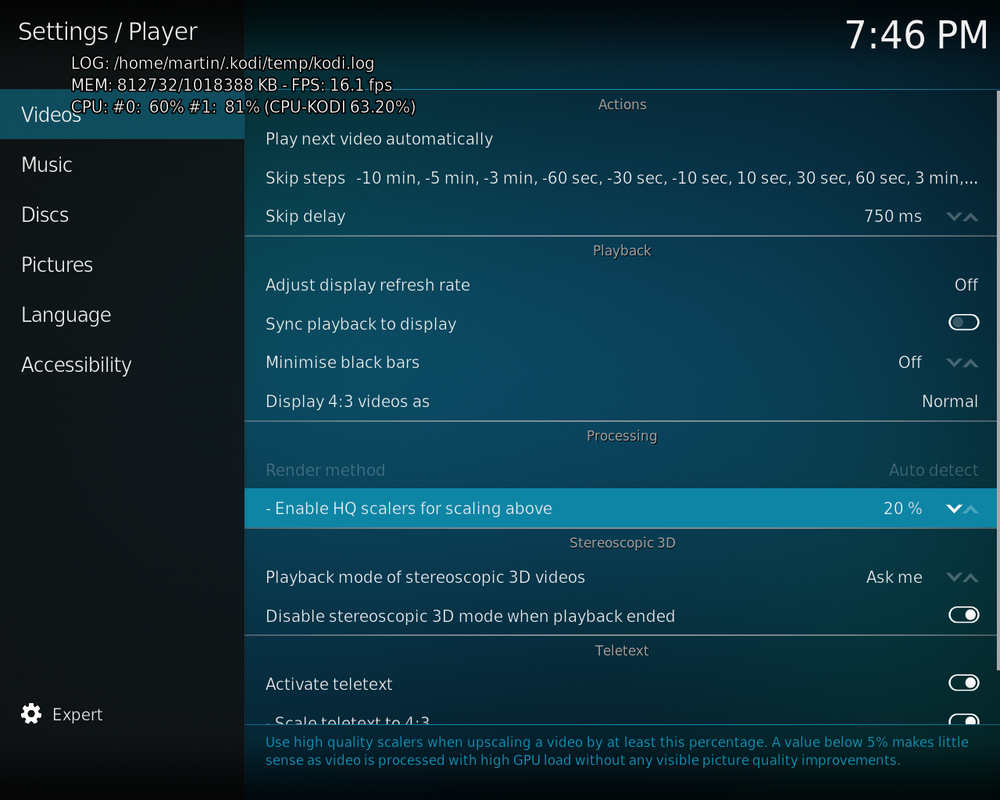 From the documentation I would expect options to set VAAPI / VDPAU etc. under Linux (
https://kodi.wiki/view/Settings/Player/Videos
) but this is all missing.
This is the kodi log while just starting kodi, go to the player settings and exit:
kodi.log
Any Idea what the problem is and how to enable the settings?
(The same Problem occurs if I use the kodi from the standard ubuntu/armbian apt repo, either under wayland as well as under X11)
thnx alot in advance
Martin