2008-10-19, 15:45
-------
Notice
-------
PLEASE, BEFORE YOUR DOWNLOAD HORIZONZ, LEAVE A COMMENT ON THE SUPPORT THREAD, or RETURN LATER WITH A SIMPLE, BUT MUCH APPRECIATED REVIEW.
----------
First Note
----------
With AEON's development expanding and DJH_ spending a majority of his time making what's probably going to be the one of the best skins ever, I decided to put together an ODE to all things AEON CLASSIC.
After a few months of XML splendor, I present you with
HORIZONZ: VOLUME IV
, more than just any old Release. Don't forget to check out the new
Readme.txt
file for all information about Horizonz, including Installation Notes, Feature Explainations, Options and Shoutouts. Enjoy this release!
---------
Featurez
---------
NEW
fully polished Interface
with an optional Dark Home Scroller, animated RSS Panel, newly positioned Time Panel, modernised Now Playing panel and additional Home screen Light Crest effects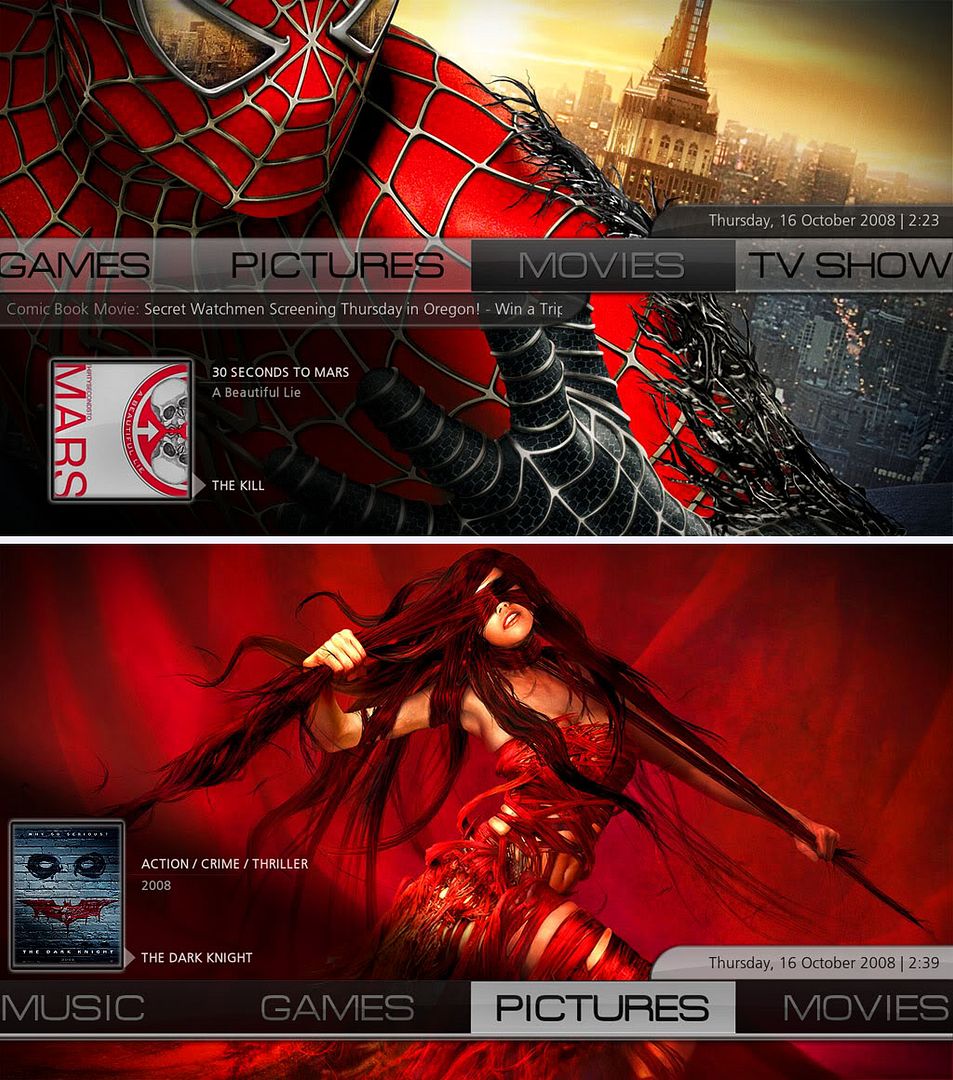 NEW
animated Info view
added to Movies and TV Shows sections and Additional
Showcase view
added to Music, Games and Pictures sections
NEW
modified Game Roller view
added to Games section and
modernised Showcase view
in Movies and TV Shows section
NEW
vertical scrolling Icon view
added to various sections and new vertical scrolling,
borderless Wall Views
with bi-directional Info panels added to multiple sections
NEW
Showcase-like Info view
added to Movies and TV Shows sections and added dynamically animated
List and Poster Information tabs
to Movies and TV Shows sections
NEW full screen visualisation (and video) Systems with
function-orientated OSDs
and Settings Panels and added a new fully
functional Weather screen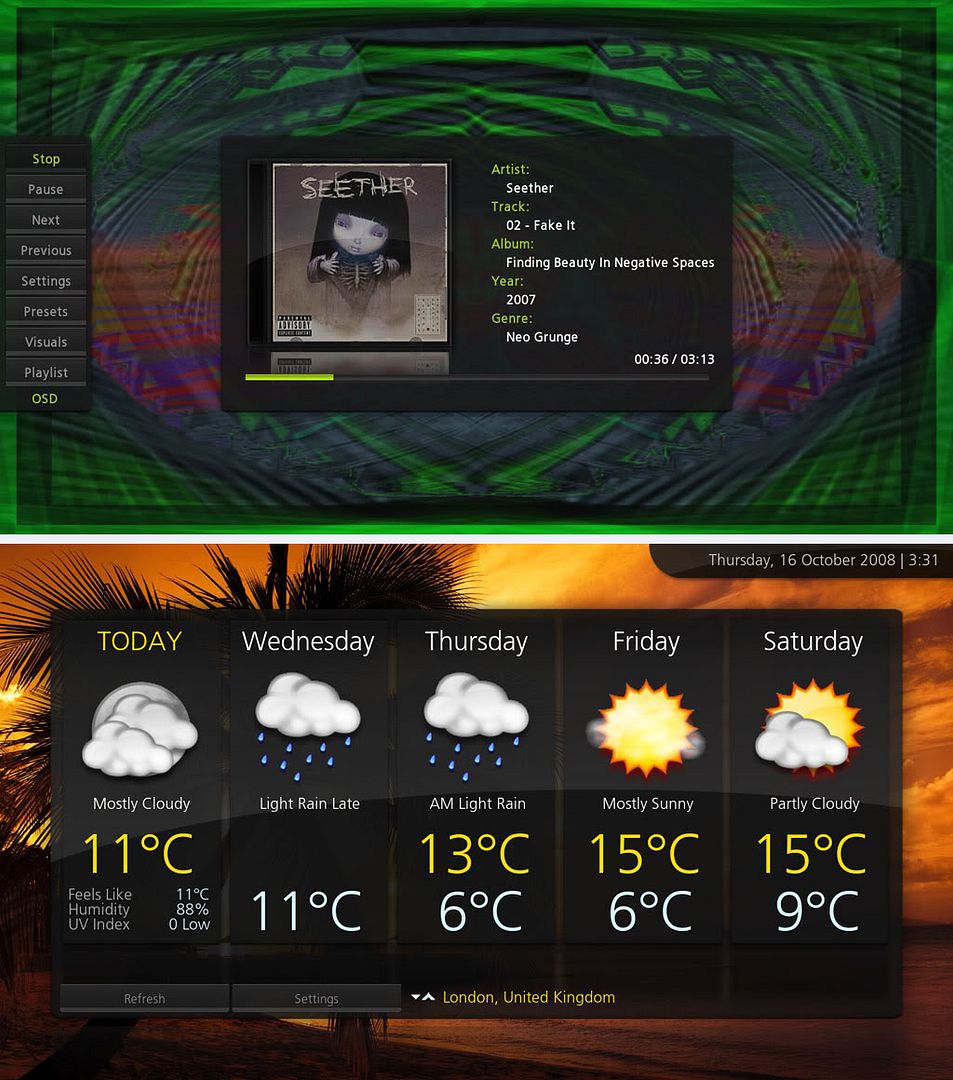 NEW System Information and Game Saves sections added
NEW Profile sections and Login screen with accompanying Logoff button added
NEW Frame System and Extended Iconset with individual media frames/icons specific to media format represented
NEW Shutdown Timer system with incremented pre-defined Timers and Cancel Timer function
NEW Options settings to disable Backdrop cycling in Memory dependant views, enable full screen Media Backdrops on Home Screen, and disable various animated Info panels
OPTIMIZED images means a smaller, more responsive system and full XBOX compatibility (XPR is less than 15 MB)
And lots more...
------------------------
ATTENTION: Incomplete
------------------------
Arcade, Clips, Apps, Comics and Adult sections were not modified as of yet and thus may not function correctly
---------------
Special Thanks
---------------
DJH_ for this amazing SKIN
RAND AL THOR for certain VIEW ideas and skinning advice
XBMC.01 for certain Optimized IMAGES and skinning advice
DJOKTAVE for included SOUND Pack
TENSION113 for certain FIXES and additional CODING ASSISTANCE
SIX_STORM for some Skinning IDEAS and great skinning advice
CHI3F, JMARSHALL, HITCHER, SKUNKMONKEE and SPIFF for being helpful at some or other point
JEZZ_X for being a legend
----------
Download
----------
Download (Vol. IV)
Download (Vol. III)
Download (XBOX Optimized XPR created by Rocky5)
-----------
Last Word
-----------
Developement on Horizonz is
temporarily slowing down
, due to my working patterns and me not being used to it yet. The Creative juices will resume when my adrenaline kicks in again so continue to offer suggestions and provide me with feedback, and I promise I'll give the forum a readback and reply to the best of my ability.
Above all Enjoy using HORIZONZ! Volume V will be on it's way in no time! L8r!