2008-12-19, 17:20
The order of the day is Conceptual. Two months ago I put together a few concept shots of what Horizonz was aiming to become. With Volume III nearing completion and my big move just around the corner, they never saw the light of day, until now that is.
These designs highlight some of the
Home Screen features
I've implemented over the last few months and clearly illustrates the reason for their inclusion. From day one, my initial intention was to finish Horizonz' feature set prior to improving it's appearance. Too date, I haven't spent too much time tweaking graphics, but after Volume IV is released, I intend to do just that. Bare in mind thought, VIV may still be some way off, for obvious reasons. Also, note, these are
psd mockups I made two months ago
, so a few ideas may have changed somewhat.
CONCEPT ART
This illustration highlights the
DarkShade Home Scroller
with revamped
Now Playing Music panel
,
alternative Time panel
and
RSS Feed
panel positions and new
Menu Description
and
Media Section Info panels
.
This illustration highlights the
Lower LiteShade Home Scroller
, with new
Now Playing Movie panel
,
original Time panel
position, new
Player Control
location and also shows how the
RSS panel text fades
.
This illustration highlights the new
Now Playing Episode panel
with a variation in the
panel's play state
and the new location
Disc Popup
on disc insertion.
This illustration highlights the
Shutdown menu
with dimmed background losing focus to Time panel,
Section Information panel
and all important
Dialogs
such as Shutdown Timer and Player Controls.
This illustration highlights the
Setup Menu categories
with new look
Category Controls
,
Scrollbar support
and better Item highlighting.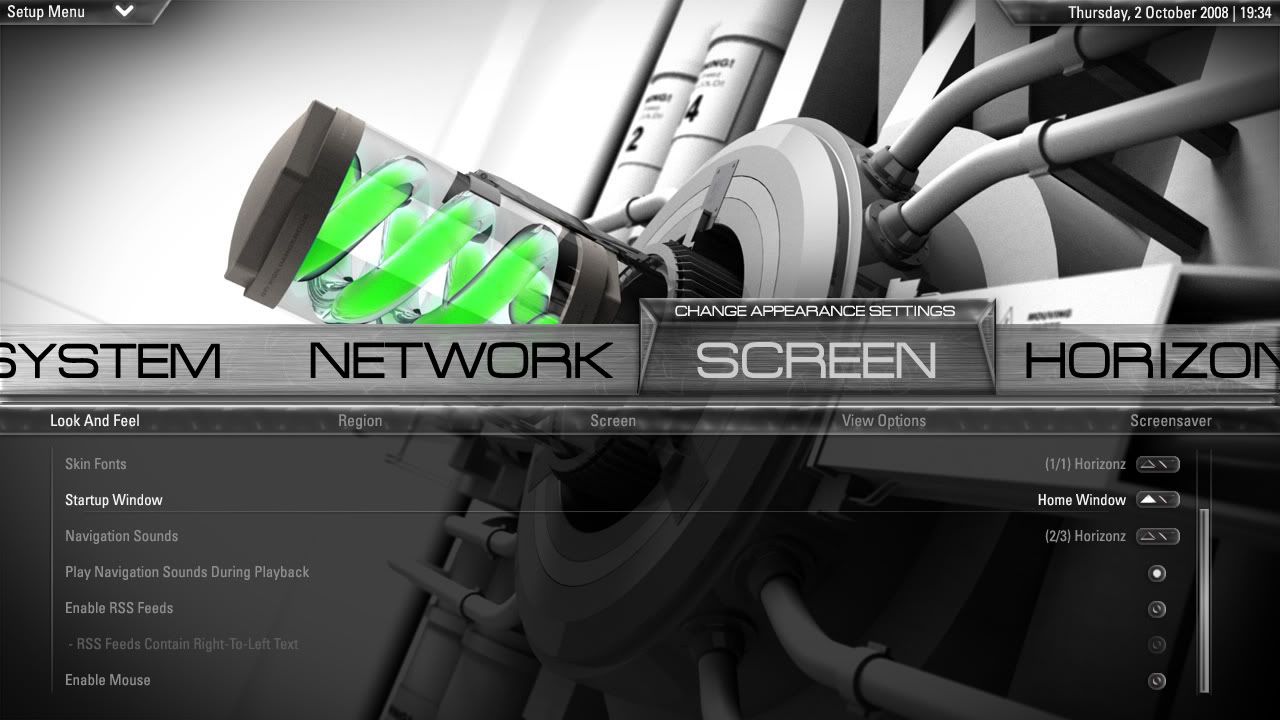 This illustration highlights the
new Weather Popup
and the new location for all
Home Screen dialogs
including Volume Control and Mute.
DONATION UPDATE
Don't forget to donate to the PC Fund if you wish. At the moment,
$55 is the Target
. Yes, thats how well you've supported Horizonz, so thanks for everything. Still attempting to sell a few things in the newspaper, so hopefully, I'll be able to grab a PC asap and finish Volume IV. Here's my
PAYPAL details
again, if you wish to donate:
[email protected]
Thanks again for all your support! Hopefully I won't miss any of you in the Donation Shouts section in Horizonz itself.
LAST WORD
These
concepts are intended for Volume V
and beyond. I look forward to hearing what your thoughts on them are, and remember, they are concepts, so constructive comments are only constructive if they're positive in manor. Graphic Design isn't my speciality, so a lot of self-training had to be done in the months leading up to Volume I. It's only been six months since I first used Photoshop and Illustrator. Hope this shows considerable improvement on what I've designed thus far.
Special Thanks to Six_Storm for giving me an idea or two and DigitalHigh for helping with a Backdrop or two.
Hope you like what you see dudes and dudettes, and lets be nice, okay!