Hey all:
I am new XBMC and I have installed Live on a Acer Aspire Revo 3610 with 4GB of RAM. I have a Windows laptop that i want to be able to move files to and from the Revo, which also has a 1TB external on it.
Here is a picture of my setup. No very artistic but I just want to give you an idea of what I am doing: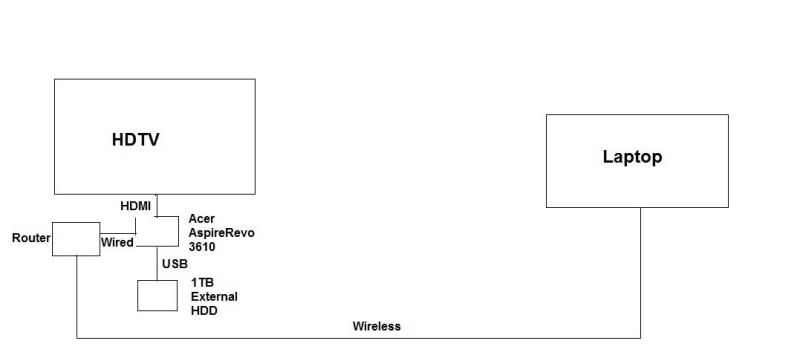 I am by no stretch of the imagination good with linux. I did this because I hear that the Revo won't be able to handle Windows 7 and XBMC. So I tried the Linux way and I am sure once I get it set up I will love it more and more. It is just getting it set up that way that I am having trouble with.
So what I want to do is be able to go on my laptop (windows 7) and looks at the files on the Revo (for transferring skins and editing XMLs and whatnot) and also I want to view the files on the 1TB external (for putting video files on and music and whatnot). I was hoping to use the windows explorer windows to view these files and whatnot. I don't know much about setting up samba or nfs or whatever. I know this is a pretty tall order but can anyone help? I usually use TVRename and Ember Media Manager for managing files on the external too.
Thanks in advance for any help you could provide. I think would also be great for other new users of XBMC Live.