I loved the idea of a kid-centric skin, and your concept set my mind going...
IMHO, utter simplicity is the key, as few different screens as possible - with that in mind, I was wondering if someone could tell me if this is possible: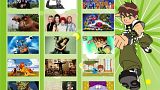 I know all the placing & size is wrong, but the concept is that this is the home screen, left/right moves you between Movies/Music/TV and up/down scrolls. Selecting TV/Music can either bring up an overlay with Tracks/Episodes, or open selection to the right of the screen - the idea is to keep everything on one page. I intended to add a focused selection around the Ben 10 thumb, but it's really late...
You get the idea - what do you think? Possible?
(and apologies for hijacking... :o)