I submitted an image the other day for Working Class. Extremely simple image to create, took me all of about 20 minutes. I made sure it was a good as I could get it as it was easy.
Now, the problem being, it HAS got a drop shadow that is 4 pixels and hits the bottom of the image - perfectly. But the view from the naked eye maybe looks as though it's 'Not bottom aligned' where it actually IS according to PhotoShop CS5, with my color blindness I have to check with CS5 -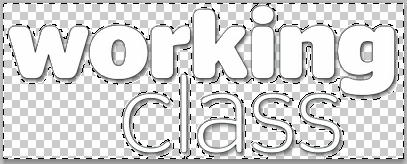 What I'm getting at is, I give my images a drop shadow and they get pulled for not hitting the restictions, when the actually do!
I have not made images for a while for this reason, I decide to make one and it gets denied.
I am getting to the point of giving up...! I'll leave my submissions for an other couple of months...!
Just to back my arguement, there is a file I noticed that needs pulling down for not being completely transparent and looks totally out of place on my setup -
Toys thrown - Rant over!
Still... Much love to FanArt.TV for making my HTPC looks the Bees Knees!