2011-04-21, 13:09
My story thus far....
If my story bores you, the pics are below...
I started streaming media about 4 years ago with an iStar Mini HD (PopcornHour based device) and my collection and interest in such things just kept growing.
I got to the point where I wanted an attractive looking "skin" for my media so looked at YAMJ but at that point I only had an PPC based mac so I couldn't install the java needed blah blah blah, so I left it.
I got an old MacBook Pro to replace my old Mac PowerBook G4 which meant I could install java on it, I upgraded to the PCH C-200 and A-200 and ended up running UMC (of which I was a tester).
Last year I tried XBMC and (Plex) on a spare iMac that I had put in the Conservatory (it had motherboard issues but still worked). It played well and I liked the add on's but couldn't get it to scrape my files properly and rarely using the Conservatory I never found the time to get it working right.
When progression stopped on UMC and TOMY (OSX GUI for YAMJ) came out I moved to YAMJ. I had sickbeard working with YAMJ automatically updating and I was quite fairly happy with it. I briefly tried NMJ but that was just to early on for me to adopt.
I ordered an AppleTV (Gen 2) in December for my music collection mainly because I was iTunes based and there wasn't anything on the PCH that worked for me.
This is where I finally became a XBMC convert!
I jailbroke my ATV and toyed with XBMC, I liked the fact that it was small, had wireless N, it was cheap and didn't use much power.
I worked out why my collection never worked with XBMC......my TV Shows file structure was like this:
TV Shows/A/Alias/Season 1/Alias S01E01.mkv
XBMC was scanning the "A" folder as a TV Show and so on!
I changed my folders, reset all paths in Sickbeard (not fun for 150 shows) and it scanned like a dream!
After using it for a month or so I got another AppleTV for the bedroom and starting browsing this section of the forum looking for more speed and power, after all the AppleTV was never gonna play my Blu-ray rips with HD audio like my Popcorn Hours do.
I read random threads, knowing nothing about building PC's make it a little bit daunting
I decided to do the i3 build in Eskro's thread, my iMac at work is the same spec and it performs really well.
I was gonna get a Silverstone GD05 case but it was out of stock and I
needed
to build now all the parts had arrived.
This is the spec:
Intel Core I3-540 3.06GHz LGA-1156 Dual-Core 73W CPU
ASRock H55M-LE LGA-1156 Micro-ATX Motherboard
ASUS GeForce GT430 1GB DDR3 128-bit Low Profile Graphics Card
Kingston Hyper X 2x2GB DDR3 RAM
40GB Corsair Force Series SSD
LG GGW-H20L Blu-ray/HD DVD drive
Antec EarthWatts 380W 80%+ Efficiency PSU
Lian-Li Black Aluminum PC-C37B Micro ATX Case
Windows 7 Ultimate x64
XBMC 10.1 with external MPC-HC player with ffdshow filter for .ts files with HD Audio.
Motherboard in awaiting CPU: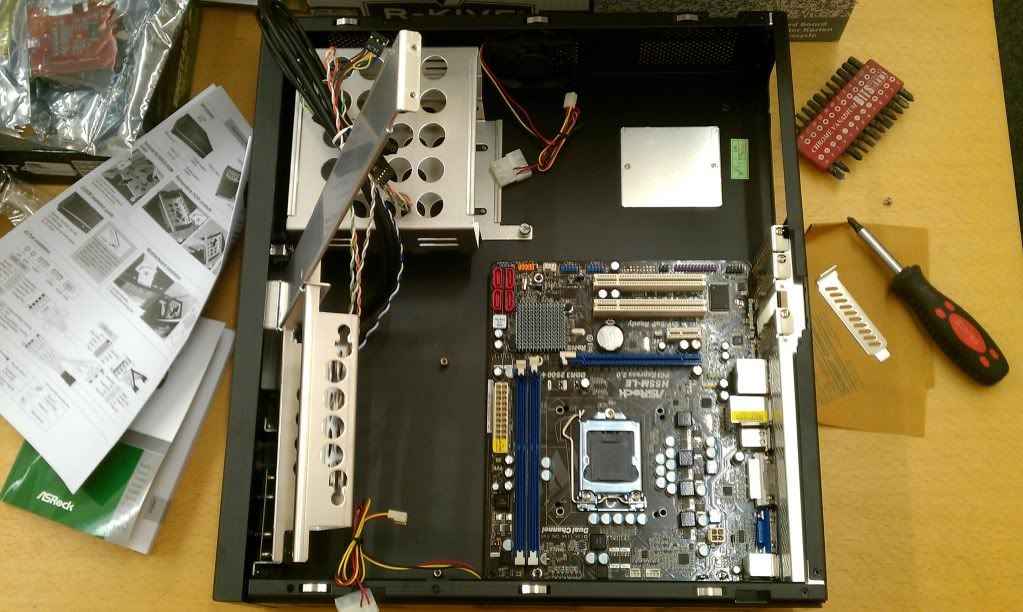 Graphics Card in: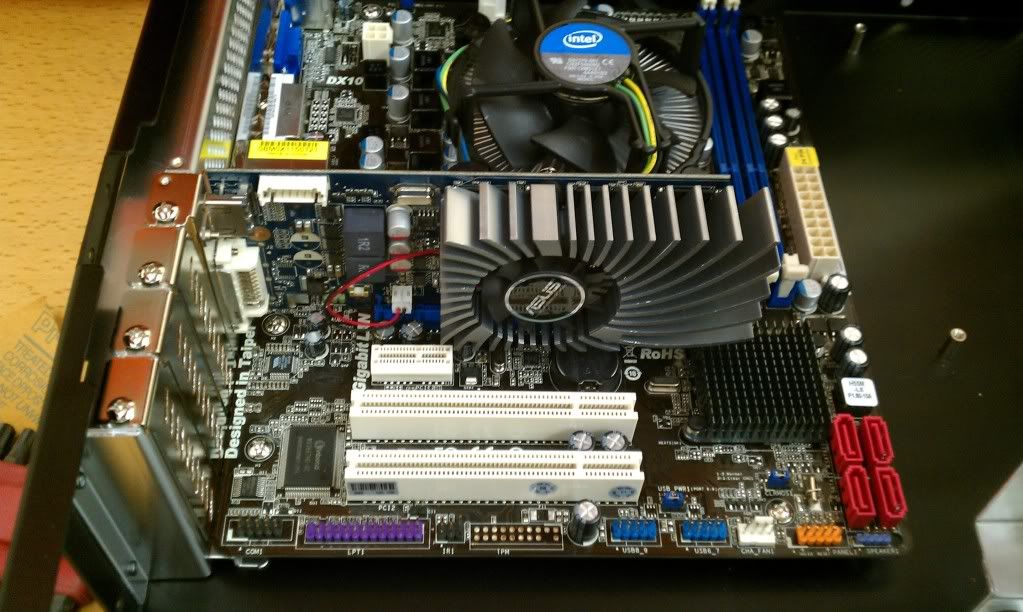 RAM in: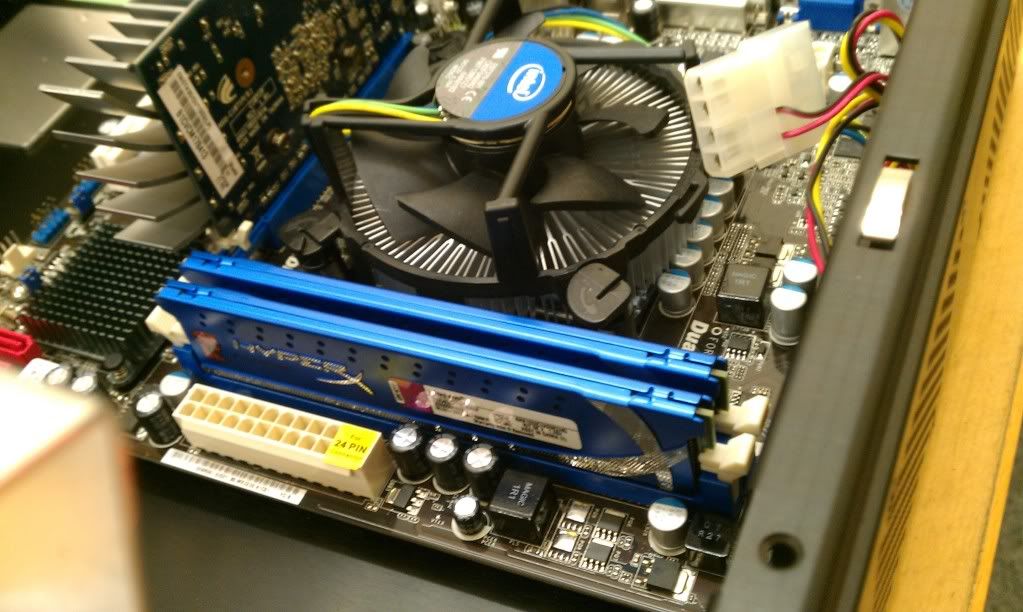 Optical drive in cage: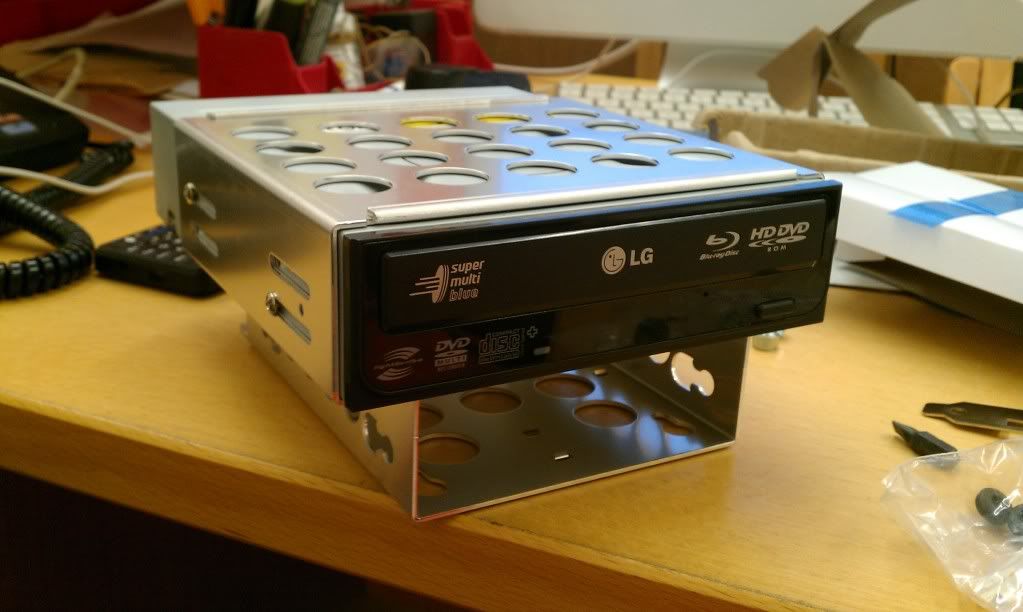 Scary octopus like PSU and SSD semi installed: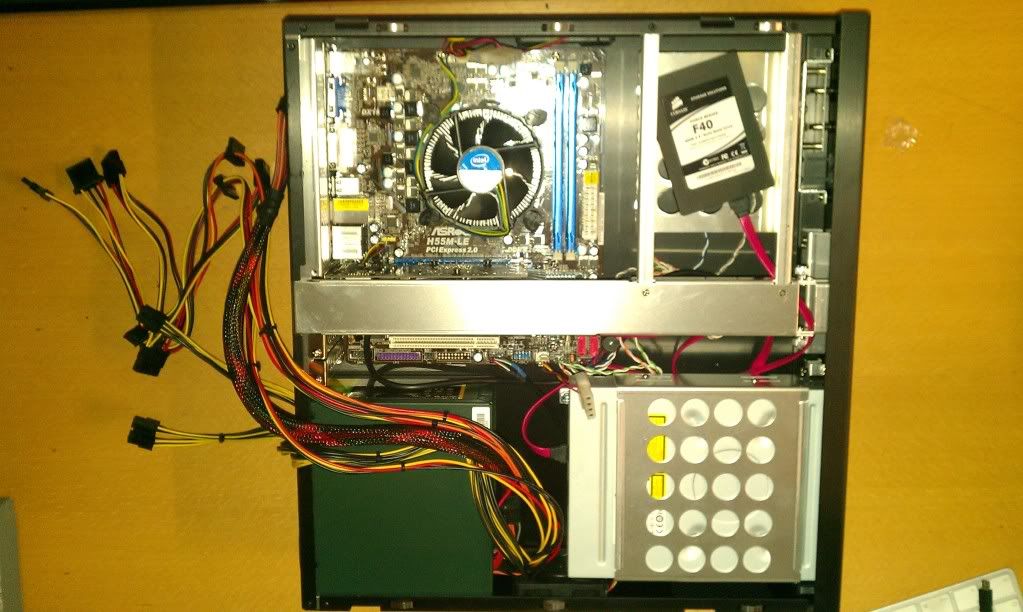 continued...