(2017-01-19, 07:23)

DoctorBR Wrote:

(2016-12-12, 19:44)

jocala Wrote:

(2016-12-12, 15:17)

LilSnoop40 Wrote: Good morning, i bought the Mi Box for a friend this weekend. after installing Kodi via the google play store i wanted to restore from backup using adbLink. i put the box into developer mode and all that. but i couldn't get it to connect to the box. Any ideas how to make this connect, i didn't have any issues using adbLink on any Firestick, FireTV or Nvidia Shield. i even tried hooking a usb from the Mi Box to my pc like you need to do for the Nvidia Shield but had no luck. please advise.

Thanks


I responded to your email.


I would like to know if it is possible to connect the Mi Box (MDZ-16-AB)...
1. Turn the developer options on (You may have to press About/Build 7 times)
2. Turn on ADB Debugging. If you see a Network debugging, turn that on too.
3. Connect to your device. You may need to connect via USB if network debugging
isn't turned on for your device ROM.
Look for a pop-up dialog similar to: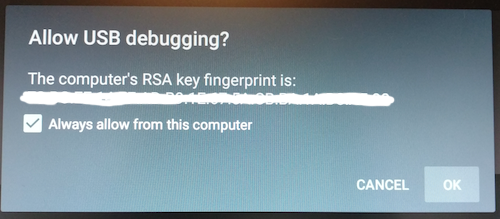 Confirm the connection and check "Always Allow..."
If the authorization dialog does not appear, try deleting/renaming the .android/adbkey and .android/adbkey.pub files in your $HOME directory. This should force your device to reauthorize.