(2019-07-14, 20:49)

Txxb161 Wrote:

(2019-07-14, 18:55)

jocala Wrote: adbLinik 4.2 released...

Thanks for staying on top of the oh-so-useful app. Curious as to what necessitated the move back to an unsecured site? Also, would it be possible with some future release to add the option to choose the installation/update directory? ADBLink has been forcing itself to update/install in a directory I deleted many versions ago, which requires me to manually copy/move files after the installation/update has completed. Thanks again!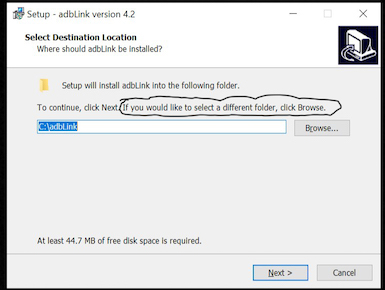 You can navigate to a new installation folder by clicking the browse button, or you can overtype the "c:\adbLink" with your selection and it will be created. 
Free https certificates (letsencrypt, etc) weren't working out for my purposes.