2015-03-18, 17:11
I own the hardware since a few years know, but, well, after windows XP/Mediaportal, then XP/XBMC, and running now better with Linux/Kodi, I don't feel the need for an upgrade (well a little one, see below). Everything was built 2008, except the keyboard wich is brand new. In 2008 I bought a basic Keyboard and a Basic mouse (around 20 €)
Well, for Blu Ray discs, I cannot open them from Kodi, thus I use VLC instead (see in screenshots section).
In this post, not only I provide the cost of this Mediacenter, but I also propose an equivalent built with the hardware currently available for a total cost of less than 500€. Read carefully, follow the links, and enjoy.
Here are the specs, everything works just perfect :
The Mediacenter itself
Hardware :

Antec Micro Fusion 350 (175 €)
Bought here : Materiel.net
Can be find here (140$ / 130 €) : Antec store (refurbished)
Includes :

GA-MA78GM-S2H (rev. 1.1) :
Bought here : Materiel.net
>>> Link to constructor (specifications + pictures) <<<
Specifications of interest : Integrated ATI Radeon HD3200-based graphics (DX10) and PCI-E 2.0 x16 interface with ATI Hybrid CrossFireX support.

Club 3D Radeon HD 3450 256 Mo HDMI Low Profile(CGAX-3456) (30 €):
Bought here : Materiel.net
remark : I swear Crossfire is working, it is not supposed to !

AMD Athlon 64 X2 4850e Box (with venti-rad) (53 €)
Bought here : Materiel.net

DDR2 G.Skill PK Series - 2Gb (2x 1Gb) - PC6400 (800 Mhz) - CL4 - F2-6400CL4D-2GBPK (Dual Channel - CL 4-4-4-12) (45€)
Bought here : Materiel.net
Remark : they are coated with a very nice and cool blue aluminium cover for heat dissipating (see the link just above for a pic)

HDD SAMSUNG Spinpoint F DT HD502IJ 500GB 7200 RPM 16MB Cache SATA 3.0Gb/s 3.5" Internal Hard Drive (70€)
Bought here : Materiel.net
Still available here (90€)

HD drive + burner LG GGC-H20L (110€) :
Bought here : [http://www.materiel.net/lecteurs-hd/lg-g...teriel.net[/url]
It is still impressive :

reads :

Blu-ray / HD-DVD /DVD /CD (Yes ! Blu ray and HD-DVD !)


writes :

DVD±R / DVD±RW / DVD±R DL / DVD-RAM /CD-R/ CD-RW


Lightscibe :

LightScribe is an optical disc recording technology, that uses specially coated recordable CD and DVD media to produce laser-etched labels with text or graphics, as opposed to stick-on labels and printable discs. (wikipedia)


Bundle :

PowerDVD 7.3 Ultra + 1 Lightscribe CD + a blu ray (Rocky Balboa) <==

my first Blu ray !




Pinnacle Systems PCTV DVB-T Stick Solo 72E
I don't remember where I bought it and how much it cost
Anyway it was working when I was living in Brest (France), now I am in Paris, in a flat, it doesn't work anymore. Ubuntu seems to recognize it, and I should try on my Portable PC with windows)

Wireless Keyboard/MousePad Logitech K400 (35 €, I have the fidelity card for -5% )
Bought here : Fnac (not on internet but in one of their shop, in Paris)





A updated built for today :


For today, if I had to choose some hardware or to update it, I would take :

An evolution kit including APU, motherboard, memory and SSHD (215 €) : "Kit évolution PC Cookit + SSHD 1 To"
In this kit :

AMD APU A4-7300 : CPU 2x3,80 GHz + Integrated GPU AMD Radeon HD 8370D

MSI A78M-E35 : 1 PCI-E 16x / 1 PCI-E 1x / 1 PCI / 6 SATA-3 ** 1 DVI / 1 VGA / 1 HDMI / 4 USB 2.0 / 2 USB 3.0 / 1 RJ-45 / 3 Jack 3.5 mm

SSHD Seagate SSHD 1 Tb (8 Gb Flash)




As a HD drive, an Asus BC-12D2HT (75€) : link to the shop





Software :

Ubuntu 14.10

VLC (in order to play the Blu Ray)

LCDProc (for the LCD Display)

A little piece of Python script I made in order to display a vu meter on my Imon (thing that cannot handle the official add-on, see link below, in screenshots section)

In order to tag my mp3 : MusicBrainzPicard, Kid3, Rythmbox, and Clementine.


Until last year, I was running under Windows XP/Mediaportal, with Imon management software for the LCD, various fix to make it work correctly and Cyberlink software for the Blu ray. Everything is smoother with Linux, even if it has it's own limitations...

How much did it cost and how much would it cost today ?
Total cost of 2008 :
458€
(+20€ for a mouse + keyboard in 2008,
+ 35€
for the Logitech K400), my budget was 500€ maximum.
Replaced in the context of 2008 it was a very good deal, since it was impossible to find a simple Blu ray player under 500€ (when you think about it, how many did survive for 7 years like my Mediacenter and are still working ?)
Update kit : 215 €
Total cost if built today :
472€
Around the Mediacenter
Currently in use with the media center :

Monitor/TV : SONY Bravia KDL-32V4500
I got it for 400 € instead of 650 € in a Carrefour supermarket in France in 2008 , big promo...
32" (82 cm), 16:9 , resolution used : 1360 x 768 @ 60 Hz,
Nice connectivity :

Pics of the TV

Android smartphone LG F6 :
Used as a wifi remote (with the Kore aplication, the official android remote for Kodi)
Or used as a IR remote, because it has a IR built in, with a free application named ASmart Remote. This nice and free app can work either as a Soundgraph or a MCE remote !

Android Tablet 10" Archos 101XS2 :
Used as a wifi reote also, and with Kodi for Android installed. I say yes !

ChromeCast : nothing to do with Kodi, but it's a must have for youtube and Arte+7 !

Other options : gamepads
The Antec case has 2 front USB, it is great to play some games on the TV as if it was a gaming console, with friends, lovers or family.
Under windows, the LCD conflicts with those USB gamepads and must be deactivated with a little piece of software provided by Soundgraph on their forum (link)




Not in use for the moment (lack of room in my flat in Paris, and neighbours...) :
Home Cinema system DVX S-80 , bought in Paris in 2003 (around 600€), the DVD player do not work anymore since 2008, that's why I built my mediacenter at this time and it was cheaper that a standard Blu Ray player.
Picture here (picture quota on the forum, sorry)
DVX-S80 Main Specifications


Quote:Receiver Section (AVR-S80) RMS Output Power Main Ch 33 W + 33 W (6 ohms, 1 kHz, 0.9% THD) Centre Ch 33 W (6 ohms, 1 kHz, 0.9% THD) Rear Ch 33 W + 33 W (6 ohms, 1 kHz, 0.9% THD) Subwoofer (LFE Ch) 40 W (5 ohms, 100 Hz, 0.9% THD) Maximum Power Main Ch 40 W + 40 W (6 ohms, 1 kHz, 10% THD) Centre Ch 40 W (6 ohms, 1 kHz, 10% THD) Rear Ch 40 W + 40 W (6 ohms, 1 kHz, 10% THD) Subwoofer (LFE Ch) 50 W (5 ohms, 100 Hz, 10% THD) Input Sensitivity/Impedance 200 mV/47 k-ohms Frequency Response (Main) 2088,000 Hz +0, -3 dB Signal-to-Noise Ratio (250 mV) 95 dB FM Usable Sensitivity (Mono) 1.8 V Input Terminals 3 optical, 4 composite and 4 audio 2 composite, 1 audio and headphone Output Terminals stereo mini jack Preout Terminals Main L/R, centre, rear L/R, and subwoofer Dimensions (W x H x D) 435 x 67 x 265 mm Weight/Unit 4 kg AVR-S80 Surround Programmes: 21 Surround Programmes HiFi DSP Programmes CONCERT HALL Concert Hall JAZZ CLUB Jazz Club ROCK CONCERT Rock Concert Disco ENTERTAINMENT 5 Ch Stereo Programme Subtotal 5 CINEMA DSP Programmes Game ENTERTAINMENT Concert Video MONO MOVIE Mono Movie TV SPORTS TV Sports Spectacle MOVIE THEATER 1 Sci-Fi Adventure MOVIE THEATER 2 General ENHANCED Enhanced Programme Subtotal 9 Surround Formats Dolby Digital Dolby Digital/Matrix 6.1 DTS Digital Surround DTS/Matrix 6.1 Dolby Pro Logic Dolby Pro Logic II Music Dolby Pro Logic II Movie Programme Subtotal 7 Programme Total 21 Speaker Section (NX-SW80) Magnetic Shielding Yes System Frequency Response 3030,000 Hz 4 Satellites (two main and two rear speakers) Type Acoustic suspension design Drivers Dual 5cm full-range Dimensions (W x H x D)/Unit 72 x 164 x 111 mm Weight/Unit 0.9 kg Centre Speaker Type Acoustic suspension design Drivers Dual 5cm full-range Dimensions (W x H x D) 300 x 72 x 110 mm Weight 1.1 kg Subwoofer Type Advanced YST subwoofer Driver 16cm multi-range Dimensions (W x H x D) 200 x 395 x 416 mm Weight 11.2 kg DVD Player Section (DVD-S80) Signal-to-Noise Ratio 115 dB Frequency Response (CD) 220,000 Hz (DVD) 222,000 Hz (48 kHz sampling) (DVD) 244,000 Hz (96 kHz sampling) Dynamic Range (DVD/CD) 102 dB/98 dB Harmonic Distortion + Noise 0.0025% Dimensions (W x H x D) 435 x 75 x 248 mm Weight/Unit 2.6 kg
__________________________________________
Screenshots
The Hardware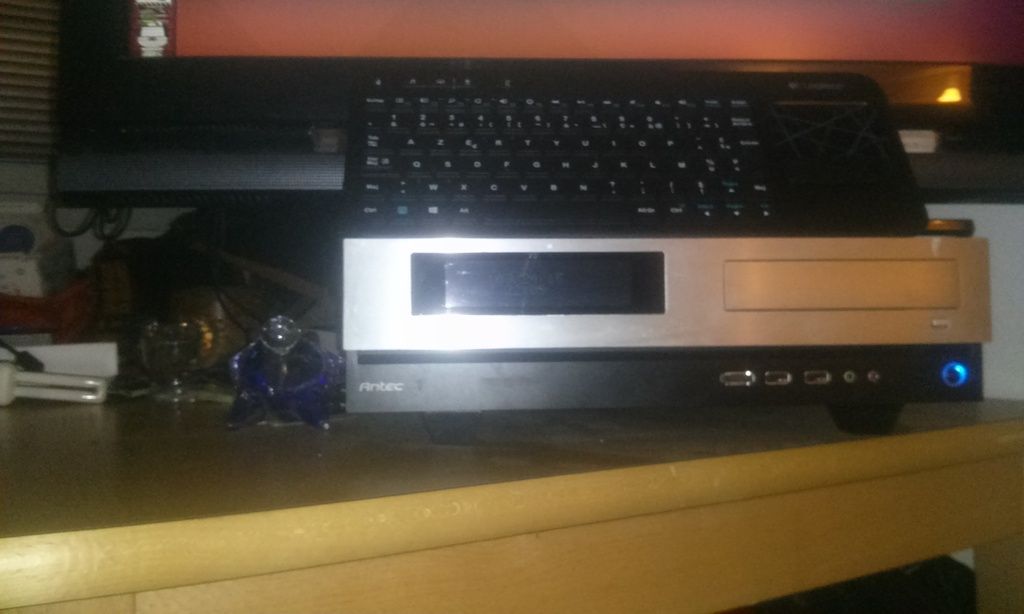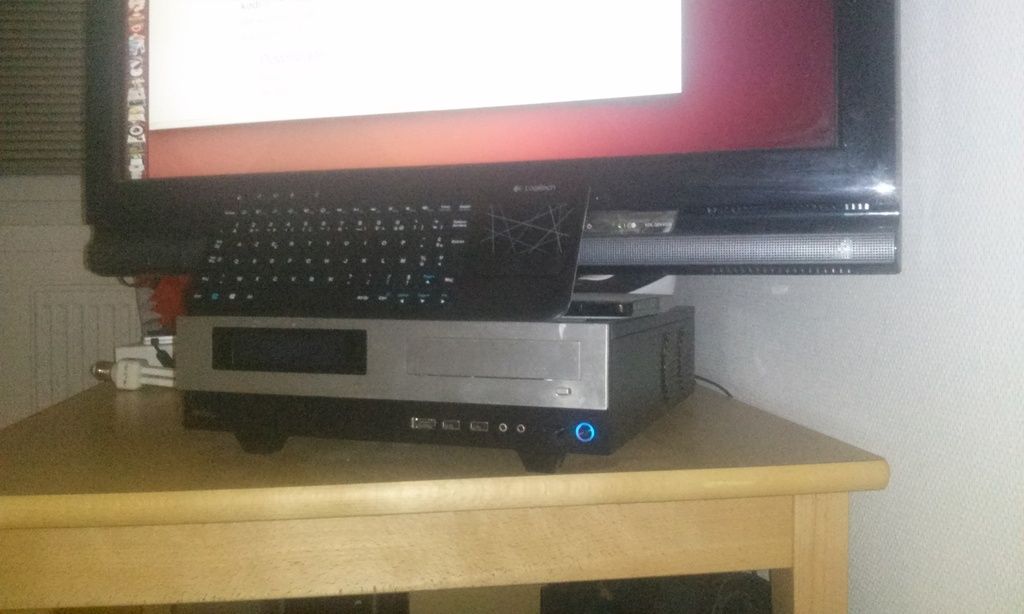 My vumeter script written in Python, from outside Kodi (
see that thread
)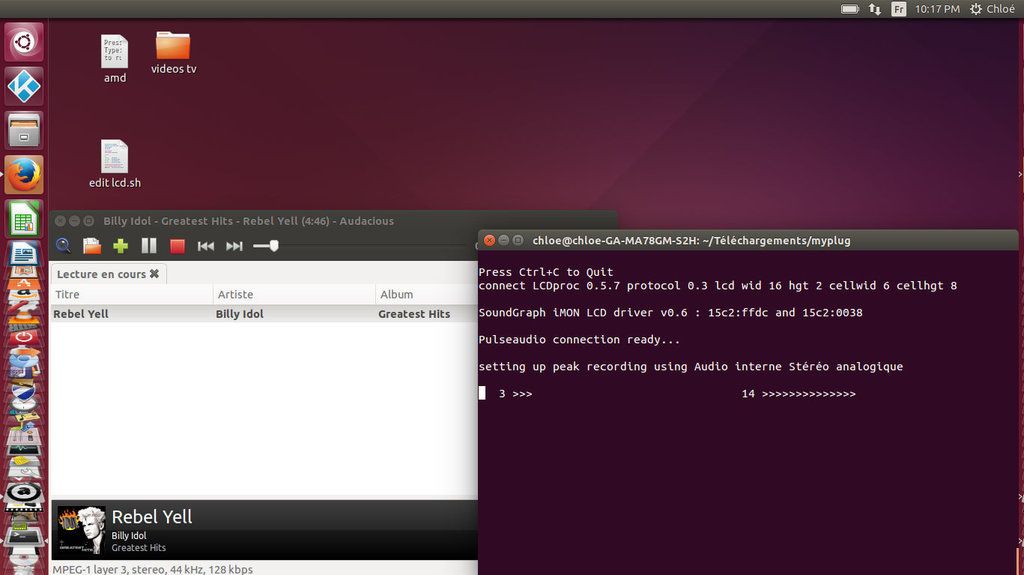 On the Imon LCD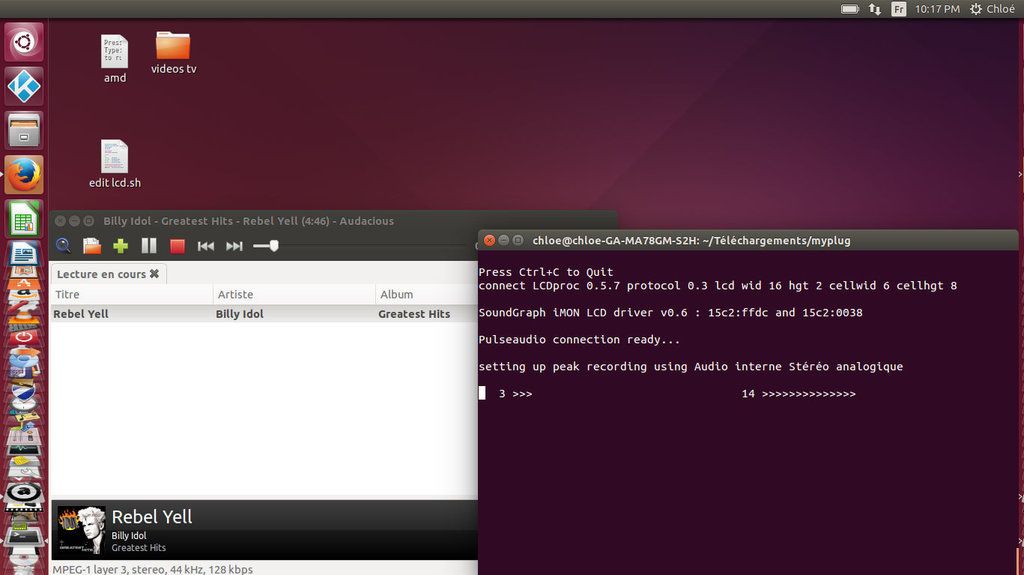 The same vumeter script running with Kodi and the LCDProc Add-on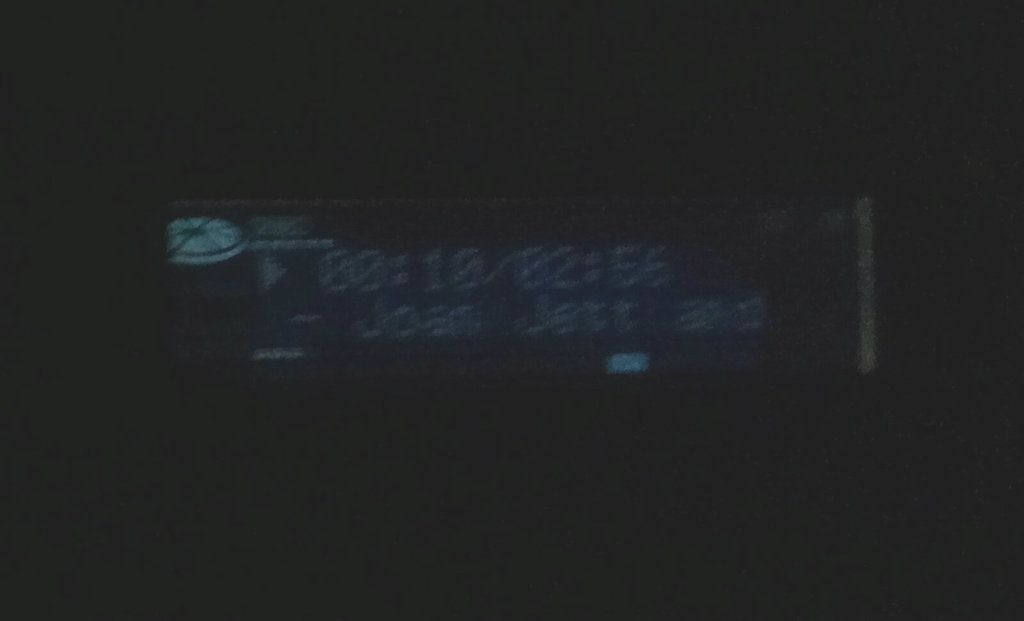 Kodi in action (I owe all those movies, no illegal stuff here)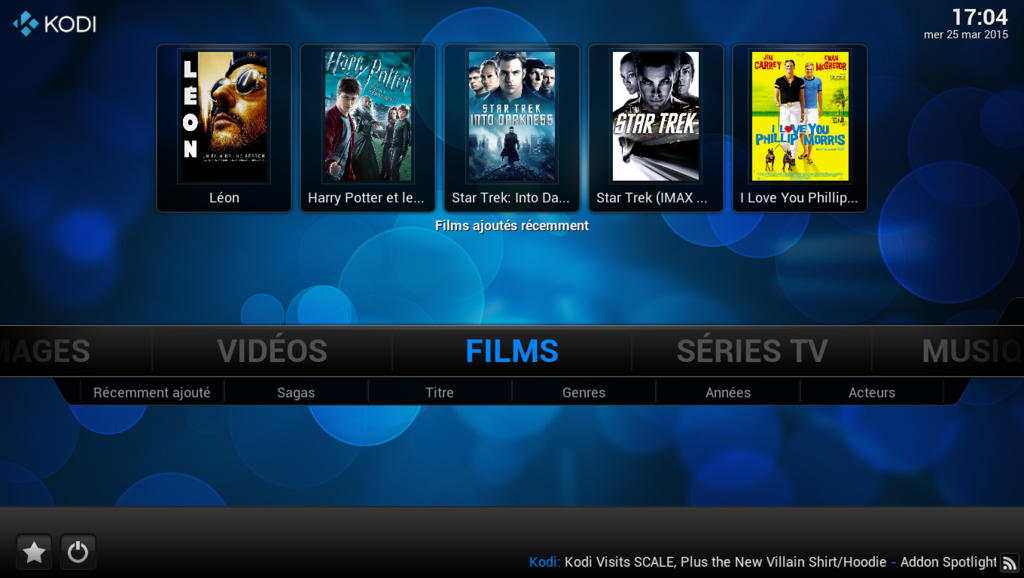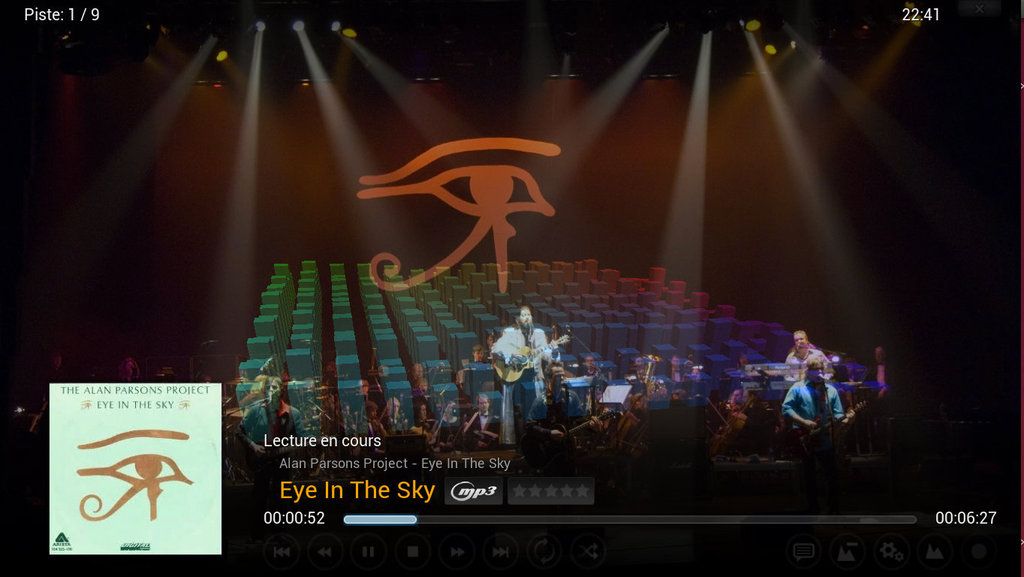 Arte.tv plugin working !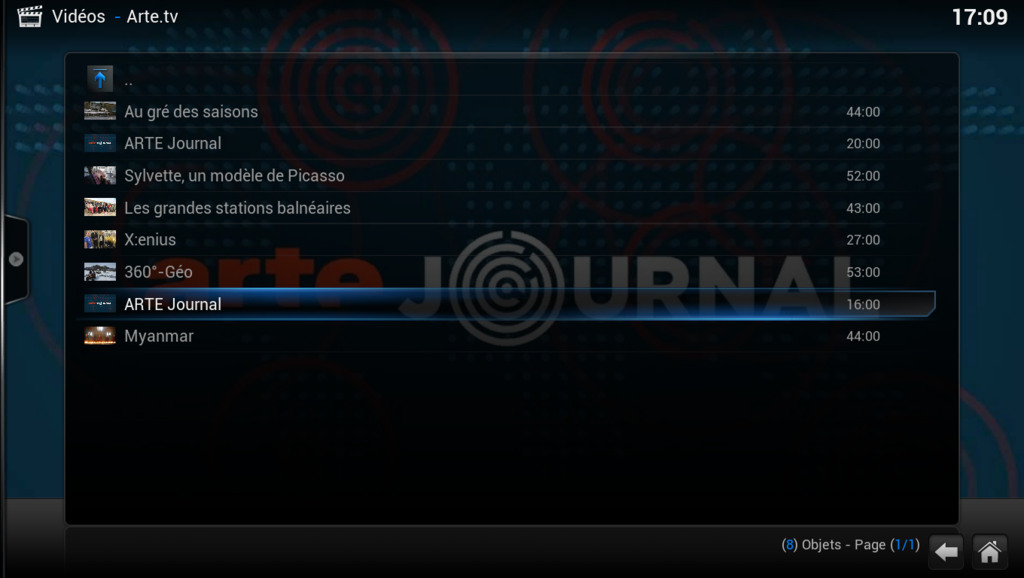 Blu ray disc (with VLC) :