2011-08-02, 11:54
After filling 13.5TB (3 x 2TB + 5 x 1.5TB) worth of drives with movies, using 2 x 4 bay eSATA DAS enclosures it was time to make a change. Plus double that for my back up (another laptop with 2 more DAS's etc).
I had heard of unRAID but all I knew was it used Linux and therefore it would be more complicated than it needed to be. I have set up and AppleTV gen 1 and even though I managed fine I absolutely despise command line.
Poofy advised me to go with unRAID and though I was skeptical, the more I read, the better it sounded. The use of one drive that could rebuild a lost drive is what sold it to me.
The hardware is based on Eskro's budget unRAID build. The only things I changed were the motherboard because I couldn't source the one he advised in the UK. I got a ASRock 880GMLE motherboard micro ATX AMD 880G. It has two less possible SATA ports than the motherboard in Eskros build. If I need them in the future that is when I will change the motherboard.
Even though once it's completely set up it will hardly be seen I had to get a good looking case. The case is a Fractal Design Case Define XL Titanium. I wanted black but it seemed to be £20-£30 more and not in stock. I was glad to see it was just the front face which has grown on me.
Empty case with side off and motherboard: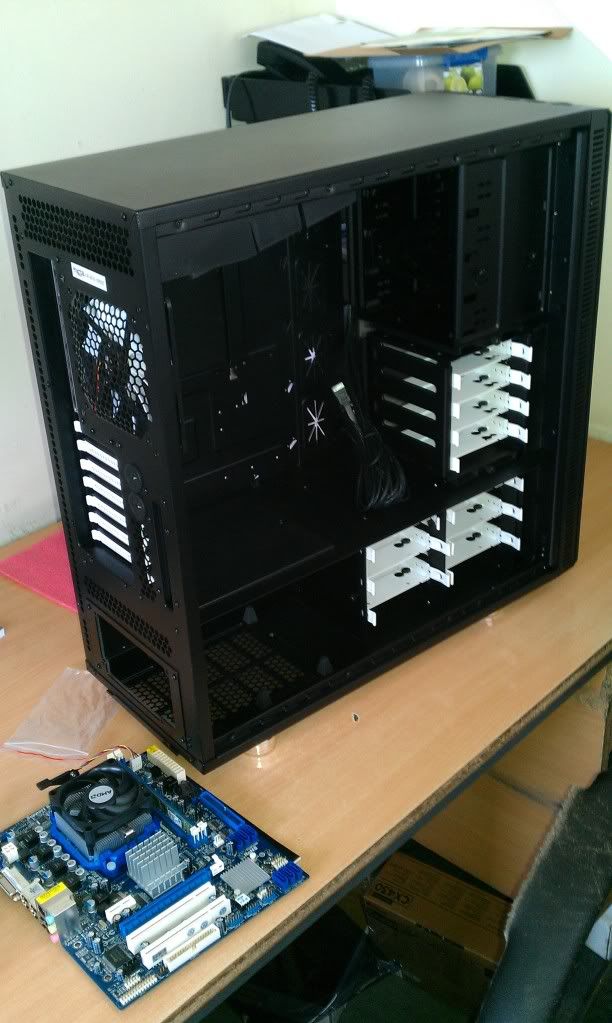 After installing an Intel/Scythe on my last PC this AMD chip and fan was a breeze.
Everything installed, 1 x 2TB parity and 4 x 2TB storage:
Even with 10TB in the case looks empty.
The room at the top right is 4 x 5.25" bays that will have a 5.25" - 3.5" caddy fitted at some point. There is already one 5.25" - 3.5" adapter in there so I can have 11 HDD in there before I need to change.
Other side, connections: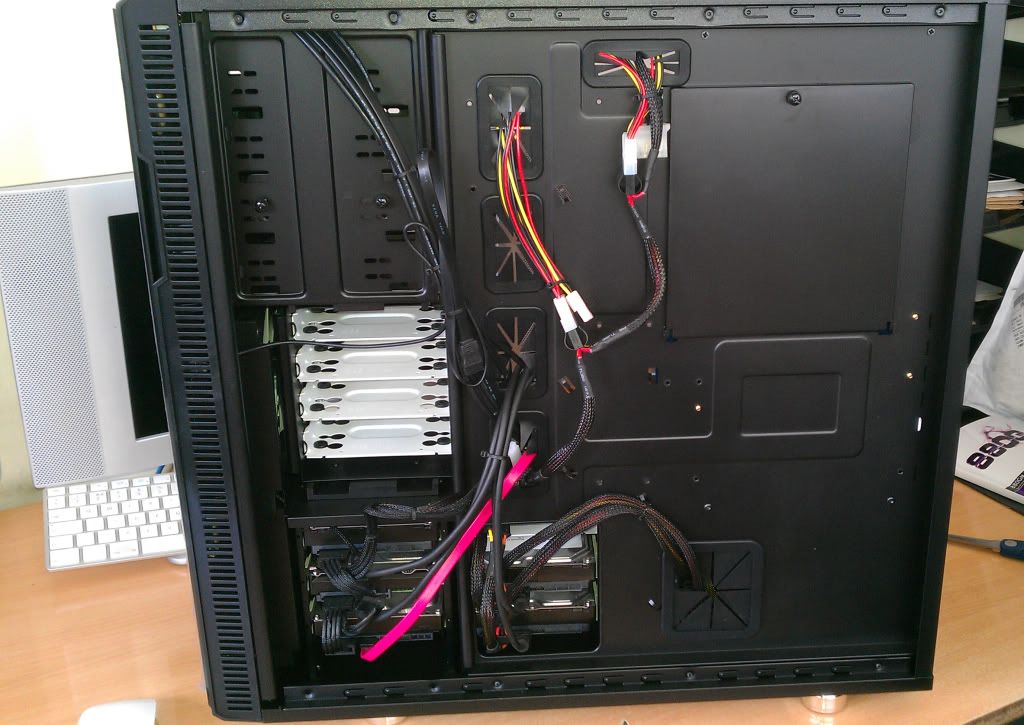 These need to tucked in quite neatly to get the side of the case back on. The one red cable is for the parity drive so I can distinguish which one it is very quickly.
Rear of case including fan controller and OS USB: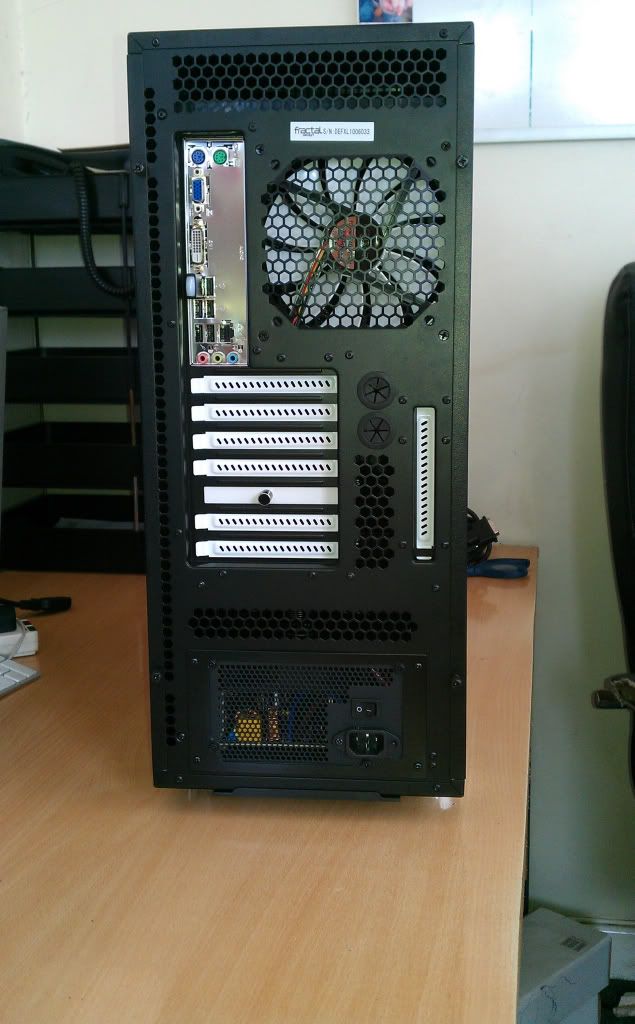 The fan controller came with the case. I used a Black Lexar Firefly USB drive for the OS.
Finished case: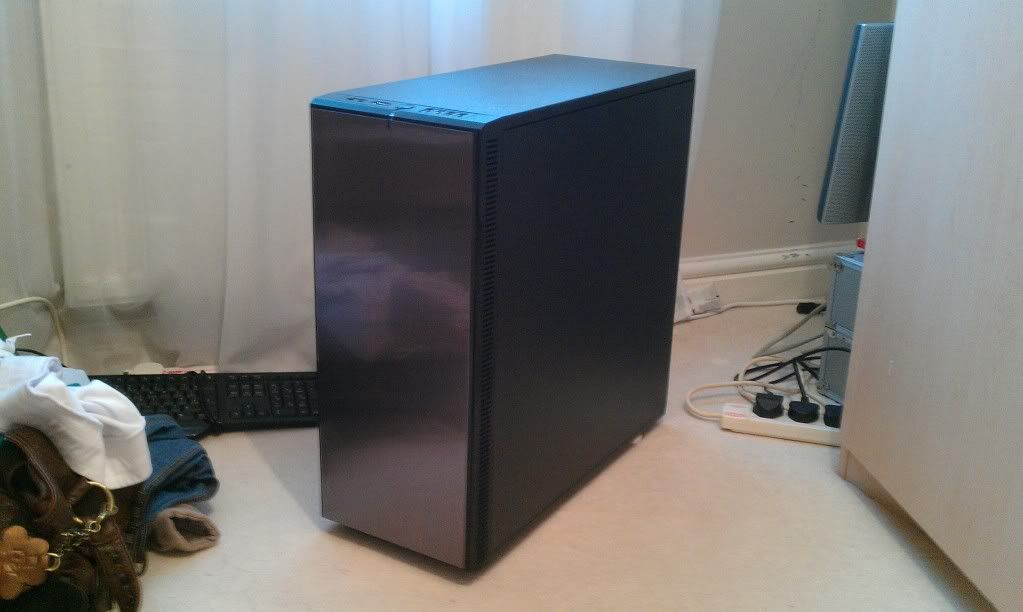 Not in it's final resting place yet. When I have 10-11 drives in and precleared it will be semi hidden under the stairs. At the moment there is 6TB in there (one drive gave up!) with 2 x 2TB drives going through the preclear stage right now.
After having issues with one of my first drives I'm preclearing 3 times as advised on the unRAID forum.
In the next few weeks I will add an 8 port SATA card giving me drive a possible 14 hard drive options.
All in all I'm very pleased with how it turned out so thanks to Poofy, Eskro and all the others who chipped in with advice.
I can finally get back to my bedroom HTPC build that I put on hold to do this.
Some more pics:
http://forum.xbmc.org/showpost.php?p=915...stcount=39