2015-03-07, 09:58
Summary:
Today Kodi is a great piece of open source software for playing almost all kinds of media files. There are so many features we can use e.g. PVR for watching TV, BluRay support with MakeMKV or AnyDVD, watching online streams and so on. The list seems to be endless, but there is some feature I miss.
Today Kodi can't replace an complete AV-Receiver. Sure we can use a computer and it's sound card with a connected surround system, but we can't do Audio Digital Signal Processing (ADSP) with Kodi. If you follow Alwinus and mine thread about
Adding ADSP to AddonManager
, than you know that there is some development for ADSP. Sure it's far away to be finished and every week we improve its features.
For my Addon
adsp.xconvolver
I need some module, that allows to measure room impulse responses. With that module we can improve our room impulse responses and push ActiveAE to the next level of listening experience. That modul will allow us to use
Digital Room Correction (DRC)
insdide Kodi without external software.
Thats only one case for our ADSP-System with adsp.xconvolver, but more are possible such as:
FIR-Equalizer

Room Simulator

Head Related Transfer Functions (HRTF)

...

But thats not the focus of this proposal.
How will I achieve this / What will the project focus on
Through we already have a running ADSP-System in Kodi, my project will focus on implementing AESource in ActiveAE, Digital Room Correction functions into
adsp.xconvolver
and improving
adsp.template
.
Here is some signal flow graph, where you can see the AESource module: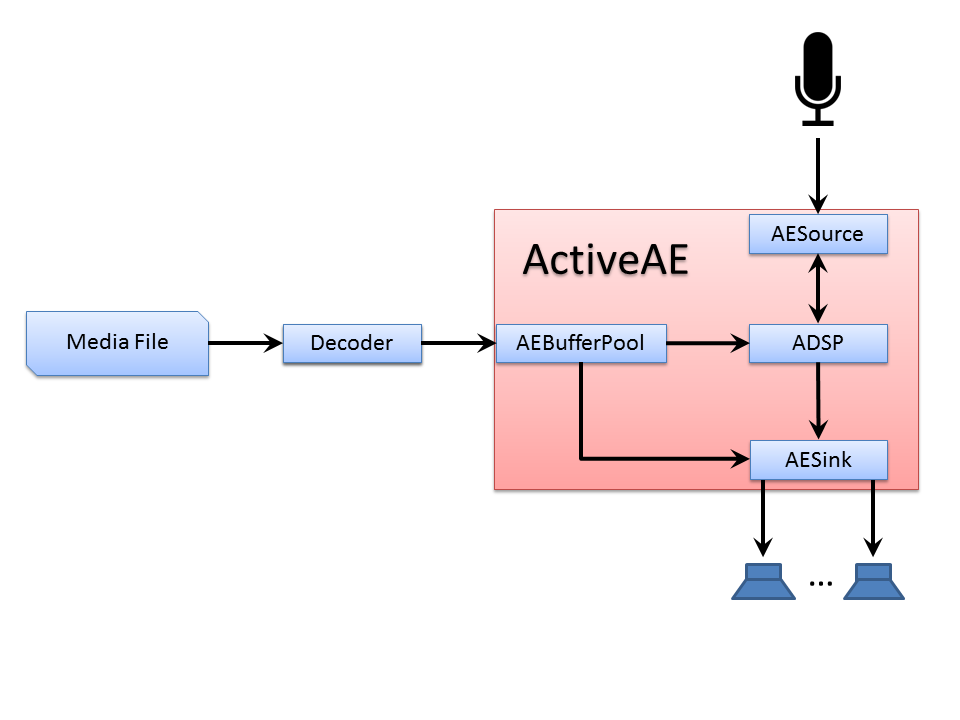 Benefits / Goals
Measure impulse responses from our listening rooms and improve listening experience through Digital Room Correction.
For me the big picture is to replace my AV-Receiver with an HTPC and Kodi.
What does it touch in Kodi
ActiveAE

OS AudioAPI

new ADSP-System

Requirements
I have to learn:
Knowledge of ActiveAE codebase

Knowledge of OS AudioAPI to implement AESource

My experience:
C/C++, C#, Python and a little bit of Java programming

Knowledge in Digital Signal Processing

Knowledge of our ADSP-System and its Addon structure

Mentors
fernetMenta, fritsch
I'm not sure if the schematic is correct, so please tell me the errors.
What do you think about my proposal?
GSoC Results
Status:
Student Passed
Here is the link to my GSoC
documentation
.
Here you can find the current source code for
adsp.xconvolver repository
.
EDIT:
- replaced "DRC" by "Digital Room Correction" to prevent confusion
- added link from wikipedia for Digital Room Correction
- added links for
adsp.template
and
adsp.xconvolver
- 25.03.2014: changed title of this proposal , to make it clearer
- 29.09.2015: Add GSoC documentation, Updated Mentors