2006-11-02, 21:11
First off, XBMC team please don't take this as criticism. You have done a GREAT job, but I find XBMC very lacking when it comes to playing/handling music. Try throwing on music with XBMC at a party, and watch the confusion when people try to find a specific number or even change back and fourh from the "now playing" list to the file list. I myself find it confusing at times.
So I suggest a "Jukexbox"
mode. To better illustrate what I mean, I have quickly put together a "screenshot" of how i imagine it.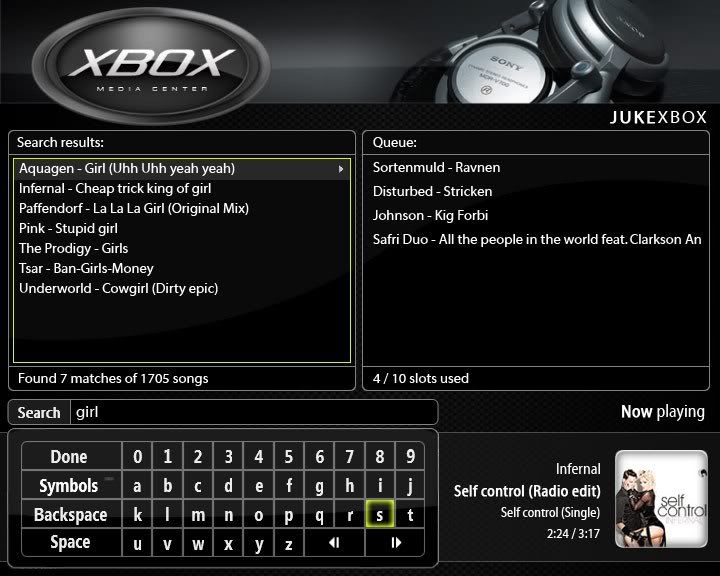 Let me go trough it step by step.
I imagine that the jukebox mode has its own settings "page" under xbmc settings. Here you can define various settings eg. how many "Queue" slots there is available.
Let me explain "Queue" slots: A small "play list" that holds "x" UNIQUE songs queued by users. The list cannot exeed the defined number of slots. If the list is full a new number can only be added when the number currently playing has finished. If the list runs out of enqueued numbers, xbmc chooses the next number (random or whatever defined in settings). Wether it should be shown in the queue list I dont know. I have tried a similar system, and it worked perfectly (dont worry it was a simple homemade jukebox program, so there soulden't be any copyright issues)
The jukebox playlist could be defined as a set of folders or predefined playlist. Either at jukebox mode startup or in settings.
The search mode should be similar the search function in winamp when pressing "j" and typing. The more letters the narrower search. The search should clear itself after not being used for a while. To so not to confuse new users. When the search box is empty, the entire playlist should show in the result box.
Jukebox mode should have the option to password protect exit of jukebox mode, to prevent people from fucking up xbmc
Thats about it for now.. these are just ideas and I really hope you will consider using some of them. I would really like to see someting like this in xbmx. That and the "winamp" search function i regular music mode.
Im sorry if my text is confusing, and dosen't make much sense
If so.. just ask and ill try to explain it better.
-TM