2015-06-15, 17:42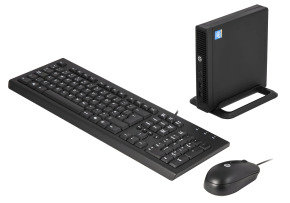 DISCONTINUED
Since the hardware uses the same celeron 2957U as the chromebox, some information about the chromebox can be transferred to the HP 260 G1
http://kodi.wiki/view/ASUS_Chromebox#ChromeBox_Overview
Processor
------------Intel Celeron 2957U
Memory
--------------2GB
Hard Drive
----------32GB
Software
-------------Operating System: Windows 8.1 with Bing
--------------------------Eligible for the free upgrade to Windows 10 at the end of July
Input Devices
------HP USB Value Keyboard and Mouse (Included) ( display stand also included)
Networking
---------Gigabit ethernet 65 W 89% efficient
Dimensions
---------Width 175mm/Depth 177mm/Height 34mm/Weight 0.7kg
Interfaces
-----------2 x USB 2.0 || 4 x USB 3.0 || 1 x Microphone/Headphone jack ||1 x audio line out
--------------------------1 x VGA || 1 x DisplayPort || 1 x RJ-45
Expansion Slots
---1 x Mini PCIe
Sound
-----------------A speaker is included, but don't expect any sort of quality!
Warranty/Miscellaneous
(from Ebuyer, the rest check yourself)
1-year limited manufacturer warranty delivers one year of on-site, next business day service for parts and labour and includes free telephone support 24 x 7
FLUBIT OFFER
Register at
Flubit
Use
http://www.ebuyer.com/702840-hp-260-g1-d...wwodiV8Nfg
as the URL
Offers ranged from £85-£89
Bespoke Offers
Currently no user has tried Bespoke offer
But a
member from hotukdeals
posted as having an offer of £88.40
more information
here
UPDATE: sausage got an offer of £86.02 from bespoke offers, and Topcashback has tracked at £13.06 so that effectively makes it just under £73, disclaimer cashback is not guarenteed but sausage "had Bespoke Offers cashback track and pay out successfully in the past so don't see any problems there. Ordered yesterday and got the despatch notice this morning" WORTH A TRY SINCE FLUBIT OFFER ARE SEEMING TO HOVER AROUND £92 NOW
2071713
(post)
Process to get the offer from Bespoke
Same as flubit but you need to be both a member of topcashback and bespoke offer. Register for both then log into bespoke via topcashback to track the cashback. 15.75% then request bespoke offer to beat the ebuyer price. Does not work with the dabs website. Submit and sit back and wait for the offer.

ONLINE STORES
Ebuyer £99.99 (Delivery Included)
Dabs £97.68 (Delivery Included)
(Paypal Acepted)
BT £97.68 (Delivery ? )
Saverstore £98.60 (Delivery ? )
CONFIRMED DisplayPort to HDMI Adapter
Ebay £3.97 (Delivery Included FREE Click & Collect from your local Argos available)
The above adaptor did not work with the HP 260 G1 pentium version, reason unknown. But the same adaptor worked on a different PC. But 4 users have working adaptor.
More information here
2055890
(post)
update on adapter:
2085142
(post)
- stammie
Amazon £6.99 (FREE Delivery in the UK on orders over £20)
UNCONFIRMED DisplayPort to HDMI Adapter
Amazon £2.45 (Delivery included)
CONFIRMED

NOT

WORKING ADAPTER
http://www.ebay.co.uk/itm/371325804009
Notes: the one thats not working has the slim design, whereas the working adapter seems to be a fatter one.
Noggin
2033618
(post)
- KODI Windows 8.1
2033810
(post)
- HD Audio Windows 8.1
2033861
(post)
2034340
(post)
2034374
(post)
- Openelec
2035798
(post)
decpvr
2038345
(post)
2038686
(post)
stammie
2047004
(post)
Technology Website Reviews
Techradar
(with pictures)
french review of the pentium unit (visually almost identical except the pentium unit has the HDD with sata cable and screw, and doesn't have the m.2 sata connector or stick.
http://www.minimachines.net/a-la-une/dec...uite-32057
there are picture and a video
https://www.youtube.com/watch?v=PStXUKcuxiw
LarrxX
10/10 review
Review highlights:
The hardware
; WiFi Adapter | IR Remote | DP to HDMI adapter | NAS |Amp/TV
Fiddling the BIOS
; Setting up power on from remote | troubleshooting
The good stuff
; Streaming from the NAS | Steam in-home Streaming
In conclusion
[u]

UPGRADING WINDOWS 10
[/u]
2085445
(post)
SETUP OPENELEC
2034374
(post)
- noggin helpful!
2037781
(post)
2066568
(post)
2067008
(post)
KODI WINDOWS 8.1
Full HD Audio support listed in Win 8.1 sound control panel into the Onkyo :
8 channels, HDCP supported, 16/20/24bit, 32/44.1/48/88.2/96/176.4/192kHz sample rates supported.
DTS Audio, Dolby Digital Plus, DTS-HD, Dolby True HD and Dolby Digital all listed as supported.
Setup Useful post
2043283
(post)
UPDATE 3: HP have stock now, so if you rather buy the official cable, check the partstore (price is about £12, so you would save by getting the cable from china at £8.30)
CONFIRMED WORKING SATA CABLE
Ebay £8.32
2068041
(post)
another confirmed working cable
Aliexpress £6.55
"i was surprised item arrived very quickly good price and quality would recommend without any hesitation"
update: this seller has increased price to now £8.28, so now I recommend the ebay one since you have paypal protection. though you can still buy of aliexpress if you want
Have a look at this thread reagarding SATA cable and screws you'll need
http://forum.kodi.tv/showthread.php?tid=...pid2058915
It does have space for an internal 2.5" SATA drive, but you'll need a special adapter cable (which can be obtained from HP, but isn't supplied), and a set of special mounting grommets (also not supplied). It can take a larger M.2 SSD, and also has a mini PCIe slot for a WiFi card like the Intel 7260 - but you'll need to add internal aerials as they're not fitted in this base model.
UPDATE 1: Seems there is another sata cable (made for HP envy) that works on this
have a look at posts
2062993
(post)
(cheapest is £6.55)
2063210
(post)
(there are sata cables that you can order that are 5mm - the size of the original cables? )
UPDATE 2:
Just an update there's a smaller cable here, from ebay
http://www.ebay.com/itm/HDD-Flex-Cable-H...25a9808727
Question - Does the cable power a 3.5 inch drive?
Answer -
maybe
Question - How do I connect the cable?
Answer -
2063106
(post)
and have a look at this pic
http://www.pbase.com/cjed/image/160806883/original.jpg
SATA CABLE
The SATA cable is P/N: 805299-001 - it's possible to order from HP but it's not immediate.(£12ish after tax with expedited delivery 1p)
https://h20141.www2.hp.com/Hpparts/Defau...2E33E42E34
Question - does the sata cable carry both data and power?
Answer -
yes
HDD screws
(With regard to the screws, if you're fitting a SSD you probably don't need them, the HDD bracket has a clip which gently holds the drive in place, I was going to cull some screws and washers from my work parts but realised I didn't need to and just applied some insulating tape to ensure the drive stayed locked in place.
Its a Heath Robinson solution but works just fine, I wouldn't recommend this for a mechanical drive but for an SSD with no moving parts should suffice. If your not using an SSD read on for screws and washers)
You will need some screws (for which part number P/N: 594220-001), I havent been able to find a seller that sells these (including from HP) but noggin has some screws sent to him, so you can ask him
Post about sata screws
2034583
(post)
2052783
(post)
UPDATE: the above screws will still work but for a cheaper solution (that seems to do the exact same job) have a look at the following posts
2058915
(post)
2059382
(post)
Pictures of substitute cable working from a user
Anti-Vibration Washers
Maplin £2.99
these are confirmed to work pretty good, have a look here
2058915
(post)
also Mark has brought these to and posted a few pictures
2080532
(post)
The only part I actually ordered from HP was the SATA cable, I fudged the other parts from different sources, I made up replacements for the screws with standard bolts and vibration reduction washers
- cjed
ADDING INTERNAL WIFI
(this thread is relevant here
Have a look at this thread reagarding SATA cable and screws you'll need
http://forum.kodi.tv/showthread.php?tid=...pid2058915
)
and this one
2059117
(post)
update:
2082893
(post)
Also, for those who want wifi - I've found one of the best (and cheapest!) options is to pick up a Virgin Media superhub off ebay. Mini PCIE wifi card (2.4GHz and 5GHz) and also antenna! Simply stuck down with a bit of sticky tape!
For those who want a look in the Superhub:
http://cdkr.co.uk/projects/computers/virgin_VMDG480/
WiFi card is a Pegatro UPWL6024, Broadcom BCM43224. ABGN, 2.4+5GHz 2x2. Can't grumble for the £5-£10 you pay for these off eBay!
This is the cheapest Ram you can add to work with windows
http://www.amazon.co.uk/Kingston-ValueRa...ords=ddr3l
Signalex Usb Bluetooth Dongle - £1 poundland
confirmation -
2068710
(post)
-roadie
UNCOMFIRMED WORKING INTERNAL WIFI+BLUETOOTH
2082893
(post)
- £7.69
BOOTUP TIME
WINDOWS
24 seconds from hitting the Power On button to OpenElec accepting remote control inputs. (This is with the Fast Boot in the Secure Boot options disabled along with Secure Boot). I have POST messages enabled. - noggin
"Its a kindly weird bios though, today I changed it to give post messages, hey call me old fashioned but I miss that familiar beep when I power on a PC, I still don't get that beep though DOH! But rather than what I expected of a few seconds longer boot time it appears to have got quicker, so much so I just put a stopwatch on it and using Launcher4kodi from power on to Kodi accepting RC inputs is 18 seconds! " - stammie
2059247
(post)
OPENELEC
" 12 seconds boot from MCE power on to Kodi fully loaded" - bertybassett
2080062
(post)
POWER ON FROM COLD BOOT USING REMOTE
The HP 260 Desktop Mini PC includes a feature allowing for powering on the PC from the keyboard
Hardware setup for power - on from keyboard
The keyboard must be connected to a specific USB port on the system. This USB port can be found on the back of the unit and is indicated by a small keyboard icon.
System setup for power - on from keyboard
ower-on from keyboard must be enabled in the system BIOS. The default factory state is OFF. To enable the feature in the system BIOS, perform the following steps:
1.Power on the PC while holding down the F10 button to enter the Setup Utility (note: use arrow keys and Enter/Tab keys to navigate the Setup Utility)
2.From the "Power" menu choose "Hardware Power Management". Press "Enter
3.From the Hardware Power Management Menu scroll to "Power on from USB Kbd Port" and choose "Enable"
4.Choose F10 to Accept
5.From the "File" menu choose "Save Changes and Exit". The system will then boot up with the feature enabled.
Your system is now setup to power - on from the keyboard. To turn the power on simply press any key
Review of powering on from remote (by noggin)
Note - FLIRC
doesn't
appear to Power Up from Shut Down.
Using Windows 8.1
The HP supplied keyboard will power on the HP from fully shutdown with a key press. As expected.
My small RF keyboard+trackpad combo will power on the HP from fully off state with a key press. Which is quite cool, though as this is a HID device that properly emulates a cabled keyboard and trackpad/mouse not unexpected
Have just tried an MS-approved/compatible Windows MCE Rosewill RC6 IR receiver with a standard RC6 MS MCE remote control, and that too will power on my HP from fully Shut Down - though it appears only the PC O/I Power button powers it back up (not any key unlike the keyboard). Which is also very cool. I suspect this will be quite a big thing for many!
Using Openelec
Powering on from the MCE remote works after a shutdown in OE too.
CONFIRMED REMOTE WORKING WITH POWER ON FROM COLD BOOT
Rosewill RC6 remote
2041419
(post)
Setting up the remote (more custimisation)
: "I used the amazing
Advanced MCE Remote Mapper Tool
to configure the buttons just the way I like them. The most important change I did was replace all "sleep" commands with "shutdown" commands. So now I can completely turn the unit off and on with the remote." - LarrxX
2061336
(post)
UNCONFIRMED WORKING REMOTE
check this post
2080361
(post)
seems to be worth a gamble...but no user as of yet has tried this, except post
2080382
(post)
shows that he brought a flee bay ebay remote as described in previous post
also confirmed working (turn on from cold boot) is the logitech k400 wireless keyboard
MOUNTING HP 260 G1 TO THE BACK OF A TV
2073380
(post)
- methanoid
2073399
(post)
- methanoid
2060449
(post)
- Speighty
2073514
(post)
- cjed
2081422
(post)
- cjed update with pictures of mount
HP SUPPORT CENTRE
http://h20565.www2.hp.com/portal/site/hp...oadOptions
Drivers & software
http://h20565.www2.hp.com/hpsc/swd/publi...nvOid=4158
MAUNALS FOR HP 260 G1
http://h20565.www2.hp.com/portal/site/hp...34#manuals
HARDWARE REFERENCE GUIDE
(good guide for installing hardrive/adding antennas/wifi card etc)
http://h20565.www2.hp.com/hpsc/doc/publi...cale=en_US
Maintenance and Service Guide
http://h20628.www2.hp.com/km-ext/kmcsdir...7657-1.pdf
QUICKSPECS
http://www8.hp.com/h20195/v2/GetPDF.aspx/c04531791.pdf
Product End-of-Life Disassembly Instructions
http://www.hp.com/hpinfo/globalcitizensh...903129.pdf
Question - I'm not seeing the update to windows 10 icon
Answered -
2055292
(post)
Question - Do I need additional hardware?
Answered -
2039259
(post)
Question - what about noise levels?
Answered -
it feels a little bit quieter than the Asus Chromebox
-noggin
I can't say I've even noticed the fan - and I do notice the fan on my Asus Chromebox, so purely subjectively I'd say it is quieter
-noggin
Very quiet as well
-Decpvr
Question - no sleep/restart options in shutdown menu (through openelec setup)
Answer -
2041396
(post)
Question - How do I change BIOS language
Answer -
http://forum.kodi.tv/showthread.php?tid=...pid2050223
Question - how do I boot straight into kodi, in windows?
Answer -
2055608
(post)
Question - what is the advantage of buying the sata cable and attaching a hdd
Answer -
2061103
(post)
Question - How long is the window to update OS to windows 10
Answer -
2066057
(post)
DISCUSSION ON HOTUKDEALS
HP 260 G1 Desktop Mini PC - £99.99 - eBuyer
HP 260 G1 Desktop Mini PC - £97.68 plus £3.99 delivery - £101.67 @ Dabs
HP 260 G1 Mini Desktop PC with Windows 8.1 £119.99 @ Ebuyer
hp-260-g1-desktop-mini-pc-94-98-ebuyer
Discussion on boards.ie
http://www.boards.ie/vbulletin/showthrea...2057448471
Internal pictures
http://static4.ithome.com.tw/sites/defau...-600-1.png
http://i.imgur.com/Cwlld5r.jpg
http://i.imgur.com/tZDveNY.jpg
User taken external pictures
http://i.imgur.com/x7xNVFX.jpg
http://i.imgur.com/0Gf3kaW.jpg?1
Video of similar unit (this one has HDD inside our doesnt)
https://www.youtube.com/watch?v=PStXUKcuxiw